The stolen children, Part 2 -- Chilean priest brought low by affiliation to theft of newborns. You can read Part 1 of this chilling story here.
Milwaukee -- Court throws out abuse claim due to previous settlement
USCCB -- The fall meeting begins next week. On the agenda? A discussion of the family synod.
USCCB -- Cardinal Gerhard Müller tells the conference that Catholics must be heard in the public square.
Editorial -- We say that the church needs the commotion the family synod caused.
Fort Lauderdale, Fla. -- 90-year-old among activists arrested for feeding the homeless
Pakistan -- Policeman kills blasphemy suspect with an axe
This was the day after a Pakistani Christian couple was burned alive in a brick making factory
Paraguay -- Woman accused of witchcraft shot with arrows and burned alive
Miami -- Archbishop Thomas Wenski joins activists to take a stand on immigration
Ferguson, Mo. -- The protests continue, and Archbishop Robert Carlson along with about 150 priests, nuns, and other Catholics gathered to pray for peace
Louisville, Ky. -- Remember the teacher that traveled to Kenya, came back and was told to stay out of school for 21 days due to Ebola fears? Well, she resigned and now Archbishop Joseph Kurtz says the school was wrong to order her to leave
In other Louisville news -- The archdiocese announced it wants to create its own voucher program aimed at getting more tuition assistance to families that want their kids to attend Catholic elementary schools
Forbes magazine released its most powerful people list. Russian president Vladimir Putin is No. 1, but Pope Francis comes in at No. 4.
---
Looking for a little inspiration to begin your day? NCR's sister publication, Celebration, gives you two options, both based on the Scripture readings of the day: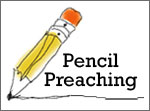 Pencil Preaching is blog in which Celebration editor Pat Marrin combines Scripture and sketching to reflect on the Word.

Daily Bread is a series of short reflections written by four authors who meet regularly to share the readings. Daily Bread is intended to help daily preachers and others who pray from the assigned Scriptures each day to orient themselves to the Living Word addressed to the church in the world. It's a great way to begin the day.
Advertisement