Ferguson, Mo. -- Streets of the city smolder after grand jury decides not to indicte officer
Vatican City -- Francis appoints Guinean cardinal to lead Vatican liturgical congregation
Rome -- Pope discusses reform with Vatican department heads. If reports on the reform are correct, the pope has decided that several councils established after Vatican II will be merged
Vatican City -- Two Indians and four Italians were canonized in a ceremony this past weekend. But what is really interesting is that the canonization rite performed by Pope Paul VI but set aside by Pope Benedict XVI returned
Finance report shows 'trouble' in Twin Cities
Columbus, Ga. -- SOA Watch gathers for 25th vigil honoring Latin American martyrs
The pope will be arriving in Strasbourg, France, today to visit the European Parliament
Busy hands build bridge to recovery, a story by Melanie Lidman about the educational training and hands-on therapy used in to help child soldiers in northern Uganda rebuild their lives. Also, don't miss the blog by Dawn Cherie Araujo discussing the new reality TV show on young Catholic women contemplating religious life. 

Global Sisters Report , devoted to covering the mission and ministry of Catholic women religious. It offers news, commentary and reflections on spirituality and theology.
Retired Chinese Cardinal Joseph Zen says that he sees 'good will' from China toward the pope
Indianapolis -- Hundreds attend memorial for aid worker beheaded by Islamic State militants in Syria
Commentary -- Considering grace and the value of saying thank you
Houston, Texas -- Catholic Charities facing lawsuit
---
Looking for a little inspiration to begin your day? NCR's sister publication, Celebration, gives you two options, both based on the Scripture readings of the day: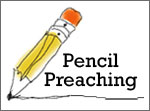 Pencil Preaching is blog in which Celebration editor Pat Marrin combines Scripture and sketching to reflect on the Word.

Daily Bread is a series of short reflections written by four authors who meet regularly to share the readings. Daily Bread is intended to help daily preachers and others who pray from the assigned Scriptures each day to orient themselves to the Living Word addressed to the church in the world. It's a great way to begin the day.
Advertisement