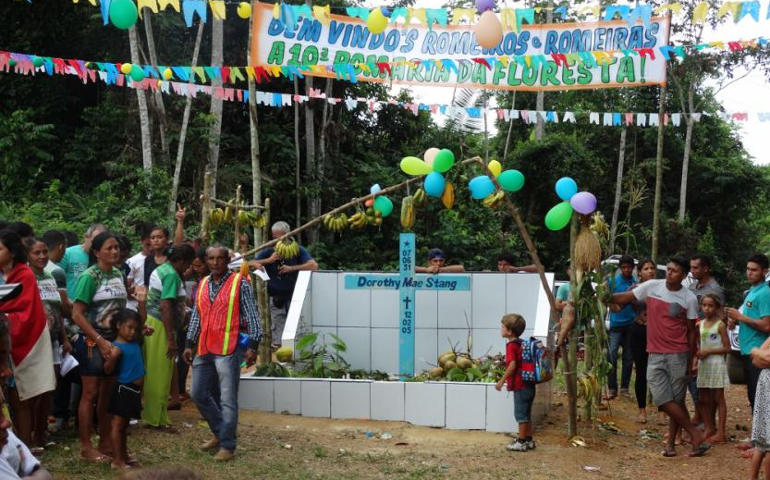 Today is the annivesary of the slaying of Sr. Dorothy Stang. This memorial is built on the road where Stang was murdered. (Kristin Matthes)
Use this Lent to add this to your daily routine. Begin each day with NCR's sister publication, Celebration and the Scripture readings of the day:
Daily Bread is a series of short reflections written by four authors who meet regularly to share the readings. Daily Bread is intended to help daily preachers and others who pray from the assigned Scriptures each day to orient themselves to the Living Word addressed to the church in the world. It's a great way to begin the day.
---
NCR correspondent Joshua McElwee is (right now) flying with Pope Francis to Mexico. He filed this report from the plane: Francis promises visit to Colombia in 2017, if FARC peace deal succeeds
Before Francis (and Josh) get to Mexico, the pope will stop in Cuba to meet with Russian Orodox Patriarch Kirill. They are to sign a joint statement on common witness later today.
A bit more background: In Meeting Pope Francis, Russian Patriarch Asserts Role
Besides McElwee, we will have reporters in Mexico (Chiapas and Juarez) and for this six-day trip. Read all their reporting right here: Pope Francis in Mexico
Maryland, USA -- A plan advanced by the president of Mount St. Mary's University in Maryland to identify and cull underperforming freshmen has erupted into a national scandal inspiring a petition drive to reinstate two fired professors and, most recently, a withering, public critique by the head of another nearby Catholic college.
NCR editorial: President Barack Obama has put in motion a set of initiatives for upgrading our nuclear arsenals that, if implemented, would harm a generation of the world's citizens. Stop the nuclear spending spree
Today is the anniversay of the slaying of Sr. Dorothy Stang. One sister remembers: Sr. Dorothy Stang and the people's embodied hope: Romaria da Floresta
Munich/Damascus -- Syria Truce Agreed But Opposition Demands 'Action on the Ground'
Don't know whether to file this under Election 2016 News or Papal Trip News. You decide: Trump rips Pope Francis for visiting Mexican border
Some more Lenten Reflections for you: Pax Christi USA and from Voice of the Faithful..