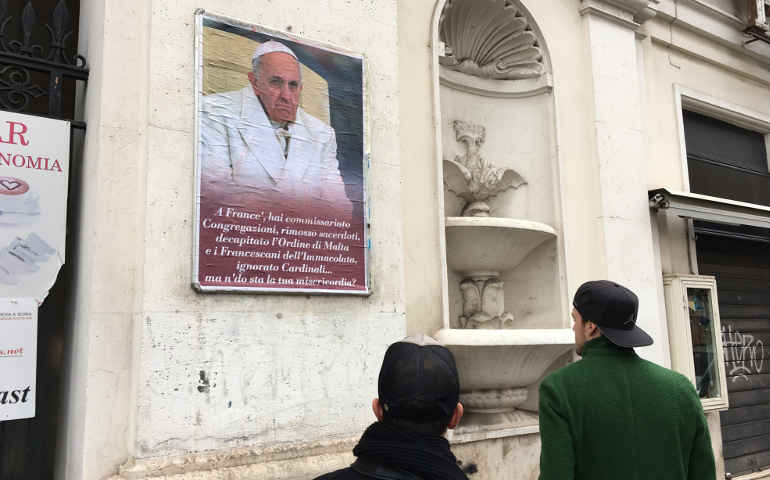 A poster expressing criticism of Pope Francis is seen in Rome Feb. 5. Several copies of the poster were placed in the center of Rome; some were quickly covered by city authorities. See story link below. (CNS/Paul Haring)
Vatican City -- Steve Bannon Carries Battles to Another Influential Hub: The Vatican In one of the cardinal's antechambers, amid religious statues and book-lined walls, Cardinal Raymond Burke and Stephen K. Bannon — who is now President Trump's anti-establishment eminence — bonded over their shared worldview.
What Steve Bannon Wants You to Read President Trump's strategic adviser is elevating a once-obscure network of political thinkers.
Bannon flies close to the sun On the cover of Time. Featured in an SNL sketch. Madeleine Albright calls him the string puller. Is Bannon encrouching on Trump's media star territory?
Trump says terror attacks 'under-reported': Is that true?
Vatican City -- Pope, subject of gossip, denounces gossips
Feb. 8 is International Day of Prayer and Awareness against Human Trafficking: Q & A with Sr. Florence Nweonuma, tracing trafficking trends in Nigeria
Read all of Global Sisters Report's coverage of trafficking
NCR Editorial: Ohio's halt in executions is welcome
Augusta, Ga. -- Bishops call for state of Georgia to drop death penalty in case of accused priest killer
Australia's Royal Commission into Institutional Responses to Child Sexual Abuse: Day two of testimony on Catholic church response. This is a long recap of proceedings.
Royal commission into sexual abuse: Catholic Church 'sacrificed the welfare of children'. This is a briefer news report
Wheeling-Charleston, W.Va. -- Bishop Donahue High School supporters are turning to a regional advocate for Catholic parishioners' rights in their efforts to stop the diocese from closing the school.
Thunder Bay, Ontario, Canada -- Rotating strikes set to begin at Catholic elementary schools
Kenilworth, New Jersey -- She wants to play basketball with the boys. No, her Catholic school said, then expelled her when her parents sued
---
Start your day inspired with daily scripture reflections. Join NCR's sister publication, Celebration, for Daily Bread, a series of short reflections written by four authors who meet regularly to share the readings.
Or reflect on
Pencil Preaching by Pat Marrin. Every morning Pat Marrin breaks open the Word with a pencil sketch and a short meditation.
---