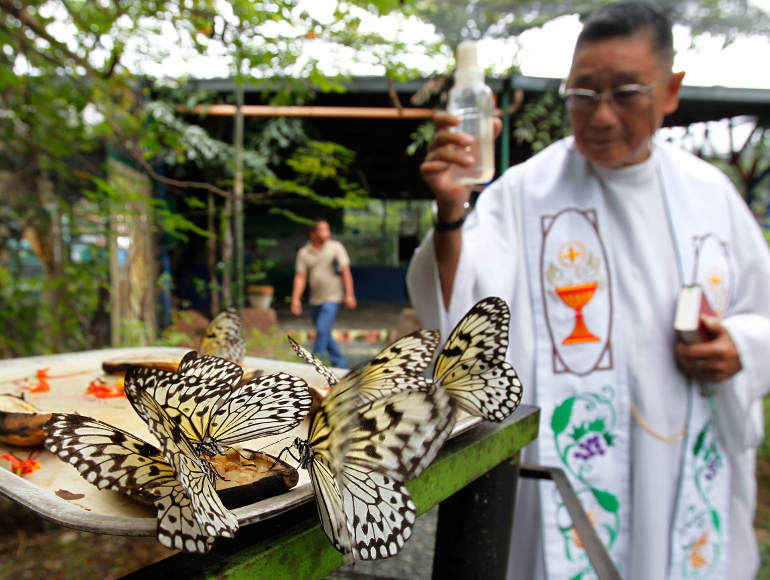 A priest sprinkles holy water on butterflies during the blessing of the animals Oct. 4 in Manila, Philippines. The blessing coincided with the feast of St. Francis of Assisi, patron saint of animals. (CNS photo/Romeo Ranoco, Reuters) (Oct. 4, 2012)
Election 2012 -- Biden debate goal: Accuracy
Election 2012 -- Mitt Romney pitches smaller government: Is his target realistic?
Election 2012 -- A Catholic Case for the Reelection of President Obama by Donald P. Kommers, professor of political science emeritus, Notre Dame Law School
Election 2012 -- Faith-linked issues guide some voters A story of Catholic voters in Ohio.
Election 2012 -- Nuns On A Bus Invite Presidential Tickets To Ohio To Talk Poverty, But Neither Has Accepted
Ohio nuns release anti-contraception video, posted on YouTube by The Children of Mary order
Vatican's doctrinal head: LCWR must not be 'anti-Rome'
Vatican City: No more talks with Catholic rebel traditionalists, Vatican official says
New SF archbishop jokes about DUI charge at installation
Commentary by Patrick Wall: Bishops Gone Wild Here is a list of management techniques deployed by the Holy See in recent history to snuff out scandal created by Bishops.
50 years of James Bond films British secret agent James Bond, code named 007, made his first appearance on movie screens on October 5, 1962
Facebook Tops 1 Billion-User Mark (Video report)
NCR's sister publication, Celebration, posts reflections on each day's Scripture reading. Here's a link: celebrationpublications.org/dailybread. You may want to bookmark it. It's a great way to begin the day.