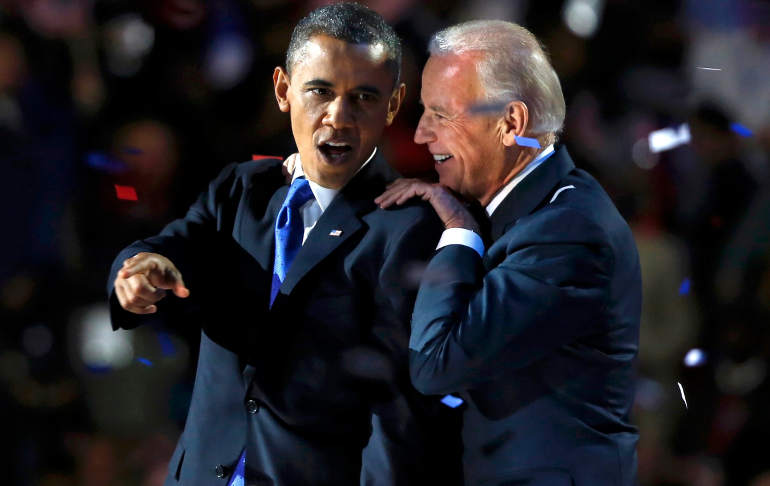 U.S. President Barack Obama and Vice President Joe Biden appear on stage during their election victory rally in Chicago Nov. 7. They return to office for a second term after defeating Republican challengers Mitt Romney and Paul Ryan. (CNS photo/Larry Dow ning, Reuters)
Obama wins re-election. (You don't really need a link to that news story, do you?)
Election 2012 -- Analysis: A nation moving further apartElection confirms an entrenched divide amid new political realities
Election 2012 -- Global reactoin: little exuberance: Obama reelection prompts reflection on conflicts, concerns around the globe
Election 2012 -- Same-Sex Marriage Wins on the Ballot for the First Time in American HistoryMaine, Washington, and Maryland voted to legalize gay unions, while Minnesota struck down a measure that would have outlawed them.
Election 2012 -- Analysis: Both sides see mandate, hard road ahead after Obama re-election, Republicans keep House
You might have seen this story earlier in NCR: Minnesota nonprofit for farmers loses grant for ties to groups opposing marriage bill Well, this what some people think about it: Catholic Bishops engaged in overreaching philanthropic behavior in case of Land Stewardship Project
Good news from Massachuetts: Backers of Mass. doctor-assisted suicide concede And this is what Michael Sean Winters thinks about it: The Sweetest Win
French Cabinet approves gay marriage bill
NCR's sister publication, Celebration, posts reflections on each day's Scripture reading. Here's a link: celebrationpublications.org/dailybread. You may want to bookmark it. It's a great way to begin the day.