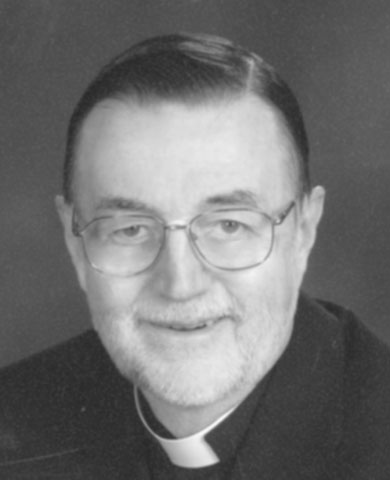 Fr Daniel Danielson
Editor's note: Introducing NCRonline's blog series "Reader's Retrospective": A special project that commemorates NCR's 50th anniversary by telling the stories of readers who have been faithfully subscribing to the National Catholic Reporter since its beginning. ​Read about the project's origins here.​​​​​
---
Fr. Dan Danielson isn't entirely sure when he started reading the National Catholic Reporter, only that it was early in his priesthood, and he points out that his ordination on March 2, 1963, falls squarely between the end of the first session of the Second Vatican Council and the opening of the second.

An avid reader, Danielson recalls that he made an effort to follow the events of the council closely, out of an awareness that "all my training was in the pre-Vatican II church and my ministry life would be in the post-Vatican II church."

Born and raised in Oakland, Calif., Danielson entered the seminary after eighth grade -- a decision that he calls "a terrible idea then and now" -- and was eventually ordained into the newly created Oakland diocese.

In the years that followed, he helped launch numerous programs, including the Vatican II Institute for Continuing Education of Clergy, and assumed diverse diocesan leadership roles. At the national level, he was a member of the U.S. bishops' Committee on Priestly Life and Ministry, co-founded the National Organization for Continuing Education of Roman Catholic Clergy, and helped write a bishops' conference document, "The Spiritual Renewal of the American Priesthood."

Perhaps most deeply felt in his own life, Danielson was elected the first U.S. responsible of the Iesus Caritas Fraternity of Priests. He is also a member -- his group of six has been meeting for 50 years. His passion for encouraging fraternity among priests also inspired him to lead 100 priests' retreats over his lifetime.

"Technically retired" after serving 22 years as pastor of the Catholic Community of Pleasanton, Danielson remains the elected representative of retired priests on the Presbyteral Council and developed a regional program for the Immediate Orientation of International Priests.

Reflecting on his life, he expressed gratitude to God for having been a priest at the time of the Second Vatican Council. "It was the most exciting time in the church in 400 years at least," he recalled. "It was so positive, so creative, so adventuresome, so open to trying things to serve the kingdom of God. I would not trade any of my life (with the exception of the minor seminary) to do it over again."
A version of this story appeared in the Oct 9-22, 2015 print issue under the headline: NCR a reader's retrospective: Fr Daniel Danielson.