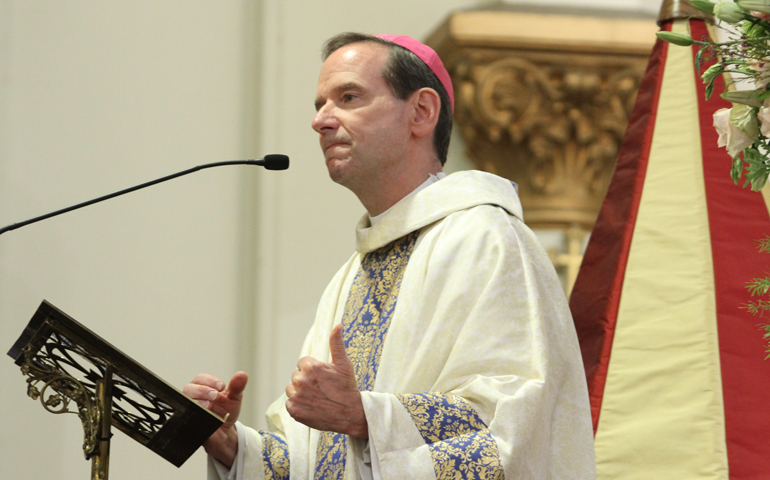 Bishop Michael Burbidge of Raleigh delivers the homily at the opening Mass of the April 23-25, 2014, convention of the National Association of Diaconate Directors convention in Atlanta. (CNS/Michael Alexander, Georgia Bulletin)
Raleigh Bishop Michael Burbidge in a May 6 statement urged North Carolina lawmakers and the U.S. federal government to reexamine its treatment of LGBT bathroom issues, pushing a different approach to the state's HB2 bill -- which requires people to use the restroom that corresponds with their birth gender -- that would defend human dignity, avoid bigotry and respect religious liberty among others.
Burbidge said after reviewing interpretations of the law, he thinks a different remedy is necessary, "whether that be legislation or some other measure," but offered no specific solutions.
"As a religious leader, I have the responsibility of conveying the teachings of the Catholic Church and advocating for those principles upon which legislation can be built," he said in the statement posted to the Raleigh diocese's website.
Burbidge called gender-specific, multi-stall bathrooms in North Carolina parishes and Catholic schools "common sense," adding that the way in which religious organizations and schools choose to operate should be respected.
Anyone with concerns regarding its operations should direct comments to diocesan priests -- including himself -- Burbidge said.
"No person should feel as though they are unwelcome in our communities of faith," he said. "This applies regardless of one's gender or gender identity."
Burbidge urged government officials to discuss the issue with "love and mutual respect," before taking further action.
His statement came only days before the U.S. Justice Department and North Carolina sparred over the state's bathroom bill in a lawsuit exchange -- both filed May 9 -- accusing one another of civil rights violations and government overreach, according to Reuters.
The U.S. Justice Department's complaint states the bathroom bill is a violation of the 1964 Civil Rights Act, according to the site.
The state's Republican governor, Pat McCrory, and North Carolina's secretary of public safety hours earlier accused the agency of "baseless and blatant overreach" in its own lawsuit filed in federal court, the site says.
North Carolina is the only state in the U.S. to pass a law that requires people to use restrooms according to their birth gender.
Kansas lawmakers introduced identical bills last month that would require similar measures.
The bills -- SB513 and HB2737 -- also known as the student physical privacy act and what many refer to as the bathroom bill -- would require Kansas students on K-12 and college campuses to use the bathroom affiliated with the sex indicated on their birth certificate. The bill defines sex as "a person's chromosomes, and is identified at birth by a person's anatomy."
If passed, institutions would be fined $2,500 every time someone encounters a person of the opposite sex in the bathroom.
The Kansas Legislature adjourned May 2 for the year without further action on the bills.
[Traci Badalucco is an NCR intern. Her email address is tbadalucco@ncronline.org.]