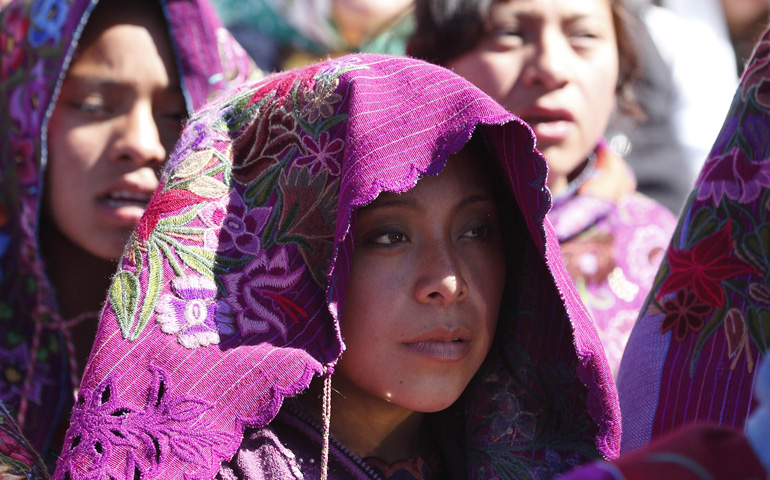 People attend Pope Francis' celebration of Mass with the indigenous community from Chiapas in San Cristobal de Las Casas, Mexico, Feb. 15. (CNS/Paul Haring)
San Cristobal De Las Casas, Chiapas, Mexico — February 15, 2016
On day four of Pope Francis' six-day tour through Mexico, the pope celebrated a Mass in San Cristobal de las Casas, in the Mexican state of Chiapas, where he honored Mexico's indigenous peoples. J. Malcolm Garcia, GSR and NCR contributor, spoke to people on the ground about their reactions to the papal visit.
"This was a very happy moment," said Beatrice Lopez, 45, of San Cristobal. "The pope is number one in the church. He represents God. He has not been here before and he, today, he brought hope to people."
"He spoke of all of us," said Santos Reyes, 65, from Oxchuc, Chiapas. He is a member of the Maya Tzeltal group. "He told the world how we indigenous have been wronged. He wants to learn from us. Today, the leader of the church said it is time to recognize indigenous people."
"Every person takes these meanings from this trip," said Leticia Castro, 56, Guatemala City, Guatemala. "All the people will have different ideas about what he has said here. Some people won't care. We can't control that. The pope is here because he feels it is near to his heart to be with us. His message is love and friendship. He is here to work with the poor."
Outside Victor Manuel Reyna Stadium at Tuxtla Gutiérrez, the state capital, where Francis will give an address to families, people lined the road and the foothills waiting for the pope to drive past on his way to lunch with representatives of the indigenous community and the papal entourage. The frigid morning temperatures had dramatically changed to a hot day and ambulances stood by with water and juice for people overexposed to the heat. Security remained tight but oddly relaxed, with security personnel posing for selfies.
*Outside Catedral de San Cristóbal people gathered waiting for the pope and seeking shelter from a blazing afternoon sun. Flat-screen monitors played advertisements for action films such as the Will Smith movie, "After Earth," while loudspeakers aired gospel hymns. "We hope he has a lasting effect," said Maximillian Cruz, 50, of San Cristóbal outside the cathedral. "It depends how the people receive him. If they have open hearts they will change because they will keep what he says inside themselves." At about 3 p.m. the pope left to shouts and cheers. Children waved flags with the pope's image and cell phones rose above the crowd as people sought to take pictures. One woman held the Mexican flag with the number 43 painted in red across it, a reminder of the 43 students missing in the state of Guerrero.
*This story was updated at 4:20 p.m. CST Feb. 15.
[Freelance writer J. Malcolm Garcia is contributor to Global Sisters Report and NCR.]