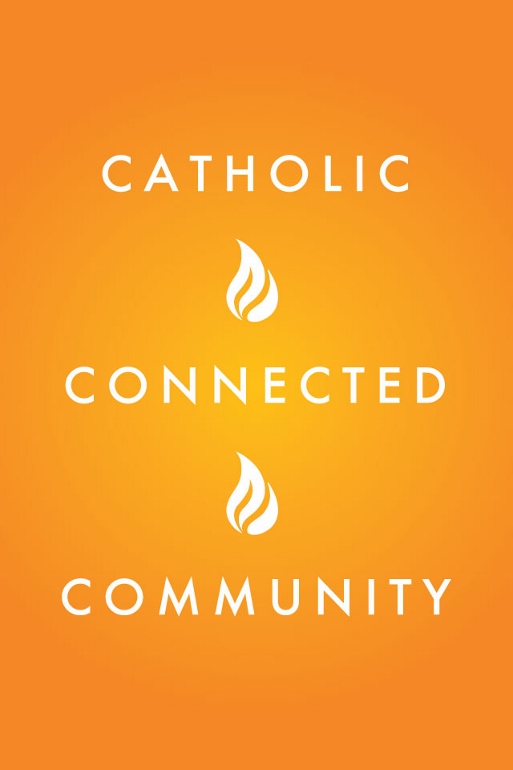 Screenshot from OneParish app. (Provided photo)
The abrupt removal of a pastor at St. Raymond's Parish in Menlo Park, Calif., impelled a group of lay people to step into the leadership breach. Newcomers to parish administration, these volunteers were surprised to find no global member email list for the 1,200-family parish. Undeterred, they cobbled together from a mishmash of data, as comprehensive an email list as possible, and began to salvage what remained of their damaged parish located in the heart of Silicon Valley.
"This is nuts," said one previously uninvolved lay volunteer, Tim Connors, a software investor. Many of the lay volunteers hailed from the technology space as investors, board members, entrepreneurs, project managers and software designers. "We put our Silicon Valley product hats on and got to work," said Connors.
Connors came well-educated to the parish reclamation project: He has an engineering degree from the University of Notre Dame (1989), a master's in engineering and computer science from Stanford University (1990), and an master's in business administration from Harvard University (1999).
The lay volunteers found that the parish was not particularly good at welcoming and engaging newcomers. They studied the problem and determined that there are five stages of parish life. Newcomers try, join, pray, belong and share. "We tried to find a way to bridge the gap for people who join our parish but want to feel welcomed and belonging to the parish," said Connors.
"We tracked every stage of a new member's life in the parish," said Connor. "We were incredibly responsive to the parishioner's questions and needs," he said. "We met parishioners where they are when they arrived at our parish." The parish leaders found that when a parishioner participates in small group ministry, they feel welcomed.
In time the Dominican Friars were assigned to administer the parish by the San Francisco Archdiocese. All the effort is paying off, as St. Raymond's has experienced an estimated 20 percent to 30 percent growth per year for the past three years. The parish is thriving.
The St. Raymond's experience highlighted for Connors what effective parish workflow looks like -- how to train ministry leaders, how to engage more people in the life of the parish, and to make the parish successful. The experience also caused Connors, now a member of the parish council, to research software that would enable parishes to be more effective, growth-oriented -- he found none.
Connors tapped into his Notre Dame alumni network to actively explore the software idea further. He had a long discussion with classmate Shane O'Flaherty, an executive at Microsoft, and his wife, Peggy, both of whom are active in their own parish. They asked themselves the questions, "How can we reach those not involved in the parish, as well as those attending on Sunday, to encourage them to stay engaged in parish life throughout the week?" Connors remembered another Notre Dame friend, Ryan Kreager, a software programmer who is passionate about leveraging technology in furtherance of his faith, and contacted him.
All this conversation and obvious need resulted in Connors' taking the lead in a $1 million investment: Kreager began to code parish workflows into a mobile app for both iPhones and Android, and with the O'Flahertys and a few others, opened a for-profit platform called OneParish.com, located at Innovation Park at Notre Dame, in South Bend, Ind.
"The Catholic church has a rich history of using technology for the right reasons," said Kreager. He cites St. Paul, who wrote letters because the Roman road system was so good. The Catholic church is not at odds with technology, says Kreager. "We wanted to bring the best of software and scale to this app," said Kreager.
Kreager's goal was to create a complete solution, make giving seamless and ease of use by parish staff. Since the beginning, a couple of dozen Notre Dame students have been a part of the business build-out. Three years into development, OneParish is currently available for parishes for $89 per month and to individuals for free. It's loaded with features.
Here are some examples: The Ann Arbor, Mich.-based Dominican Sisters of the Holy Eucharist provide religious content, so users can access material that allows them to grow in faith by selecting a role (e.g., spouse, parent, teen) and choosing Christian virtues to focus on and to further develop. Users can set a specific time each day to pray. Daily readings, Saint of the Day, Pope Francis' tweets and homilies, and videos by Los Angeles Auxiliary Bishop Robert Barron, are also available.
OneParish allows pastors to communicate directly with their parishioners by sending messages to the app. Parishioners can keep track of parish events with a calendar feature and use the app to sign-up to volunteer. The app offers tools like Mass times throughout the U.S. and access to streaming Catholic radio, Relevant Radio. The app allows parishioners to provide family information and upload pictures.
Importantly, the app has a donate feature that allows parishioners to make a contribution to their parish using their mobile phone. According to OneParish, of those who select a role to play (e.g., father, co-worker, mom), 90 percent use the app's daily prayer feature. There is a 126 percent increase in giving via the mobile app than by standard parish websites, and the average annual giving via OneParish is $1,600 (OneParish takes a small administration fee for donations).
Today there are over 150 parishes using the app, some 100,000 users active at least once a month, over 20,000 users active once a week, and some 5,000 daily users. The app sits on OneParish's secure servers, not the parish's or diocese's servers. "We're cash flow positive," said Connors.
For John Garrity, head of wealth management and chief marketing officer at New York City-based Maxim Group, OneParish is a godsend. Garrity, a Fordham University grad, and his wife have two young boys attending St. Patrick's School in Smithtown, on Long Island, N.Y. They are actively involved in both the school and parish.
At a recent meeting, St. Patrick's pastor, Monsignor Ellsworth Walden, informed a parish committee that there are 6,000 registered families and about 24 percent of them participate in the life of the parish. Walden asked two questions: How do we reach those not attending Mass? And how do we deepen the engagement of those who do?
Garrity felt compelled to find an answer to both questions. He knew that the parish had to reach people where they were. From his own use of mobile apps, especially the traffic app called Waze, Garrity knew that an app was a big part of the answer to Walden's questions. Garrity stumbled upon OneParish, spoke to Peggy O'Flaherty and became an enthusiast for the app.
Walden, who Garrity says is very open to new ideas, called a meeting of the parish staff where Garrity demonstrated the OneParish app. The staff became very excited about the app. "Everyone loved it," said Garrity. He went on to speak at every Mass about the app and challenged parishioners to try the app for 30 days. He told them if they didn't like it, delete it; otherwise, share it. So far 350 parishioners have downloaded the app.
For Garrity, at 10 o'clock each evening, after the kids have gone to bed, he receives a notification to use the app to read and pray. In fact, the Saint of the Day provides Garrity with stories of real church "super heroes" he shares with his children.
Like most start-ups, OneParish needed marketing and distribution heft in order to accelerate the app's adoption. Tapping the Notre Dame network once again, OneParish contacted 1988 Notre Dame graduate, Pete Pellegrino, chief financial officer of J.S. Paluch Company, based in Franklin Park, Ill.
J.S. Paluch is a family-owned, 103-year-old company serving the Catholic church through a popular and free printed bulletin service to over 3,000 parishes, a significant music publishing division, and an inspirational calendar service. J.S. Paluch, as part of its stewardship program, gives back to the church in excess of seven figures in donations funded from its sales.
"J.S. Paluch was involved with online donation software some 15 years ago, but we were too early," said Pellegrino. The church is a slow adopter of technology, said Pellegrino. So J.S. Paluch sold it. But when OneParish presented their app and its potential, Pellegrino liked the fact that the app seeks engagement and growth at the parish level and is not just another software service.
Even though the printed bulletin is not going away any time soon, J.S. Paluch wanted a mobile app and decided to join the investment group and take an active role in further development of the app. "Over the past nine months, we've seen real improvement in the quality of the app," said Pellegrino.
J.S. Paluch's 35 parish consultants across the country are now marketing the OneParish app to the 3,000 parishes. And J.S. Paluch's advertising and marketing team are taking responsibility for that part of the OneParish business. Importantly, J.S. Paluch provides real business credibility to OneParish.
For this inspired team, the sky's the limit. They hope OneParish is used in 10,000 parishes within three years. "One day I'd like OneParish to be used by every parish in the world, especially in developing countries," said Kreager.
For each, OneParish is a calling and not simply a commercial exercise. "We feel called to do this," said O'Flaherty. "We want parishes to be absolutely alive," said Connors. "It's wonderful to be alive in your faith, but we need strong parish communities too," he said.
[Tom Gallagher is a regular contributor to NCR on domestic and foreign affairs and is the lead writer for the newspaper's Mission Management column.]