Editor's note: The Field Hospital blog shares parish and other grassroots efforts across the U.S. and Canada to accompany those on the margins and in need. Pope Francis said he sees the church as a "field hospital" that labors "from the ground up" to "heal wounds."
Les Johnson, a 78-year-old member of St. Vincent de Paul Parish in Akron, Ohio, has followed a call from the Virgin Mary he says he received nearly 37 years ago at his home shortly after meeting St. John Paul at the Vatican. A secular Franciscan who resembles Santa Claus, the former Marine carves intricate walking sticks — and has given away 828 of them.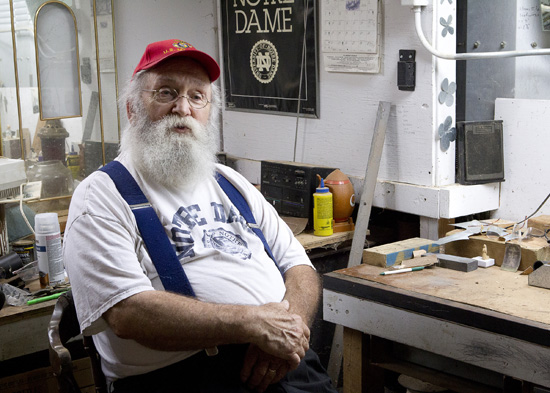 Les Johnson sits at his workbench at his home in Akron, Ohio. (CNS/Dennis Sadowski)
The Mother of Jesus seems to have also played a supporting role along with Matt Hohler's mother, grandmother and a college retreat in shaping the young man's entrepreneurial efforts on behalf of Central American coffee workers. Co-founded by Hohler, Levanta Coffee works with small-scale farmers and ships directly to consumers.
A well-to-do Catholic community in the San Francisco Archdiocese and a less affluent parish of the Oakland Diocese have melded time, talent and treasure to resettle a young Afghan family of four and help them reach self-sufficiency. The Azimi family arrived last November with just the clothing on their backs. Thanks to coordinated efforts of St. Leo the Great Parish in Oakland and the parish communities of St. Denis in Menlo Park and affiliated Our Lady of the Wayside Church in Portola Valley, the father now has full-time work and the family has independent housing.Speaking of refugees' and migrants' stories, Pope Francis is backing an effort to have their experiences intimately shared with the global community. The two-year "Share the Journey" campaign will launch in late September.
A food drive at St. James the Less Parish in La Crescenta, California, recently raised more than a ton of foodstuffs which have been delivered to the Catholic Charities foodbank in Glendale. Crescenta Valley Knights of Columbus Council 3254 backboned the effort.
Speaking of unique efforts by Knights of Columbus members, eight men from the Dixon, Illinois, Council 690 recently underwent special training on use of an automated external defibrillator. In appreciation for past Knights' help, the local American Red Cross chapter donated a machine for potential medical emergencies. Council 690 draws most of its members from St. Anne and St. Patrick parishes in Dixon.
Household pets in North America eat better than the average South Sudanese, according to Maryknoll Fr. John Barth, who serves in the East African nation.
[Dan Morris-Young is NCR's West Coast correspondent. His email is dmyoung@ncronline.org.]
Want more stories from The Field Hospital? Sign up here for the latest parish news twice a week.
Advertisement