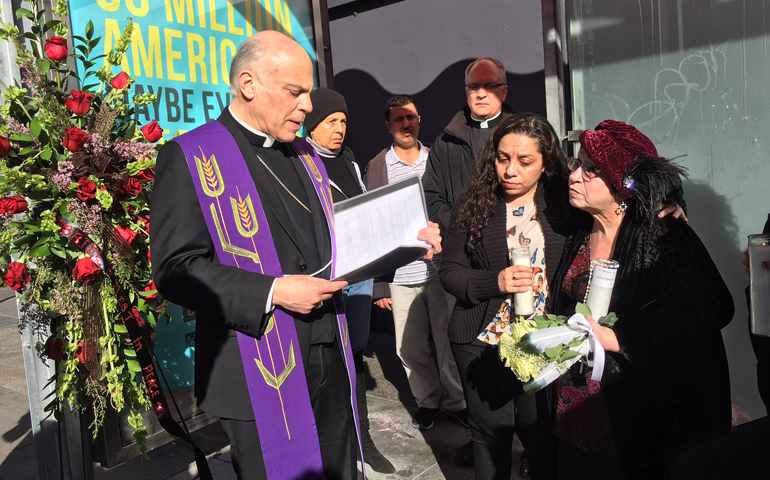 Archbishop Salvatore Cordileone leads a prayer service Jan. 27 in San Francisco's Tenderloin District for Gabriel Ramirez, who was killed Jan. 5; Alma Zamora, center, of the archdiocesan restorative justice office; and Grainne O'Brien, friend of Ramirez. (Rick DelVecchio/Catholic San Francisco)
A funeral mass for Gabriel Ramirez, 61, will be held Feb. 6 at 3 p.m. at St. Ignatius Parish on the campus of the University of San Francisco. Ramirez — also known as Gabriel Two Feathers — was beaten to death in broad daylight Jan. 5 by a group of men at the southwest corner of Larkin and O'Farrell streets.
On Jan. 27 San Francisco Archbishop Salvatore Cordileone led a prayer service for Ramirez at the bus stop crime scene. The San Francisco archdiocese holds a memorial service for every homicide victim in the city, a spokesman for the archdiocese told the San Francisco Chronicle last week.
Described by a friend as a big man with waist-length black hair and as no stranger to the Tenderloin, the musician would attend mass at St. Ignatius , it was reported. Cordileone presided at a similar vigil just over a year ago for 26-year-old Hector Salvador who was shot and killed in the city's Mission District.
The Chronicle also reported that while at the prayer vigil site, Cordileone said the church is mobilizing to help immigrants without documentation to brace for President Donald Trump's crackdown. According to Chronicle reporter Michael Bodley, the archbishop "said the church will ensure that immigrants 'know their rights' and will be 'protected.' "
Nicky Peters, a 19-year-old member of St. Ambrose Parish in Woodbury, Minn., shares her experiences as a sidewalk abortion counselor outside the Planned Parenthood facility in St. Paul. She has endured insults and catcalls from virulent abortion supporters, and on her very first day helped a woman find medical help after the woman changed her mind about an abortion as the procedure began.
"It can get a little bit discouraging, but I always have to go back to that first day of helping that woman. I just have to go back to that day because I know that that truly was amazing, and I have to keep doing that so I can help more women. Even though people will give me the middle finger, I just have to sit there and pray for them and pray for a change of heart. I just love it, honestly," the sophomore at St. Catherine University in St. Paul told The Catholic Spirit, newspaper of the St. Paul and Minneapolis archdiocese.
Have you been remiss about taking a CPR class -- or on renewing your CPR skills? Read how that knowledge allowed three teachers from Holy Spirit School in Indianapolis to dramatically save the life of 12-year-old Ethan Velazquez. Indiana law requires all teachers and extended-care staff members to learn CPR.
Stephanie Packer has become an advocate for the vulnerable terminally ill. The 34-year-old herself is fighting a terminal disease that affects her lungs and other organs with her four children and husband, Brian, as her first-string team. Writing for Angelus News, Clara Fox reports that a week after California's assisted-suicide law went into effect last June 9, the Packers "received a disturbing letter" from their insurance company. "Stephanie was told her doctor-recommended chemotherapy treatment that the company had previously promised was now being denied. However, she was later informed that her plan would cover a lethal dose of suicide pills — at the incredibly low cost of $1.20." After some media attention, the insurer re-instated coverage.
However, Stephanie said she was "well aware that 'most dying patients don't have media contacts' and became determined to become an advocate." Her advocacy has also caught the attention of national media outlets such as National Public Radio, the Cable News Network and The Washington Post.
In November 2016 Stephanie "flew to New Jersey and testified before legislators, asking state senators to reject the proposed Aid in Dying for the Terminally Ill Act," wrote Fox. The Packer family resides in Santa Ana about four miles from Holy Family Cathedral in Orange where Brian works as a handyman on weekends.
A medical team sponsored by St. Joseph Parish in Marietta, Ga., is scheduled to visit the parish's sister parish in El Rodeo, Guatemala, Feb. 17-24. A St. Joseph "building team" is set to travel to San Jose Parish there Oct. 21-28 "to put in cement floors for families living with dirt floors." The Marietta parish also supports a prison ministry and outreach to the bereaved. At Thanksgiving the parish's St. Vincent de Paul Society members teamed with its Knights of Columbus St. Joseph Council 4599 to distribute more than seven tons of food including turkeys and hams to local families.

Franciscan Sisters Grace Ann Witte talks in December 2016 about the 10 years that the Clare Guest House in Sioux City, Iowa, has served as a transitional home for women who served jail time. (CNS photo/Jerry L Mennenga, The Catholic Globe)
The future of a transition house for women coming out of prison is "all in God's hand," says Franciscan Sr. Gwen Hennessey, director of Clare Guest House since 2005. Located in Sioux City, Iowa, the ministry has served more than 100 women since opening. "One of the needs Clare Guest House may face in the future is leadership," reports Joanne Fox, editor of The Catholic Globe, newspaper of the Sioux City diocese. Staffer Sister Grace Ann Witte is 79 and Sister Gwen is 84."We have no plan," Sister Grace Ann told Fox with a smile.
[Dan Morris-Young is NCR's West Coast correspondent. His email is dmyoung@ncronline.org.]
We can send you an email alert every time The Field Hospital is posted. Go to this page and follow directions: Email alert sign-up.