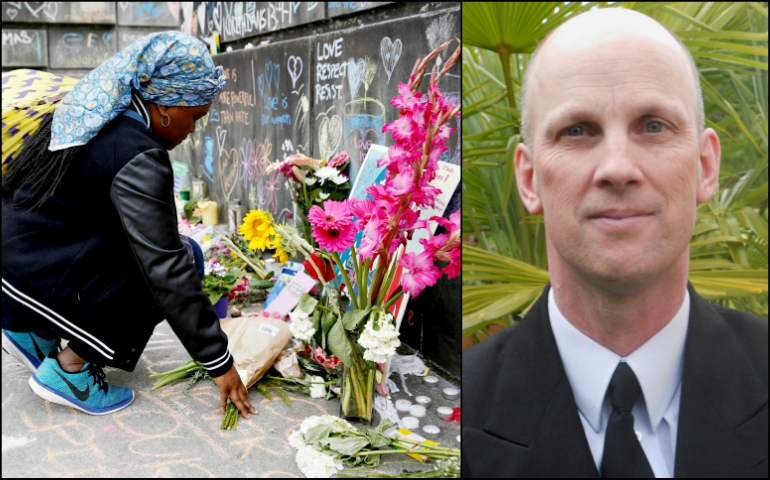 Left: A Muslim woman prays at a makeshift memorial May 29 in Portland, Oregon, for two men who were killed May 26 on a commuter train (CNS/Reuters/Terray Sylvester); right: Rick Best (CNS/Courtesy of Best family).
Rick Best, a Catholic father of four, and Taliesin Myrddin Namkai-Meche, a 23-year-old Reed College graduate, were killed May 26 when they intervened to protect two women being harassed by crude and racist ranting on a Portland, Oregon, commuter train. The slayings stunned Christ the King Parish in Milwaukie, Oregon, where Best and his wife, Myhanh Duong Best, and children (ages 19,17, 14 and 12) are members, and where Best's funeral was held June 5. The parish has rallied to help the family. Portland Archbishop Alexander Sample issued a statement and also praised Best during a Memorial Day homily.
---
Bishop Gerald Kicanas of Tucson, Arizona, has challenged U.S. Attorney General Jeff Sessions "to come back to Nogales [Arizona] to hear the parts of the border story you missed." In an April 20 guest commentary in the Arizona Daily Star, the bishop chided Sessions for focusing on tough talk about U.S. border security while ignoring "another border narrative as real and as significant as that of those involved in border enforcement. He did not hear the voices of community leaders and residents who experience life on the border in person each day. This side of the narrative would have given Sessions a very different message about immigrants at our border in search of protection and a new life."
Kicanas acknowledged "reprehensible acts of drug trafficking, weapons trafficking and human trafficking ... taking place at the border," but said Sessions' April 11 tour ignored the reality that most persons "crossing the border are not criminals with intent to harm, and should not be treated as such."
The bishop said he wishes Sessions "had talked to some of the people who live along the border and who understand that the real solution to irregular migration lies not in massive deportation, building a wall, or deporting people without any hearing, but in reforming our immigration laws and in addressing the root causes of flight."
---
Kicanas also took part in an April 20 ribbon-cutting to celebrate the Sister Jose Women's Center's ninth anniversary and its new, refurbished 9,000-square-foot facility. Dedicated to helping women who experience chronic homelessness, the center in May also welcomed its new state-of-the-art Czarina's Kitchen, which will be ground zero for the roughly 30,000 meals prepared for the homeless annually. The center offers overnight accommodation for up to 35 women from November through March in addition to addressing health care and other needs. The ministry grew from a small home sponsored by Tucson's Our Mother of Sorrows Parish.
---
A funeral service for Frances "Mama Angel" Sliwa, 93, was celebrated on Memorial Day at New York City's St. Patrick Cathedral. Sliwa helped her at-times-controversial son, Curtis, found the Guardian Angels volunteer street safety patrol organization nearly four decades ago.
---
What has Ray Leonardini learned during a decade of sharing centering prayer with inmates of California's Folsom Prison? For starters, he says, he originally "severely misjudged the situation." In an article in the June 2017 newsletter of Contemplative Outreach, Leonardini writes, "I was wrong about the prisoners who came to pray. I was wrong about what it took to be a volunteer. I was woefully underestimating the power of centering prayer."
Field Hospital readers might recall mention of the retired attorney last October in a blog focused on prison ministry. A member of Divine Savior Parish in Orangeville, California, Leonardini is author of Finding God Within: Contemplative Prayer for Prisoners.
[Dan Morris-Young is NCR's West Coast correspondent. His email is dmyoung@ncronline.org.]
We can send you an email alert every time The Field Hospital is posted. Go to this page and follow directions: Email alert sign-up.