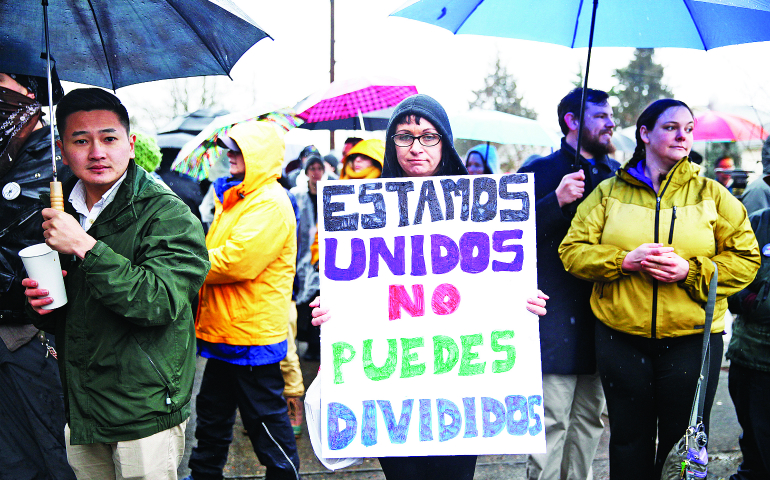 Nona Carrasco holds a sign Feb. 5 as part of human shield to protect worshipers at St. Peter Church in Portland, Ore., which suffered verbal attacks the previous week. Translated, the sign reads: "We who are united cannot be divided." (Francisco Lara/El Centinela)
With Valentine's Day as the context, three couples share reasons for their long marriages — including Claude and Yvette Arrington who Worldwide Marriage Encounter recently named Oregon's longest married couple. Ages 95 and 93, respectively, Claude and Yvette attend St. Peter Catholic Church in Newberg and were married on May 23, 1942, at St. Elisabeth Church in Van Nuys, Cal.
There was concerning yet uplifting news at another St. Peter church in the Portland archdiocese. More than 300 people became a kind of human shield for worshipers at the southeast Portland, Ore. parish on Feb. 5, a week after eight men walked to the front door of the church and shouted insults during a Spanish-language mass. "Dressed like hunters, they accused worshipers of not being true Christians, questioned the sexual morals of the women and harangued the congregation for being made up of immigrants," reported The Catholic Sentinel, the archdiocese's newspaper. Parishioners and pastor Fr. Raúl Marquez found hope and encouragement in the show of support.
Related: Describing the Latino growth in the U.S. Catholic church as a "tsunami," a leading expert on the topic told a large crowd at the Catholic University of America in Washington, D.C, "Dioceses, schools and parishes have been on 'cruise control' for more than 70 years and a renewal, a new dynamic, is needed" to address and embrace that increase. In a Jan. 30 talk, Hosffman Ospino said Latino Catholics make up 71 percent of the country's Catholic growth. Assistant professor of Hispanic ministry and religious education at Boston College's School of Theology and Ministry, Ospino helped direct a groundbreaking survey on U.S. Catholic schools serving Hispanic families released last March as well as an extensive study of U.S. parishes with Hispanic ministry done in concert with the Center for Applied Research in the Apostolate (CARA).
Speaking of CARA and changing church demographics, parishes of the future are the topic of a new, ground-breaking book. Read NCR Editor-at-large Tom Roberts' review of Catholic Parishes of the 21st Century.
The Eucharistic ministers team at St. Rita parish in Sierra Madre, Calif., has taken the nearby Center for Living Independence for the Multi-handicapped Blind (CLIMB) under its wing, regularly overseeing Communion services at the facility for people who have vision-impairment and developmental disabilities. The St. Rita ministry also frequently transports Catholic CLIMB residents the roughly 20 minutes to the parish for Mass on Sundays.
Youngsters led parishioners of Church of the Ascension parish in Saratoga, Calif., in support of the national Souper Bowl of Caring staged annually during Super Bowl weekend. Donations left in large "soup pots" at the church doors Feb. 4 and 5 went directly to support Loaves and Fishes Family Kitchen in downtown San Jose. In all this year, Souper Bowl of Caring generated more than $4.5 million in cash and food items.

Two Haitian children display their Tiny Saint necklaces. A St. Teresa of Kolkata necklace is on the left and St. Martin de Porres on the right. (CNS photo/Courtesy Arlington Catholic Herald)

When Joe and Colleen Klinker's daughter, Melody Paige, was stillborn in October 2011, they were suddenly and tragically faced with explaining the devastating loss to Melody's older brother and sister — JT and Gracie. "We weren't going to fall down as a family, and we weren't going to allow our children to miss out on the grace that comes from a loss like that," Joe recently told the Arlington Catholic Herald, the Arlington diocese's newspaper. "But the images they found online didn't resonate with their children. To bridge the gap, they created tiny, simplistic images of saints," wrote reporter Connor Bergeron. The digital drawings captured their children's imaginations. JT envisioned St. George playing swords with his little sister. Gracie pictured Melody chasing butterflies with St. Kateri Tekakwitha. The experience led the then-parishioners at Church of the Nativity in Burke, Va., to create a venture they named Tiny Saints, which now offers charms of more than 100 saints available online and at more than 175 retail outlets. The company has donated hundreds of its products to mission areas, including Haiti. The Klinker Family now belongs to Resurrection parish in Winter Garden, Fla.
[Dan Morris-Young is NCR's West Coast correspondent. His email is dmyoung@ncronline.org.]
We can send you an email alert every time The Field Hospital is posted. Go to this page and follow directions: Email alert sign-up.