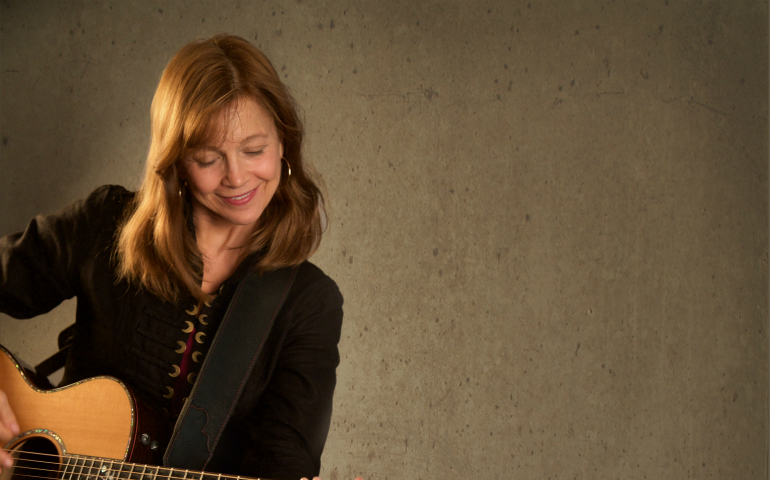 Carrie Newcomer (Promotional photo)
I just returned from the national conference of the Association for Clinical Pastoral Education (ACPE) in Minneapolis. I was invited there to moderate a panel at a plenary session.
This association's members are people trained to be pastoral counselors in a variety of settings: emergency rooms, maternity wards and other hospital rooms, retreat centers, homes for the elderly, colleges/universities, prisons, and military bases. Many of you may have experienced their care, concern and listening ears when you have been sick or when attending to a dying parent or relative.
I knew the ministry of these folks before I went, but even with that knowledge, what struck me most at this conference was the attentiveness of those who had chosen to come. Whether it was over lunch, at the exhibits or in casual conversation, the people I met were listeners, unfailingly attentive to me or to whomever they were speaking. They are, of course, trained to be attentive, but still, it was refreshing to meet so many people of that ilk and to experience that training in action. (Maybe all of us could use such training?)
The pastoral education association is clearly enriched by the fact that it is an interfaith association. Those attending included just about every Protestant denomination in the U.S., as well as Catholics, Jews, Muslims, Buddhists and at least one Sikh. (One woman who came wore a Sikh turban, something I had never seen before, and others assured me that it was a very unusual but slowly growing practice among Sikh women.) The association's racial and ethnic diversity is growing as well.
It was my pleasure to moderate a panel that included Parker Palmer, a writer, teacher and activist whose most recent work most is Healing the Heart of Democracy. When the panel discussed the current state of affairs in the United States, he was blunt in warning all us to beware of growing fascist tendencies in some quarters.
The panel also included one of the most energetic presenters I have ever seen in my life: Rev. Dr. Greg Ellison, an ordained Baptist minister and an associate professor of pastoral care and counseling at Emory University's Candler School of Theology in Atlanta. He gave a presentation just prior to the panel and was literally standing on chairs and leaping across the floor as he encouraged participants to engage in "fearless dialogues" with each other and those seeking their care. His stories about counseling those in prison were especially moving.
Finally, the panel included singer-songwriter Carrie Newcomer, whom I had met before, and who is always a delight. She is a Grammy-award winner who was once described as a "prairie mystic" by the Boston Globe. Her advocacy for justice is usually expressed in song, and she concluded our panel with a song on her guitar.
In short, if you are interested in pursuing pastoral counselling as a profession, the ACPE is a group to contact for both guidance and inspiration!