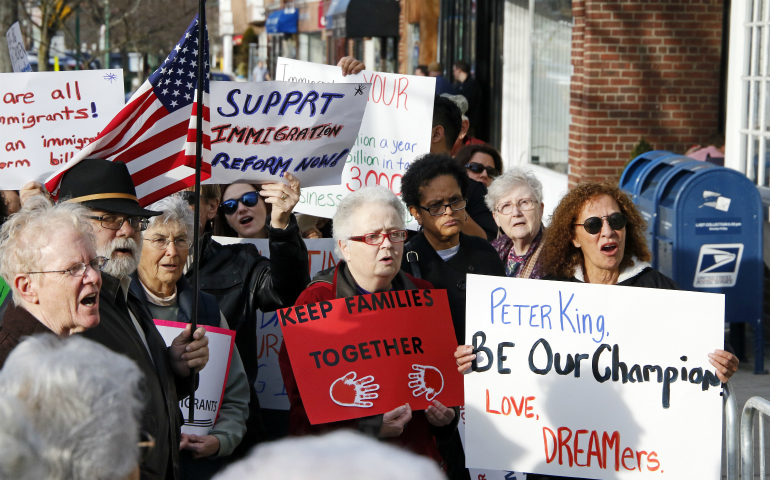 People gather at a rally in support of immigrants in Massapequa Park, N.Y., Feb. 24. The demonstration was held outside Republican Rep. Peter King's district office in an effort to urge the congressman to help protect unauthorized immigrants who currently have reprieve from deportation under the Deferred Action for Childhood Arrivals program, known as DACA. (CNS photo/Gregory A. Shemitz)
It's happening everywhere. Eleven million people across the United States are filled with fear. They are fighting a rising panic. Do they move? Do they continue at their job? Do they close their bank account? What about their children who were born here and are U.S. citizens? How to protect them in the moment of their parents being taken away? And then what?
A woman from Guatemala, a refugee from the violence there, called a Loretto Community member to ask, if she and her husband were to be deported, could the sister take care of the children and get them back to their parents?
This Guatemalan woman cleans houses. Her husband works construction. They brought their oldest daughter with them when they came to the United States. She's 19 and registered with DACA (Deferred Action for Childhood Arrivals). The younger children, born here, are in 3rd and 6th grades. The parents want a U.S. citizen to take guardianship because the future is uncertain for DACA residents, too.
Besides legal guardianship, the children need passports so they can join their parents. Medical records must be up-to-date; wills drawn up; decisions made whether to renew the apartment lease; emergency funds set aside.
I don't know what violence caused the Guatemalan couple to flee or why they didn't apply for asylum here. But I do know the story of a family from Tijuana, Mexico. Seven men on the same street were abducted and held for ransom. One family borrowed $10,000 from relatives in the U.S. and fled to California the night the dad was returned home. The other abducted men were all beheaded. The family did not apply for asylum because if they were denied, they would be sent back to Mexico. When this happened two years ago, the risk of deportation appeared less than the risk of asylum denial. Now they are terrified again.
Several Loretto members have given their house keys to families that may need to hide. If ICE (Immigration and Customs Enforcement) is at your house, it's too late to run. So they are planning, assessing the risk. It's like preparing to hide the Jews from the Nazis. Who ever thought it could happen here?