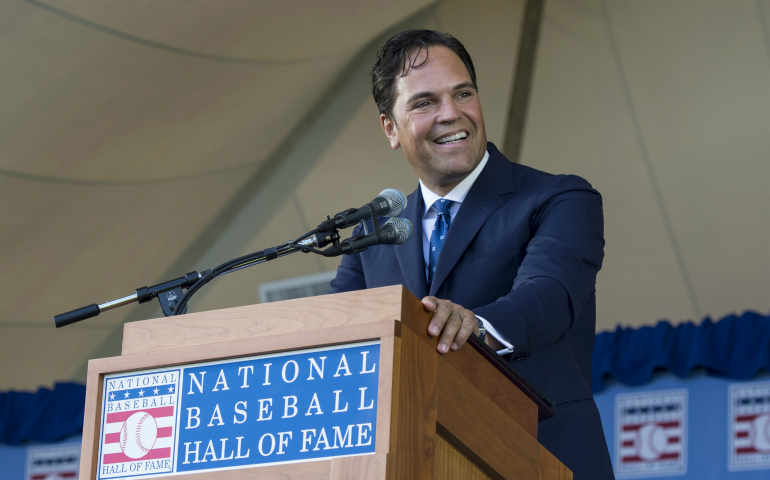 Mike Piazza makes his acceptance speech during the National Baseball Hall of Fame induction ceremony July 24 in Cooperstown, N.Y. The superstar catcher gave credit to his Catholic faith for his success in his life and career. (CNS photo/Gregory Fisher, USA Today Sports via Reuters)
Editor's note: "The Field Hospital" blog series covers life in U.S. and Canadian Catholic parishes. The title comes from Pope Francis' words: "I see the church as a field hospital after battle. It is useless to ask a seriously injured person if he has high cholesterol and about the level of his blood sugars! You have to heal his wounds. Then we can talk about everything else. …"
If you have a story suggestion, send it to Dan Morris-Young (dmyoung@ncronline.org) or Peter Feuerherd (pfeuerherd@ncronline.org).
---
Since its "re-inception" as a parish in 1972, Holy Spirit Parish in Carterville, Ill., has not had a resident priest. Currently administered by Servants of the Holy Heart of Mary Sr. Carol Karnitsky, the parish is known for its welcoming spirit and community involvement.
For example, young members of Holy Spirit joined with youth of Our Lady of Mt. Carmel Parish in Herrin, Ill., from July 10 to July 16 for volunteer service in Anchorage, Alaska. In all, 52 youth group members accompanied by 14 adults donated nearly 1,200 hours that week doing tasks from pulling weeds and painting to helping at soup kitchens and homeless shelters.
Worshipers at the 7:30 a.m. Mass on July 24 at Our Lady of the Lake Parish in Cooperstown, N.Y., included Mike Piazza, famed Mets catcher who would be inducted later that day into the Baseball Hall of Fame, about a 10-minute walk from the church. Piazza sought a blessing from pastor Fr. John Rosson, posed for some photos and signed autographs. During his induction speech, Piazza expressed thanks for his Catholic faith.
Pope Francis Legal Clinic opened its doors this summer on the campus of Oakland, California's Cathedral of Christ the Light. The clinic offers free legal counsel. The cathedral site is also home to a health clinic for low-income persons that is sponsored by the Order of Malta.
Legal advice is also one of the many offerings of the Aquinas Center, a community outreach facility back-boned by members of Philadelphia's St. Thomas Aquinas Catholic Community. Welcoming and helping immigrants is a core focus of the center.
Boots-on-the-ground ministry -- such as visiting the lonely, working with the homeless, and reaching out to migrant families -- is the "formation" focus of several seminarians of the Palm Beach, Fla., diocese this summer as they live in community at a retreat center and fan out during the day to aid others. The men come to know one another much better as well as learn things that theology books cannot teach.
Fr. Scott McCue, pastor of the St. Thomas More Catholic Community in Chapel Hill, N.C., reflects on the parish church's steeple being designated as a PokeStop, an element of the Pokémon Go craze sweeping the country. Meanwhile, Fr. Ryan Kaup of Cristo Rey Parish in Lincoln, Neb., reports that a Charmanderzar was captured in the parish hall.
Story updated with new hyperlinks.
[Dan Morris-Young is NCR's West Coast correspondent. His email is dmyoung@ncronline.org.]
We can send you an email alert every time The Field Hospital is posted. Go to this page and follow directions: Email alert sign-up.