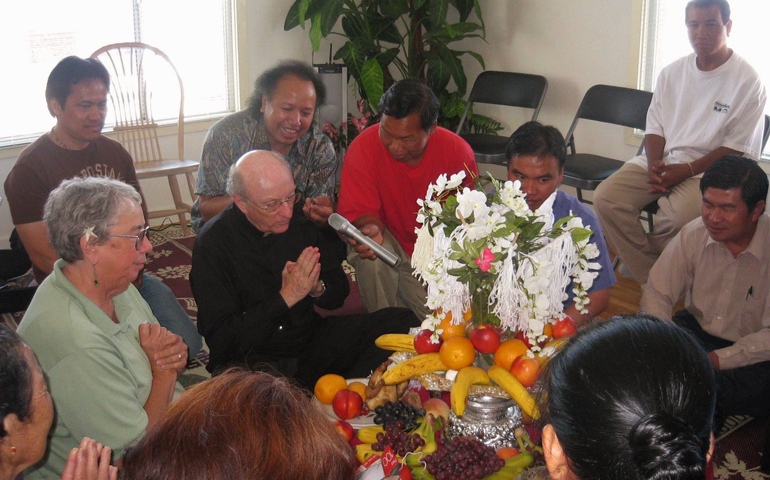 Redemptorist Fr. Don MacKinnon and Holy Family Sr. Michaela O'Connor participate in Kmhmu' community prayer around a traditional flower tree. (Courtesy of Denver Province of the Congregation of the Most Holy Redeemer)
Editor's note: "The Field Hospital" blog series covers life in U.S. and Canadian Catholic parishes. The title comes from Pope Francis' words: "I see the church as a field hospital after battle. It is useless to ask a seriously injured person if he has high cholesterol and about the level of his blood sugars! You have to heal his wounds. Then we can talk about everything else. …"
If you have a story suggestion, send it to Dan Morris-Young (dmyoung@ncronline.org) or Peter Feuerherd (pfeuerherd@ncronline.org).
---
When Redemptorist Fr. Don MacKinnon speaks about the Kmhmu' people, he often employs "we" as a matter of course.
Indeed, members of the Kmhmu' Catholic Community in the San Francisco Bay area embrace the San Diego native as one of their own, a designation he has earned over the last quarter century ministering to the roughly 1,000 members in the area.
"He is Kmhmu'," flatly states Kanseng Souriya, the national Kmhmu' Catholic Community leader. Souriya has worked with MacKinnon and Holy Family Sr. Michaela O'Connor since now-retired Oakland Bishop John Cummins asked the pair to minister to Kmhmu' refugees who had fled Southeast Asia.
Souriya told NCR that "it is hard to find words" to express what MacKinnon has meant to the Kmhmu'.
The Redemptorist Denver Province recently assigned the 82-year-old priest to St. Gerard Majella Parish in Baton Rouge, La., where he will reside after a three-month sabbatical at the order's archives in Denver.
MacKinnon's departure is an emotional blow to the Kmhmu' Catholic Community, say O'Connor, Souriya and others.
"The whole aspect of our ministry will change," said O'Connor. "Fr. Don has been very close to them, and this is a very hard moment. He has done so many wonderful things for them, suffered with them in so many ways. Over the years, he has become part of the fabric of their lives, and now there will a hunk taken out of that beautiful material."
However, she pointed out, the Kmhmu' "have suffered multiple losses over time on many levels, and have learned how to survive. Nearly every family I know has lost children. They lost their country. They had their priests executed or exiled. They lost their livelihoods. They survived the Thai camps. They are survivors."
Indigenous to the jungles of northern Laos, thousands of Kmhmu' were either relocated to the U.S. following the Vietnam War, or have since immigrated. The largest contingent came to the Richmond, Calif., area in the Oakland diocese. According to MacKinnon, it is estimated that 7,000-10,000 now live in the U.S., and 70 percent of those are Catholic.
What MacKinnon has come to mean to the Kmhmu was celebrated July 9 at Transfiguration Parish in Castro Valley, Calif.
The farewell gathering drew an estimated 500, including Kmhmu' from small communities up and down the West Coast, as well as from Texas, Oklahoma and Georgia.
St. Joseph Sr. Felicia Sarati and Cummins both attended. The bishop presided at the day's commemorative Mass.
Sarati has long headed the Oakland diocese's ethnic ministries office, which is administrative home base for the Kmhmu' Catholic Community and 16 other ethnic groups.
"Throughout his many years of dedicated service," she told NCR, "Fr. Don has become known as 'Kunpah,' father to us all, speaker for us all, speaker of the clan, full of compassion and advocate for our needs. Fr. Don will always be part of the history of the Kmhmu' people who found a home here in Richmond because they had 'Kunpah.' "
MacKinnon and O'Connor mutually describe their work as "a ministry of accompaniment and presence."
"Sister and I put a strong emphasis on home visiting, just as the people were used to from the missionaries in Laos," the priest said. "We still did a lot, but not so much as when we were younger. The home visits often lead to driving people to schools or the school office when problems arise, or to doctors, hospitals, jails, courtrooms and the occasional employer."
Souriya distills MacKinnon's ministry: "He is such a very good priest and has worked so hard -- 24/7."
MacKinnon acknowledged many middle-of-the-night calls. One in particular still haunts him. "A few years ago, there was a knock on a family's apartment door. The daughter answered and was immediately shot dead. The gang was after her brother -- who I knew was in jail in Oakland. The TV stations jumped on the story. By the time Kan [Souriya] and I and some other elders arrived, they had so much cable taking up space that we could hardly get into the house to try to get them out and restore some sense of nap to the Kmhmu' -- who always come rushing to help a family."
"Nap," the priest explained, "is the most basic moral and social Kmhmu' tradition. You've seen Asians bowing and often folding their hands. For the Kmhmu' it is much more than just saying, 'Hello.' It is what they always get back to when situations come up. It is the four cardinal virtues and the three theological virtues all wrapped up in one. Respect, in fact, is their No. 1, constant attitude."
While there have been social, educational and employment bright spots among the Kmhmu, said MacKinnon and O'Connor, there have been too few.
The Kmhmu's limited agrarian skill set, lack of formal education, and cultural differences have made adjusting to a harsh urban environment an uphill battle, they said, noting that depression is the leading health issue.
Many Kmhmu' live under a "cloud of fear and doubt," explained MacKinnon. "The U.S. really is a dominant culture -- Coca Cola, the golden arches, Silicon Valley. It all absorbs just about everything they encounter."
Familial and culture tensions also arise as the emerging generations of U.S. Kmhmu' mature, he added. "A Kmhmu' father trembled telling me that he can't talk to his grown son because he does not have enough English, and the son is innocent of Kmhmu' adult language. I usually say they speak kitchen Kmhmu'."
"The depth and passion of the community's Catholic faith," however, help provide consolation, comfort and cohesion, the Redemptorist said.
"Their faith is simple and true and deep," O'Connor added. "They teach me so much more than I teach them. They are not a complicated people, and they have community down pat. They are so people-oriented. No Kmhmu' is going to go hungry or be without a roof -- and they love God."
It is no small thing, underscored O'Connor and Souriya, that MacKinnon labored to learn how to celebrate the Mass in Kmhmu', a task made all the more challenging because there is no written Kmhmu' language.
While two young Thai priests in the area have agreed to help with the Kmhmu' liturgical celebrations as MacKinnon departs, it is not clear how proficient they are in the language itself.
MacKinnon relishes celebrating Mass in Kmhmu', but quickly admits he does not speak the language.
"The Kmhmu' community is so grateful that Kan and other leaders got me to lead Mass and most common prayers in their language," he said, describing the eucharistic liturgy as "really a chant between the priest and the congregation that I now do almost automatically."
MacKinnon lauded St. Paul Parish in San Pablo and the Conventual Franciscan staff for allowing the parish to become "the center of worship" for the Kmhmu'. The weekly Kmhmu' Mass is celebrated there Saturday mornings.
With help from others, the trio of MacKinnon, O'Connor and Souriya "even managed to develop a Kmhmu' missalette that all the different subdialects of Kmhmu' can agree on. It is true that Kmhmu' is an unwritten language and most of the initial generation doesn't read, but it is a great unifier to have one version of Mass to use," MacKinnon said.
O'Connor and MacKinnon praise Souriya. "Kan is the heart of everything Catholic and Kmhmu'," said MacKinnon, describing him as "a charismatic leader" and "multitalented artist."
O'Connor and MacKinnon sometimes call themselves "Kan's chaplains."
Souriya is known for spending hours in prayer and composing hymns, above and beyond his work in the community.
According to MacKinnon, Souriya was appointed national leader of the Kmhmu' diaspora in the U.S. nearly 30 years ago by two exiled bishops from Laos -- Alessandro Staccioli, an Italian, and Pierre Bach, a Frenchman.
"Kan was then in his early 20s," MacKinnon said, "and had already begun a Kmhmu' Catholic Community in the greater Richmond area."
Many Kmhmu' celebrations, prayer meetings, planning sessions, and other events take place in Souriya's Richmond apartment.
While Kmhmu' Catholic Community stationery lists a Berkeley address, that site is actually MacKinnon's former residence. The community once leased modest space for its center, but rent increases and income challenges curtailed that.
O'Connor laughs, but is not kidding, when she says, "Fr. Don's and my offices have been our cars."
She takes a deep breath. "Fr. Don and I have worked as a team for 25 years now, and we love and know these people. We have really learned a lot, and experienced a lot, and have had a lot of fun over those years. I will sorely miss him, and, yes, there are times when I feel like bawling."
"He is a wonderful example of the Redemptorist spirit, the missionary spirit," she added.
Prior to his 25-year ministry with the Kmhmu', MacKinnon was longtime pastor of Our Lady of Lourdes Parish in the Bayview-Hunters Point neighborhood of San Francisco, an area then populated by racial minorities and plagued by pollution, substandard housing, declining infrastructure, limited employment, and discrimination.
An archivist and historian for the Sisters of the Holy Family, O'Connor applied those skills in working with MacKinnon to publish The Kmhmu Story, a volume that compiles Kmhmu' stories, traditions, photos and other historical content. Materials include recollections of Kmhmu' support of the U.S. military during the Vietnam War.
Work on a sequel has begun. In addition, several boxes of Kmhmu' historical information, photos and artifacts now rest in the San Francisco archdiocese's archives in Menlo Park.
[Dan Morris-Young is NCR's West Coast correspondent. His email is dmyoung@ncronline.org.]