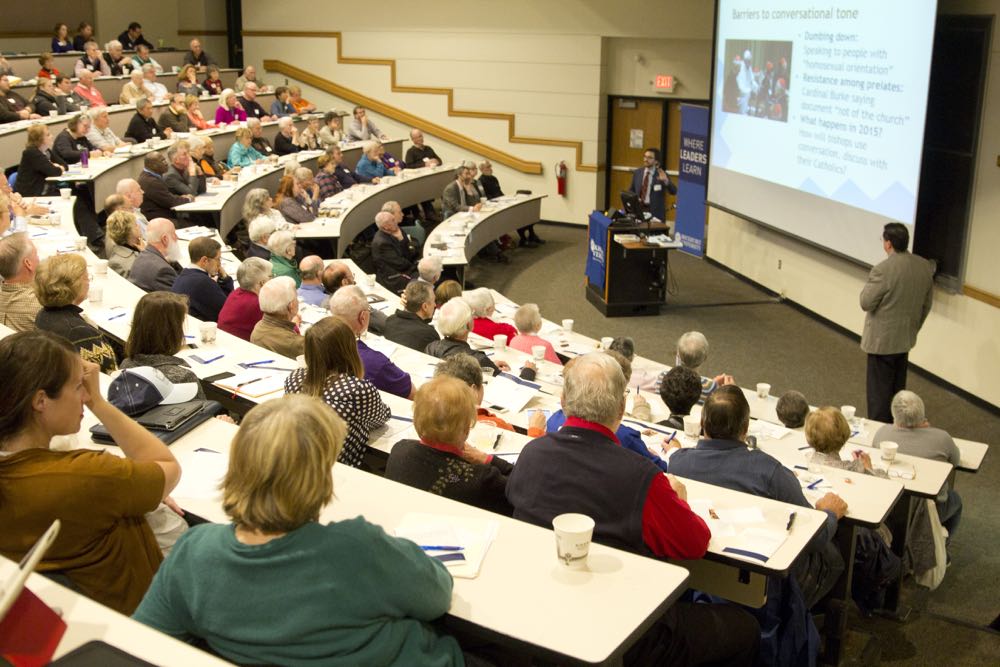 Joshua J. McElwee and Dennis Coday offer perspectives on Pope Francis' papacy Saturday at Rockhurst University in Kansas City, Mo. (Rockhurst University)
Kansas City, Mo. — November 2, 2014
In a daylong gathering, Rockhurst University educators and National Catholic Reporter journalists dissected the theological and pastoral implications and challenges of the still-emerging Pope Francis pontificate.
The event, promoted as a "conversation," used the theme "Becoming a Church of Mercy," drawing 200 locals and students who filled a Rockhurst campus auditorium Saturday on a chilly autumn morning here.
It was the first time the two institutions joined forces to bring their vantages and insights to the Catholic scene and came just days after NCR began to celebrate its 50th anniversary as a company.
Speakers concurred that Pope Francis is taking contemporary Catholicism into uncharted waters, not because his message is fundamentally new, but rather because of his unique style and pastoral emphasis following decades of pontificates that stressed strict orthodoxy.
Each offered a unique window into the Francis outlook.
"Francis comes out of experience," said Rockhurst president Jesuit Fr. Thomas Curran, who said the pontiff's theology has been shaped by his experiences in Latin America and by his time as a pastor among the poor. Curran said Francis witnessed the lives of ordinary people, absorbing their hopes and, at times, brokenness.
This has led Francis to a theology of mercy and forgiveness, Curran said.
Curran said he sees Francis' view of church and mission coming out of well-established principles of Catholic social teachings, particularly the importance of community, a preferential option for the poor, and global human solidarity.
Added to this, Curran said, Francis has been shaped by a distinct Latin American piety and, in particular, by a devotion of "Mary, the undoer of knots." Francis carries and passes out holy cards depicting a 17th-century Baroque portrait showing Mary standing on the crescent moon. This devotional comes out of the work of St. Irenaeus, an early second-century church apologist who linked Eve and Mary. In one of his works, he described how "the knot of Eve's disobedience was loosed by the obedience of Mary."
NCR Editor Dennis Coday and NCR Vatican Correspondent Joshua J. McElwee teamed up to present a Francis "lay of the land." Coday pointed out that just days after Francis' election, the church celebrated Divine Mercy Sunday. In a homily that day, Francis offered a grounding reflection on the role of God's mercy in the divine plan. True peace, he said, comes from experiencing God's mercy.
McElwee said Francis raised more than a few eyebrows when in an interview he stressed the boundless nature of Jesus' redemption. In that interview, he affirmed that in Jesus' death, all are redeemed.
"Not just Catholics. Everyone. Even the atheists," Francis said.
Coday and McElwee outlined what they described as the four pillars of the Francis pontificate: the prominence he gives to mercy; his emphasis on a culture of welcome and encounter as opposed to one of conflict; his conviction that the way forward must arise out of "conversation," not edict; and his insistence on becoming a church "of and for the poor."
Answering Francis critics who have said he is "all symbols and no substance," Coday replied that for Francis "symbols are substance," a way of setting tone and example.
The journalists then listed a number of what they called "unanswered questions," troubling observations they've filed in stories and analyses the first 19 months of the pontificate.
Their list began with the way Francis has spoken about and dealt with women. The list includes what they said are inadequate steps he's made in facing clergy sex abuse; his unwillingness to re-examine certain Catholic teachings, beginning with aspects of sexual morality; and the continued opaque and arcane methods by which bishops continue to be appointed.
Later, in a panel discussion that touched on women in the church, McElwee said: "Someone must say it. What the pope has said about women is awful! Awful! He has joked about women coming from the rib. He sees women only as mothers."
McElwee's comments drew applause from the audience.
Jesuit Fr. Thomas Reese, NCR senior analyst, in his keynote address quoted from Francis' November 2013 apostolic exhortation, Evangelii Gaudium, "The Joy of the Gospel," in which Francis wrote, "God never tires of forgiving us; we are the ones who tire of seeking his mercy." Reese, former editor of America magazine, made the point that mercy, as a foundational theological concept, comes out of traditional Catholic thought. The church teaches that "no human efforts, no matter how good they may be, can enable us to merit such a great gift [as salvation]," he said.
Reese was one of several speakers who said they were moved by Francis' humility, evident from the first moments of his papacy, when he asked for the blessings of those gathered in St. Peter's Square before offering them his own. He quoted Francis, who once described himself as a sinner: "I am a sinner. This is the most accurate definition. It is not a figure of speech, a literary genre. I am a sinner."
Reese then connected the Jesuit pope's recognition of his own sinfulness with Ignatian spirituality, which starts with the premise of the sinfulness of every person.
Building on the mercy theme, Reese quoted Scripture, saying, "Just as we are forgiven we are also called to forgive."
During the recently concluded Synod of Bishops on the family in Rome, Reese said he found ample evidence of the influence Francis is having on bishops. The synod, he said, witnessed the recognition of human brokenness and imperfection, leading to documents that stressed greater understanding and a more welcoming and engaging tone for gays, the married and divorced and cohabitating couples.
Not that all the bishops are buying into the Francis theology and pastoral lines. Reese cited opposing forces, cold confessors who haven't gotten the message, and clergy who fear Francis is cutting too many doctrinal corners. Reese said a certain tension is bound to exist in a church that sees itself as both loving mother and clear teacher. He said Francis wants discussions to valuing process even more than product.
Ellen Spake, assistant to the president for mission and ministry at Rockhurst, spoke about the life and journey of St. Ignatius as a means of explaining the Ignatian spirituality that she said is shaping Francis' pontificate. Ignatian spirituality, she told the audience, "is a spirituality for everyday life." It has humanism at the heart and respects people's everyday experiences, she said. It reflects and discerns as it attempts to understand.
"It sees the work of God in all things," she said. It finds contemplation in action. She said to understand how Francis sees the church and his ministry, it is necessary to have a good understanding of this Jesuit-based theology.
In an especially animated presentation, Glenn Young, assistant professor of theology and religious studies at Rockhurst, looked back through the documents that came out of the reform-minded Second Vatican Council, held in Rome in the mid-1960s, connecting those teachings to current Francis utterances. In case after case, he connected dots, suggesting that the works of that council are coming to new fruition in the early days of the Francis pontificate. He connected the council document Nostra Aetate, a declaration on how the church is to approach other religions, with Francis' similar openness.
Glenn also spoke about Francis' sense of life as journey and the surprises God often has in mind for those on journey. To make the point, he cited a March 2013 Francis homily in which he said that life is a journey, "and when we stop moving, things go wrong."
[Thomas C. Fox is NCR publisher. His email address is tfox@ncronline.org. Follow him on Twitter: @NCRTomFox.]