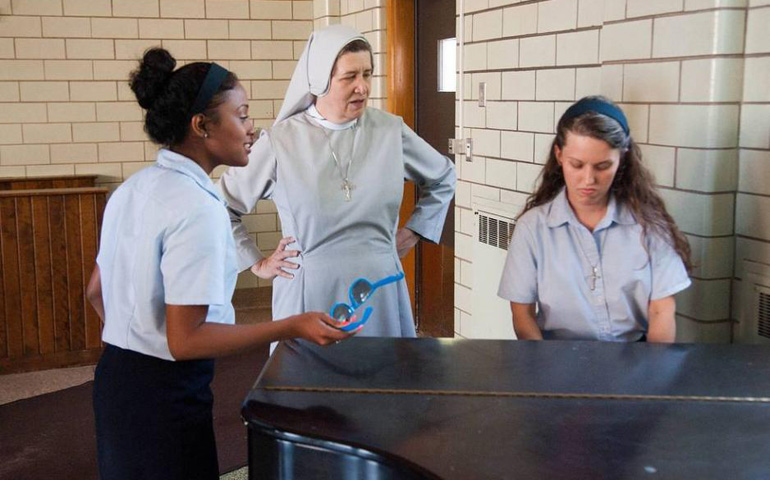 From left: Eseni Ellington, Sr. Beth Ann Dillon, and Claire Halbur in "The Sisterhood: Becoming Nuns." (Scott Gries)
Lifetime's latest original series, "The Sisterhood: Becoming Nuns," is a six-parter about five young Catholic women who are supposedly discerning whether or not to become nuns -- or, better and more accurately, sisters or women religious.
While all nuns are sisters, not all sisters are nuns. But let's not be picky.
There has always been and probably always will be much curiosity about the convent or monastery, how sisters live together, grow spiritually, and together carry out apostolates or, as most people like to say today, ministries. In church lingo, however, the clergy engage in ministry, and men and women religious carry out apostolates. But let's not be picky. The homogenous audience created by reality TV shows probably won't care.
---
Related: Reality TV takes on 'The Sisterhood' (Global Sisters Report)
---
The first thing a thoughtful viewer will keep in mind is that "The Sisterhood" is a "reality" series that really isn't. While perhaps not scripted, the scenarios are deliberately constructed, the crises are set up in "Survivor" mode as if a competition is in play, and someone will "go home"!
Here are other things I noticed that are not real about "The Sisterhood: Becoming Nuns": You don't just cast a net and bring in women to discern whether to become nuns. Women usually research communities and choose where they will visit to learn about the religious community first. Or perhaps they will meet a sister and follow through with correspondence or a visit. This show is a glorified speed-dating version of a "Come and See."
This year, for the first time, a young woman entered my congregation, the Daughters of St. Paul, after having first encountered our community's Facebook page. She has made retreats with us, lived and worked with us and paid off her college debts, and it has taken about three or four years. I don't know all the details because a young woman's discernment process is something very individual, personal and private.
These five women in "The Sisterhood" do go through some of the same things I went through, such as missing their families. But here, they are discerning -- they are not actually entering the communities they are visiting. Even if at the end of this series, one or two decide to begin a real discernment with one of the communities they visit, entering will not happen for several months at the very least. Physical and psychological assessments will be made, and the young woman will enter a period of accompaniment through her discernment with a vocation director from the community she feels called to. Both the young (or even not-so-young) woman and the community discern and have a decision to make.
The young women in "The Sisterhood" are so silly and dramatic. And they are drama queens -- a necessary ingredient for reality TV. The producers create a conflict situation so people will watch. Maybe the cameras caught some conflict arising from the group without any prompts. Still. Plus, visitors in discernment don't wear uniforms, either, though I can understand why they did it for the TV show, so we would be able to identify them as a group and as different from the sisters.
Here is what one sister friend of mine, who had been a vocation director for more than 25 years, had to say about the first episode:
There wasn't a word about mission and ministry. It was the stereotype of religious life we have hoped for so long to demythologize. The women were all lovey-dovey about being brides of Christ, and Jesus flirting with one of them. You could see there was no discernment before they came to the door. It was so silly. I think that they were just doing a six-week come and see with absolutely no commitment or discernment. They all appear to be playing to the camera. And the young women seem very familiar with how to be in a reality show. This first episode is what I had hoped would not happen.
I agree in some ways with my friend, but I did appreciate the advice and commentary the sisters in the first two episodes gave about how women must examine their motives for entering, that we don't enter religious life to run away from something, and that we are all broken in some way and we can still become sisters -- eventually. These communities are very brave to open up to a reality TV television production because you never know how the edits will be made. However, so far, the sisters, Carmelite Sisters of the Aged and Infirm, have come off as well-adjusted and wise. The show kept playing over and over one sister's comment that she was surprised no one had ever been murdered in the convent. Maybe not, but I bet some sisters have thought about it! Take all that whining, for example.
I think the young women are fairly sentimental and whiny, and it made me think of the people critiquing houses they visit on House Hunters on HGTV. I have stopped watching the show because it's fake, first of all, and Americans whine so much! People who whine make me cringe, like fingernails scratching across a blackboard. The "twerking" incident led by Eseni may have "just happened" among the young women, but it showed a lack of maturity or social awareness that any woman in discernment would have had the good sense not to bring with her.
The trip to the Holy Cow ice cream place was a cute touch, but it reminded me of something from "Sister Act." Derivative.
Women with boyfriends or who are engaged do discern and enter religious communities. Benedictine Mother Dolores Hart is a perfect example of this. After Mother Dolores' final vows, the young man she left behind started visiting her in the monastery and became a benefactor. He died a couple of years ago, and Mother Dolores says she has always loved him -- she just loved God more. When she entered, a 25-year-old actress of stage and screen, the other nuns thought she was a lightweight who would never make it. But she did, and it was hard.
If you ask sisters or nuns why they entered their communities, I think 95 percent will first say for God and then for the apostolate or good works of service that the sisters carry out. It becomes one and the same. As a woman goes through initial formation -- candidacy, pre-postulancy, postulancy, novitiate, temporary vows, final vows (the stages differ from community to community) -- she comes to understand that the reason that particular congregation or order exists is in view of its mission, or founding charism. Even in cloistered, monastic communities, no one sits around all day mooning over visions of Jesus (note to Claire, age 26).
A few days after I entered my congregation as a high school aspirant in 1967, just before my junior year, another aspirant told me her hands would start to bleed every day after receiving Communion. I mentioned it, in awe, to the postulant formator, and Mary went home. I'll never forget the postulant who entered wearing a bright green plastic rosary around her neck. Yeah, that didn't last long, but I am happy today that she had!
I wonder if these young women feel exploited or that they have had to reveal too much about themselves. I felt sad for Eseni -- she was vulnerable and revealed personal information on the show that should have remained private. Sure, perhaps someone in the audience with a similar story will resonate with Eseni and be encouraged. But this is the kind of drama that reality TV feeds on and it feels cheap to me. (Watch Episode 2 if you are curious.)
If you are interested in becoming a sister or a nun (a sister in an order rather than a religious congregation), do some research online. Talk to a woman religious you might know. The most authentic women entering communities today are those who already engage in ministry and service of the poor in one way or another. They are active and participate in the life of the church through prayer and action.
But know this: When you enter a congregation or monastery, it is an act of joining your personal journey with that of a community, for the love of God and service to neighbor. It is a commitment that springs from baptism and the life of the church. Discovering your humanity, building a relationship with God, finding your gifts among so many gifted women in a community is an adventure in grace that will last a lifetime.
But I am not sure how long it will last for the girls on Lifetime. I wish them every good thing, because someone is going home.