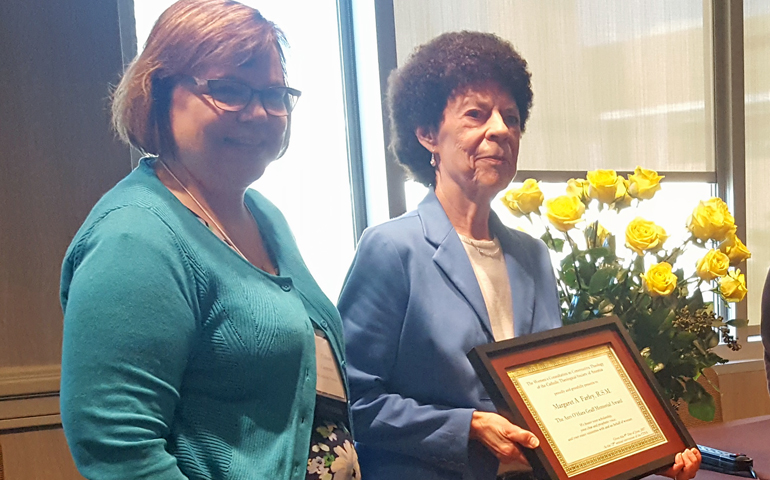 Margaret Farley receives the Ann O'Hara Graff Award from Colleen Carpenter at the CTSA convention in Albuquerque. (Heidi Schlumpf)
Praised for offering mercy and hope to many in her 35 years of teaching, writing and service, ethicist Mercy Sr. Margaret Farley was honored by women theologians June 8 at the Catholic Theological Society of America convention in Albuquerque, New Mexico.
Farley received the Ann O'Hara Graff Memorial Award for her scholarship and liberating action on behalf of women in the church and broader community. The award is named for the late feminist theologian.
Accepting the award, Farley cited O'Hara Graff's commitment to both ideas and action —"theology and acts of mercy"— in calling for continuing work to address women's inequality in the church and in society.
"We have not gone far enough," said Farley, professor emerita of Christian ethics at Yale University Divinity School and a Sister of Mercy. "We still hear the cries of women, through the centuries and today."
Farley is the author of seven books, including Just Love: A Framework for Christian Sexual Ethics, which was criticized by the Vatican's Congregation for the Doctrine of the Faith in 2012. She also was a co-founder of the All Africa Conference: Sister to Sister, in which religious women collaborate to address the HIV/AIDS crisis.
---
Related: Catholic theologians to explore ecology at annual meeting (June 8, 2017)
---
Noting that "ideas matter," Farley argued against ideas that "oppress and repress."
"When the church's secondary teachings cause sickness and death, there is something wrong with that teaching," she said. "Just as cultural practices may have been fine until they kill people, so the church's teachings may have been fine, even harmless, until they kill people."
In presenting the award, colleagues and former students described Farley as a "wise counselor" known for her practice of mercy. Although Pope Francis has become associated with mercy, "truth be told, he is following in Margaret Farley's footsteps, whether he knows it or not," said Cathleen Kaveny of Boston College and a former student of Farley's.
"My own hope is he would take a few more steps from Margaret's path, especially concerning the role of women in society and in the church," Kaveny said. "If anyone could show Pope Francis that Christian feminism is fully compatible with the deepest truths of the Catholic faith, Margaret Farley could do it."
More than 350 theologians from all over the United States are attending this year's CTSA meeting. NCR will be blogging and tweeting from the conference with the hashtag #CTSA2017. Posts from this year's conference are available here.
[
[NCR contributor Heidi Schlumpf is in Albuquerque, New Mexico, for the meeting of the Catholic Theological Society of America. Follow her reporting here and on Twitter with the hashtag #CTSA2017. Schlumpf teaches communications at Aurora University and is the author of Elizabeth Johnson: Questing for God.]