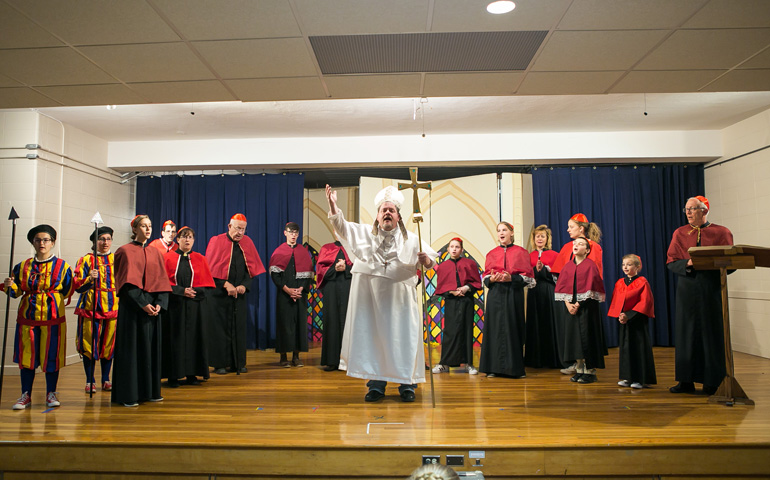 Pope Pius X (Tim Brady), center, surrounded by the Swiss Guard and some of the cardinals who voted for him, during a dress rehearsal of "X: A Pius Musical." (Courtesy of Perceptions Photography)
Middletown, Connecticut — June 8, 2017
A new priest, a late pope and a musical. It's not the start of the latest Catholic joke, but the story of how a parish in Middletown, Connecticut, came to learn more about its parish patron.
Franciscan Fr. Erik Lenhart, associate pastor of St. Pius X Parish (who also writes as an NCR blogger), had big ideas about how to celebrate the parish's 60th anniversary. He said he tossed several ideas around, but he became enthralled with the concept of putting on a dramatic production.
"[Storytelling] is sort of a very traditional Christian way to transmit the gospel," Lenhart said. "A lot of Scriptures had an oral life before they had a written life. For 40 years, a generation and a half, these stories were told and transmitted through storytelling and probably dramatic storytelling."
So, in May 2016, Lenhart and a small group of parishioners came together to discuss the idea of creating a musical about St. Pius X. By Aug. 21, the feast day of St. Pius X, they had created, practiced and performed a preview of the musical.
"We showed two of the songs, and it was a huge event," Lenhart said. "Over 200 people were in attendance."
---
Related: Inspired by 'Hamilton,' parish develops its own Pius X musical (Oct. 20, 2016)
---
Moving forward, Lenhart said they hoped to create a full-length musical to share with the parish and surrounding community.
Although Lenhart had experience writing and composing, he said this musical was his first foray into musical theater, and he was appreciative of the many parishioners who stepped in to help, including Bryan Niedermeyer, the parish music director, who helped arrange and compose music, and Timothy Brady.
Brady, a parishioner, both acted in the show as St. Pius X and worked with Lenhart to help write some of the unsung lines in the musical.
"I just thought it was a great opportunity, certainly nothing that I would have thought of doing before," Brady said. "It was remarkable, in a lot of ways, to see it take shape from the very beginning."

Tim Brady as Pope Pius X (Courtesy of Perceptions Photography)
Lenhart said creating a play based on St. Pius X involved digging into his history so he could gain a deeper understanding of the pope.
"Pius grew up in extreme poverty," Lenhart said, adding that the pope would not have been able to attend seminary without a sponsorship.
Although St. Pius X is widely known for lowering the age of first Communion, Lenhart said the pope surprised people in several ways during his papacy, including a tumultuous election and inviting Italian earthquake refugees into the papal palace.
"He and Pope Francis have a lot in common with having a finger on the pulse of the people," Lenhart said.

Extended family members of Giuseppe Sarto, later known as Pope Pius X (from left, Nathalie O'Neill, Sara Godbout, Kasey Goggins, Shayna Pandolfo, Tracy Pandolfo, Stephen Kelsey, and in front, Carly Weisenberg) (Courtesy of Perceptions Photography)
In addition to understanding St. Pius X, writing the script and musical numbers, and choreographing each scene, Lenhart also had to stage the show. Paula Stuckart, a parishioner with television producing experience, volunteered to help.
"Fr. Erik and I would sit at a table while we watched the scenes unfold," Stuckart said, "and he would lean over to me and say, 'I think we need a scroll for the scene. Can you get a scroll?' "
"It just sort of grew from there," she said.
Now, they have "a whole host of props" ranging from furniture to 35 battery-operated candles, Stuckart said, and a cast and crew of more than 40 people with diverse backgrounds, talents and ages ranging from 4 to 84.
"I don't think that there's anything quite like it presently at the parish, where that age range is so active and interacts so much with each other," Brady said.

Pope Pius X (Tim Brady) asks a cardinal (Carly Weisenberg) if she understands the difference between bread and the body of Christ, during a dress rehearsal for "X: A Pius Musical"; Weisenberg was standing in for an absent cast member. (Courtesy of Perceptions Photography)
After seeing how the parish came together to create, enact, promote and enjoy the musical, Lenhart said, "I thought the musical was the perfect metaphor for the church and the body of Christ. We all have different talents."
Brady especially praised the costumers and said the cast members have spoken in Mass, in full costume, to help involve the entire parish and inform them of the event.
"It's certainly fun for the people involved, it's hopefully fun for the parish, but it's also a great community-builder for the parish as a whole and for the people involved in the show," Brady said.
Brady, Stuckart and Lenhart each expressed their hopes for the future of the musical, ranging from additional screenings to sharing the script with theater programs at Catholic schools.
Lenhart said there are plenty of musicals for schools to perform, but "as far as something that is going to promote, inspire and delight in Catholic spirituality I haven't found much."
Writing this musical has opened up possibilities, and St. John Paul II, St. Teresa of Kolkata, Capuchin Fr. Solanus Casey and The Book of Job are some ideas Lenhart said he has for future productions, but added that they have to get through their first full production first.
"X: A Pius Musical" had three screenings from May 5 to May 7, and Stuckart said two of the three shows were sold out, with only 10 tickets left for the third.
"I hope that we are able to entertain and educate the audience," Stuckart said, "because it's not just about us putting on this performance and having them laugh and be moved, but having them learn about who St. Pius X was."
[Kelsie Stelting is the author of Raising the West, a biographical work of 12 western Kansas women ranging from 78-99 years old. To learn more about Stelting, visit www.kelsiestelting.com or email her at kelsie@kelsiestelting.com.]