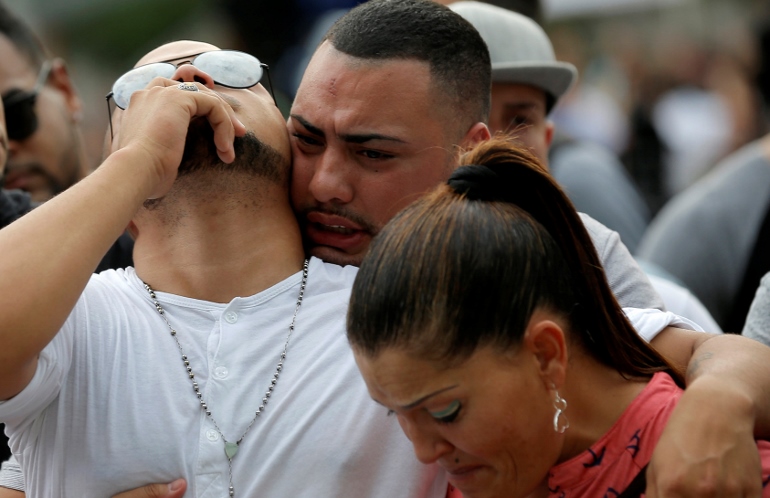 Mourners grieve at a June 13 vigil for the victims of the mass shooting at the Pulse gay nightclub in Orlando, Fla., where a lone gunman killed 49 people early June 12 at the nightclub. (CNS photo/Jim Young, Reuters)
Orlando has a new normal.
Since early Sunday morning, our town has been dripping in blood and tears and the fragmented frustration of a news story unfolding itself ever so slowly. As I write they are removing the last bodies, identifying the last victims, on a street, in a neighborhood 10 minutes from where I live.
All day Sunday, mothers were desperately looking for children whose texting had stopped. Other women's children who escaped the barrage wept openly in shock and dismay that anyone would want to kill them. One young man looked to the sky and made the sign of the cross.
These past days have been a lot like standing at the foot of a cross, looking up at a bloodied corpse that was once a vibrant human being, an intact community, a safe place. Sunday's summer afternoon thunderstorm, a usual annoyance, blessedly cleaned the blood-stained sidewalks. We are picking ourselves up off the ground where grief had flattened us. At my grocery store is a memorial table to a young employee who, days before, had been helping customers. Today we begin the task of burying the bodies and our old normal.
So much has died: a generation of 20- and 30-year-olds, most children of Hispanic families, many from Puerto Rico; the sense of the LGBT community that this nightclub, and Orlando, was finally a safe place for them to be; and, any notion we in Orlando may have had that while Disney World's massive business of fantasy might be a target for such carnage, our growing community of reality on its periphery would be safe. In reality we were all marginal, all vulnerable, all soft targets.
In liturgical time Sunday began the Eleventh Week in Ordinary Time. In what was anything but ordinary time in Orlando, Sunday's Gospel came crashing on me. The roles were all there. Simon, judging and dismissing the uninvited outsider with her unwelcome lifestyle. The woman, feeling safe enough with Jesus to pour out her heart and tears. Jesus, in the midst of it all, begging Simon, and us, not to rush to judgment. Remember, he says, that mercy and forgiveness come in trickles to the stingy but pour out all over those who have the most to lose but still manage to love.
Mercy and justice dwell together, says Pope Francis, but mercy comes first. In Orlando, we are suspended somewhere between the two. As our story of terror and carnage unfolds, and it will, we will be hearing words about walls, bans, arms, punishment and fear -- normal reactions.
But, in Orlando, at 2 a.m. this past Sunday in the Pulse nightclub on Orange Ave., across the street from Orlando Regional Medical Center, next door to Dunkin Donuts, and just 10 minutes from my house, everything changed. Nothing is normal.
[Carol Stanton is a former television news anchor and reporter and has served the Orlando diocese as communications director and director of lay ministry formation.]