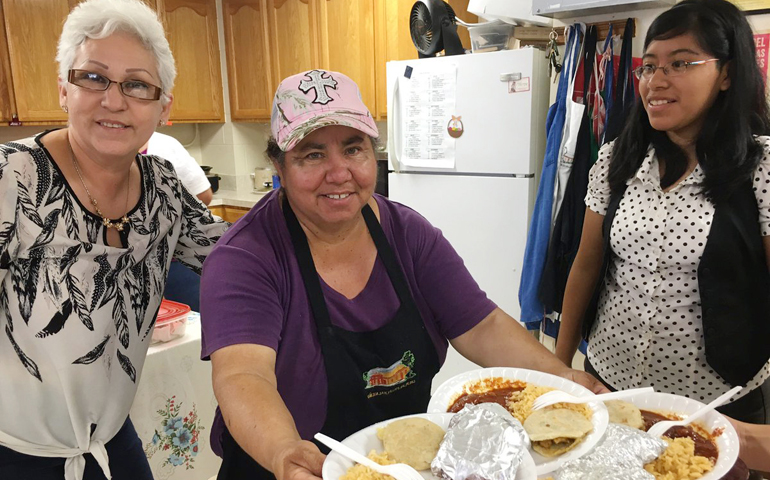 Carmen Alvear and other parishioners from San Felipe de Jesus Parish in Brownsville, Texas, prepare a special meal for unaccompanied children from Central America who attend Mass at their church. (CNS/Rose Ybarra, The Valley Catholic)
Editor's note: "The Field Hospital" blog series covers life in U.S. and Canadian Catholic parishes. The title comes from Pope Francis' words: "I see the church as a field hospital after battle. It is useless to ask a seriously injured person if he has high cholesterol and about the level of his blood sugars! You have to heal his wounds. Then we can talk about everything else. …"
If you have a story suggestion, send it to Dan Morris-Young (dmyoung@ncronline.org) or Peter Feuerherd (pfeuerherd@ncronline.org).
---
Staff and parishioners of San Felipe de Jesus Church in Brownsville, Texas, are creating as welcoming and joyous a response as possible for the hundreds of unaccompanied children, nearly all from Central America, who are being housed in their area. A special seating section has been set aside for the more than 100 such youngsters who attend Mass at the parish most Sundays.
Marist Fr. Anthony O'Connor, pastor, told the Brownsville diocesan newspaper, The Valley Catholic, that the children are fleeing from poverty and violence in their home countries. "Most of them face some sort of difficulty on the way," said the priest, who visits four different refugee centers to hear confessions and visit with the children. "They often pass through moral and physical danger to get here. These kids have had to grow up fast."
A trio of sheep named Faith, Hope and Charity have been recruited by the historic Basilica of St. Patrick's Old Cathedral near Little Italy in Manhattan to "serve as organic law mowers in its two-century-old cemetery," reports Catholic News Service.
It is the third year the parish has employed a team of sheep to tend to the grass and weeds growing around the headstones, which mark the graves of Civil War heroes, aristocrats and 19th-century New Yorkers. St. Patrick's pastor Msgr. Donald Sakano told CNS that the sheep have not only become popular with passersby, but that they are "a good catechetical tool," being the most-referenced animal in the Bible.
St. Clement Church in Bowling Green, Mo., was recently severely vandalized. On July 24, visiting priest Fr. Dennis Rausch "arrived to discover that the church had been vandalized and desecrated," according to a news report by Jay Nies, editor of The Catholic Missourian, newspaper of the Jefferson City diocese. "Altar wine and feces had been smeared onto the altar, the tabernacle, the baptismal font, the reconciliation rooms, the statues, the vestments and the large books of prayers and readings for Mass. The blessed oils had been spilled on the floor, and the vigil candle and key to the tabernacle were missing." A woman who had recently joined the parish confessed to the crime and has been charged with felony property damage. Jefferson City Bishop John Gaydos presided over a July 30 ritual of prayer and atonement to re-consecrate the church.
An online petition has been launched demanding that internet auction giant eBay stop allowing the sale of saints' relics on its site. Shopping eBay for a rosary, Ryan Scheel, founder and editor of the website uCatholic, spearheaded the effort after he discovered what was listed as a first class relic of a saint's bone still in its sealed reliquary. Price: $3,600.
"Green team" representatives from about a dozen parishes in the San Francisco archdiocese gathered July 30 at the city's St. Teresa of Avila Parish to compare notes and share information on how parishes can be more environmentally responsible. "We came ... to find out what is working in other parishes so we don't have to reinvent the wheel," Verna Shaheen, a parishioner of San Francisco's Most Holy Redeemer Parish, told Catholic San Francisco reporter Christina Gray.
Several parishes are recycling, composting and conserving water, installing energy-efficient lighting and offering parishioners a copy of Pope Francis' encyclical "Laudato Si', on Care For Our Common Home." The meeting was an outgrowth of an April 23 conference on the topic attended by 100 pastors and parishioners. Another conference will be held in early October to coincide with the Feast of St. Francis of Assisi, patron saint of the environment.
[Dan Morris-Young is NCR's West Coast correspondent. His email is dmyoung@ncronline.org.]
We can send you an email alert every time The Field Hospital is posted. Go to this page and follow directions: Email alert sign-up.