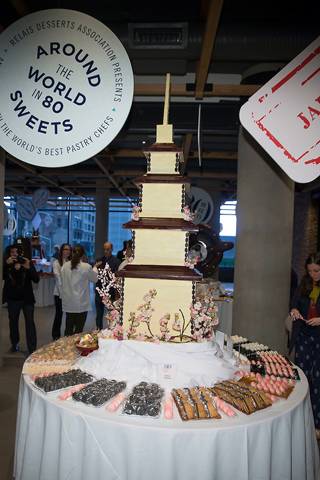 An impressive dessert created by one of 80 chefs at the "Around the World in 80 Sweets" fundraising event for City Harvest April 4 in New York City (Photos courtesy of Ben Hider)
New York — April 20, 2016
New York City is well-known for its endless social functions celebrating art, high fashion or the most recent political cause. But that's only one aspect of Gotham. The other side is one of magnanimity, compassion and a spirituality marked by service to the poor.
On April 4, the city's fashionable ladies and gentlemen sauntered into Eventi -- one of New York's newest and trendiest hotels -- to attend "Around the World in 80 Sweets" -- a charity created to raise funds for City Harvest.
City Harvest, started in 1982, pioneered food rescue from restaurants, farms and grocery stores to help the poor. In 2015, they collected 55 million pounds of excess food that would otherwise have been thrown away to feed nearly 1.4 million New Yorkers.
New York's glitterati came to see and to be seen having plonked down $150 a head to attend the charitable function to help the hungry. Those who attended the charity ran a veritable gauntlet of the world's top 80 pastry chefs who applauded as each guest entered the reception. Many of the chefs have successfully competed at the Coupe du Monde de la Pâtisserie -- the Super Bowl of pastry chefs.
The guests stood in amazement at magnificent array of exquisite macaroons, delectable bon bons, glorious Belgian waffles and scandalously decadent, edible, gold-leaf covered, dark chocolate fudge lollipops. One dessert prepared by each of the 80 chefs in attendance.
Eighty white, seriously impressive toques -- a traditional poofy chef's hat -- floated well above the heads of the attendees testifying to the great number of celebrity chefs present. The height of the hat is said to reflect the status of the chef wearing it, distinguishing them from mere line cooks. Among them were shining luminaries of the culinary world such as Chefs Daniel Boulud, Laurent Tourondel, Eric Ripert, Jean-George Vongerichten and François Payard.
The chefs came from France, Spain, Italy, Belgium and Japan. Each stood proudly by their creations graciously accepting the compliments they well-deserved. The attendees stood in admiration before the treacly desserts, soaking up the sights and smells of the beguiling desserts and, when they thought no one was looking, tore through the impressive array of artistic confections.
Starting this coming spring, City Harvest will be partnering with Catholic Charities to supply a new, comprehensive food distribution center which will serve the South Bronx, the nation's poorest congressional district, and northern Manhattan. Together, this hub will serve approximately 7,500 families who need access to food pantries to augment either their public assistance or their otherwise insufficient family income. The food that would otherwise be thrown away, is salvaged to assist New York's neediest.
"This collaboration with Catholic Charities in the Bronx is still in the planning stages so I am afraid we currently cannot share a lot of detail about it," explained Samantha Park, communications manager for City Harvest. "We already partner with Catholic Charities and some of our network soup kitchens and food pantries in the Bronx to provide food to a hub site in the Bronx where these organizations can come to get food for their communities. Through this new project [with the Catholic Charities] our goal is to provide more food to communities in need, and more ways for them to access that food."
City Harvest also works in the South Bronx, "an area with high rates of poverty, food insecurity and diet-related illnesses such as diabetes and heart disease," Park said. Over 20 percent of South Bronx residents don't always know when they will get their next meal. The community is one of five in City Harvest's Healthy Neighborhoods program, which provides "affordable fresh produce to residents" and teaches them "healthy cooking, eating and shopping tools through nutrition education," Park said.
According to the U.S. Census Bureau, more than a quarter-million people in the South Bronx live below the federal poverty level -- approximately 256,544, or 38 percent, of its residents are impoverished. Forty-nine percent of the area's children live in poverty. Since 2008, the number of people living in poverty throughout New York City grew by more than 120,000, to over 1.6 million in 2010. Approximately, 1 in 10 children in New York City lives in a neighborhood where the poverty rate is higher than 40 percent.
City Harvest and Catholic Charites are teaming up to assist New York City's most vulnerable populations who are underserved by municipal authorities. In overwhelmingly poor neighborhoods, residents lack communal resources and economic and educational opportunities, health services, private investments and proper housing. In addition, high crime rates plague the most impoverished neighborhoods. A recent study done by the Citizens' Committee for Children of New York, Inc., suggests that despite a decline in the number of extreme-poverty neighborhoods and the overall number of people living in them, concentrated poverty remains a serious problem in New York City. The concentrated poverty rate measures the percentage of poor people living within a specific geographic area who live in extreme-poverty neighborhoods.
Also sponsoring "Around the World in 80 Sweets" was Cristel, a high-end cookware company which has been involved with charities in France for many years, including Petits Princes, an organization that helps children and teenagers with serious illnesses realize their fondest dreams, similar to Make-a-Wish Foundation in the U.S.
"It's important to give back," said Damien Dodane, CEO of Cristel. "This is an excellent cause -- one in which we believe."
Virginie Woo, Cristel's culinary expert and special project manager, and moving force for her company's involvement with charity, has been involved with New York City's homeless for four years since her arrival in this country in her association with the Franciscan Friars of the Renewal in the Bronx.
"It's essential," she explained, "to help less fortunate people whenever it's possible. By sponsoring City Harvest, Cristel is proving it. We always have to think of those who have nothing to cook."

Chef Andy Chlebana, culinary professor and pastry chef instructor at Joliet Junior College in Joliet, Ill., donated his time and services for "Around the World in 80 Sweets."
"I love it. It's a great opportunity and a great charity," said Chef Chlebana. "It's wonderful to be in the midst of all of this talent brought together for the purpose of charity towards the poor."
"As I tell my students, 'Food is experience," explained the chef. "I'm Catholic myself and I understand the importance of giving. These poor people are experiencing great food, prepared by professionals. They probably don't get that a lot in their lives. We're happy to help out."
[Angelo Stagnaro has published articles in most of the major Catholic journals in the United States and Great Britain and is a correspondent for Catholic News Service.]