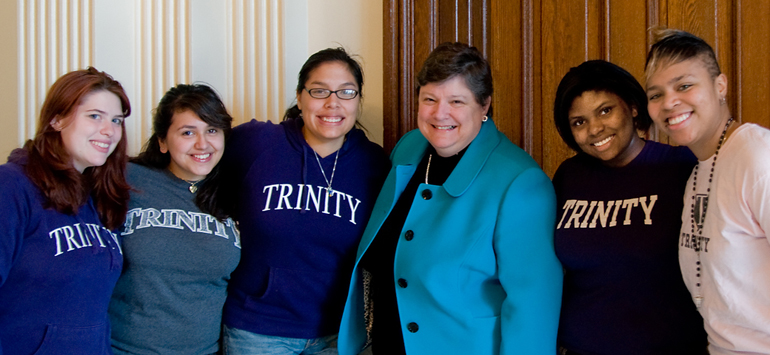 Trinity Washington University President Patricia McGuire with students. (Trinity Washington University)
The president of a small, Catholic women's college on the East Coast is being recognized nationally for her contributions to the transformation of the institution she has guided for 27 years.
The Teachers Insurance and Annuity Association of America Institute has awarded Patricia McGuire with its 2016 Theodore M. Hesburgh Award for Leadership Excellence for her educational commitment and outstanding leadership at Trinity Washington University in Washington, D.C.
The award was announced Monday at the American Council on Education's 98th annual meeting in San Francisco.
"President McGuire transformed Trinity from an institution on the brink to a thriving university that provides innovative education to students of color, low-income students, and their local community," Stephanie Bell-Rose, senior managing director and head of the TIAA Institute, said in a statement. "She exemplifies Father Hesburgh's spirit and purpose with her commitment to education as a path to economic security as well as her tireless advocacy for educational access nationwide."
The award, established in 1993, recognizes current college and university presidents or chancellors across the country who have shown commitment to higher education and who embody the spirit of the late Theodore Hesburgh, former president of the University of Notre Dame for 35 years.
McGuire's award is the first presented since Hesburgh's passing last year.
McGuire said she was honored to accept the award, calling Hesburgh one of her heroes.
"Fr. Hesburgh spoke truth to power, he used the "bully pulpit" of the president's office to speak out and take action on the great issues of his day — civil rights, human rights, poverty, hunger, war and peace," McGuire told NCR in an email exchange. "Those remain our great social and political issues today. He showed college presidents how to be leaders in the public square."
McGuire was selected by an independent panel of judges appointed by the American Council on Education.
"ACE is proud to join the TIAA Institute in honoring Patricia McGuire, a leader who has achieved truly transformational change at Trinity and made important contributions to the entire higher education community," said American Council on Education President Molly Corbett Broad in a statement. "President McGuire's work ensures that Trinity will continue to serve new generations of students from all walks of life in the coming decades."
Trinity Washington University opened in 1897 as a liberal arts women's college. McGuire said after coeducation began in the 1960s and 1970s, many women's colleges — including Trinity — took a hit. When she started in 1989, the university had just 300 full-time, traditional students. Enrollment has increased to 2,200 students today, something McGuire credits to the reinvention of the school's model based in social justice.
With the help of the Sisters of Notre Dame, the order of women religious who founded Trinity, McGuire said, the university began targeting low-income women of color in Washington and nearby counties. African Americans and Hispanics make up 95 percent of Trinity's student body, according to the university.
"Too often, the story of large, public universities obscures the very good and progressive work going on in smaller places," McGuire told NCR. "As one of the nation's historic Catholic women's colleges, Trinity is in many ways a harbinger of changes coming to all of higher education … We are so grateful that this model can get this kind or recognition."
Trinity has expanded over the years to include coeducational programs, and has added four academic programs under McGuire's tenure, including the coeducational School of Nursing and Health Professions, which offers both undergraduate and graduate degrees in nursing and occupational therapy.
McGuire says the university plans to continue its growth and has set a goal to reach 3,000 students, and to expand its healthcare programs, something she called "a large current and future need in the Washington region."
[Traci Badalucco is an NCR Bertelsen intern.]