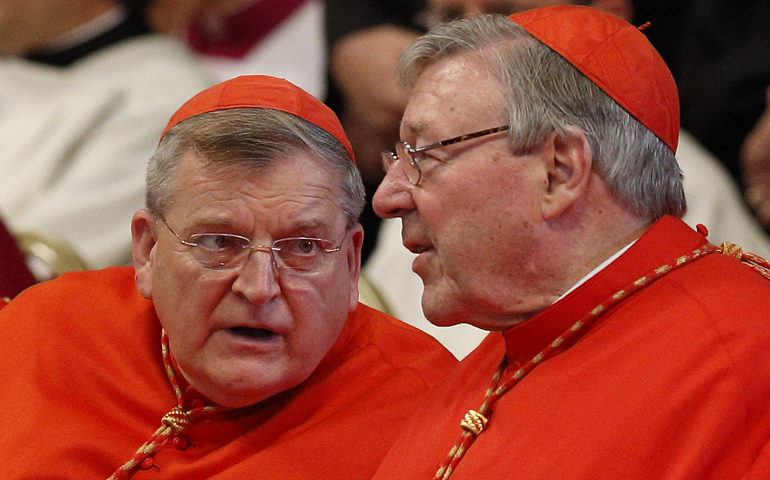 Cardinal Raymond Burke talks with Cardinal George Pell, before Pope Francis' celebration of Mass in St. Peter's Basilica at the Vatican June 29. (CNS/Paul Haring)
Vatican City — November 22, 2016
The Vatican office that handles affairs relating to the Catholic church's liturgical practices has confirmed that Pope Francis has decided not to renew the terms of several of its bishop-members, many of whom are known for preferring a more traditionalist practice of liturgy.
Francis had appointed 27 new bishops to serve as members of the Congregation for Divine Worship and the Discipline of the Sacraments on Oct. 28. But the announcement of the appointments did not make clear whether the previous members' terms had been renewed.
The congregation has now posted a full list of its current membership on its website. The list makes clear the pope did not renew the terms of 16 congregation members, including those of U.S. Cardinal Raymond Burke, Australian Cardinal George Pell, and the head of the Vatican's Congregation for Bishops, Canadian Cardinal Marc Ouellet.
Each of the Vatican congregations is made up of cardinal and bishop members, who frequently travel to Rome to help the offices in their work.
The worship congregation's confirmation of its current membership was first reported by The Tablet. According to the online list, the congregation now has 40 members. It had previously had 31.
Among the new members of the congregation appointed by Francis are:
Vatican Secretary of State Cardinal Pietro Parolin;
Abuja, Nigeria Cardinal John Onaiyekan;
Quebec, Canada Cardinal Gerald Lacroix;
Melbourne, Australia Archbishop Denis Hart;
Paterson, N.J., Bishop Arthur Serratelli;
Archbishop Piero Marini, president of the Pontifical Committee for International Eucharistic Congresses and who previously for twenty years as the Master of Pontifical Liturgical Celebrations.
The Congregation for Divine Worship and the Discipline of the Sacraments is led by Guinean Cardinal Robert Sarah. Its second-in-command is English Archbishop Arthur Roche.
[Joshua J. McElwee is NCR Vatican correspondent. His email address is jmcelwee@ncronline.org. Follow him on Twitter: @joshjmac.]