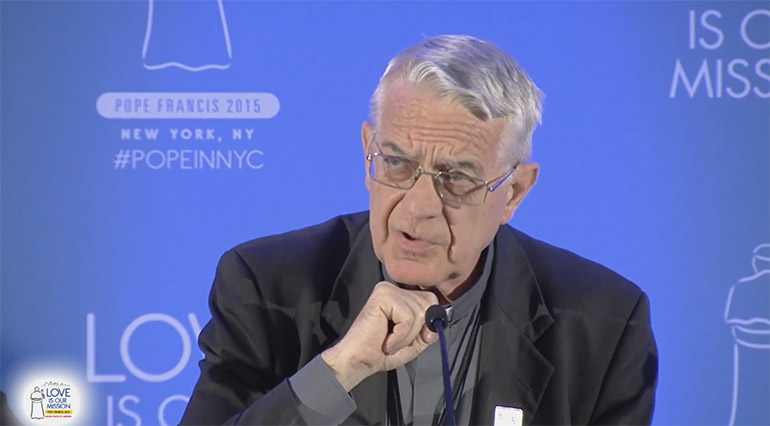 Screenshot of Jesuit Fr. Federico Lombardi
New York — September 24, 2015
A Vatican spokesman has said that Pope Francis may yet have another opportunity during his continuing visit to the U.S. to address the sexual abuse crisis, in what could be a reference to an upcoming but unannounced meeting with abuse survivors.
The pope may "have other occasions to approach this problem," Jesuit Fr. Federico Lombardi said at a press conference Thursday evening. Francis' six-day, three-city trip to the U.S., he said, "is not to an end now."
Lombardi was responding to an NCR question at the briefing regarding two speeches given by the pope Wednesday in Washington and Thursday in New York.
Both speeches addressed the sexual abuse crisis obliquely, and acknowledged the struggles faced by church officials in handling the issue but not the pain of survivors.
Speaking to some 300 U.S. bishops Wednesday, Francis told them: "I realize how much the pain of recent years has weighed upon you."
"I have supported your generous commitment to bring healing to victims -- in the knowledge that in healing we too are healed -- and to work to ensure that such crimes will never be repeated," he said then.
On Thursday, Francis told priests, brothers and sisters at a prayer service in New York that he knows they "suffered greatly in the not distant past by having to bear the shame of some of your brothers who harmed and scandalized the Church in the most vulnerable of her members."
Vatican officials have said in the past that they do not normally publicize meetings between the pope and survivors beforehand, preferring to make the meetings private and personal.
Francis will be in New York until Saturday, when he travels to Philadelphia.
[Joshua J. McElwee is an NCR Vatican correspondent. His email address is jmcelwee@ncronline.org. Follow him on Twitter: @joshjmac.]