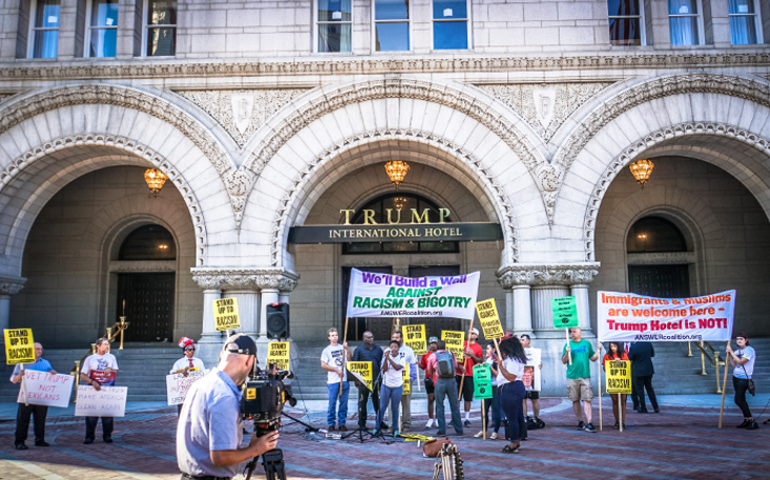 Protesters denounce Donald Trump outside the the Trump International Hotel in Washington, D.C., in September 2016 (Wikimedia Commons/Ted Eytan)
Editor's Note: This article first appeared in The Washington Post's Acts of Faith section, which offers breaking and ongoing news, analysis and opinion about major religion stories. It is reprinted here with permission.
---
My interest was piqued when I heard that a group of well-heeled, politically active conservative Catholics planned to meet at the Trump International Hotel in Washington for a two-day, $1,250 a person symposium. Billed as an exclusive gathering of "Catholic leaders, clergy and important DC insiders," the event didn't sound like your typical religious conference.
As a Catholic progressive who writes about the intersection of religion and politics, I wanted to peek behind the curtain. Last week, I coughed up the hefty registration fee to listen to how an influential segment of Catholics and other religious conservatives are organizing in the Trump era. Over three-course dinners, wine receptions and panel discussions that featured academics, former and current Republican officials, and an address by Los Angeles Archbishop Jose Gomez, the symposium featured a blend of high-powered networking, liturgies, wonky policy discussions and insider D.C. political whispering.
Timothy Busch, a prominent Catholic philanthropist who hosted the gathering, set the tone during opening remarks at a National Press Club dinner attended by Supreme Court Justice Samuel Alito and former senator Rick Santorum. "We were headed down a path that was pretty dark with a Supreme Court decision redefining marriage," he told a crowd of about 75 business leaders, clergy, religious liberty attorneys and conservative activists. While acknowledging that President Trump's policies and rhetoric toward immigrants don't align with Catholic teachings, he spoke in buoyant terms about the new political potential in Washington.
"In the early weeks of this administration more has been done to address the biggest tragedy, the biggest catastrophe, and that is abortion," said Busch, an Orange County, Calif. attorney who owns luxury hotels and the Napa-based vineyard Trinitas Cellars. "More has been done to benefit the causes of life, which is more important than anything we have in our society … Everything else is trumped by this issue of life."
Busch raised the case of the Little Sisters of the Poor, who sued the Obama administration over contraception-coverage requirements in the Affordable Care Act. New administration officials, he said, will work to dismantle those requirements. "I told one of the sisters today that it's over for the devil. It is over for evil. It is over for that compromise of religious liberty," Busch said to loud applause.
Progressives and conservatives must work harder to find common ground and rescue religious liberty debates from the culture war. Talk of the devil and framing the fight as an apocalyptic showdown between the forces of light and darkness clearly doesn't get us there. The Little Sisters of the Poor do saintly work caring for the indigent dying in nursing homes, but the specifics of their case have been debated on the right and on the left. For instance, a prominent law professor who filed an amicus brief in the Supreme Court case on the side of the Little Sisters as plaintiffs wrote in The Washington Post that the arguments made in the trial put the broader effort to protect religious liberty at risk.
Last week's gathering mixed traditional Catholic religious practices with moments that felt uncomfortably nationalistic. For instance, the gathering opened with a "Patriotic Rosary for the Consecration of our Nation" that included readings from George Washington and John Adams.
I was most disturbed by another reading in the rosary booklet from General Robert E. Lee that appealed to God "in the defense of our homes and our liberties, thanking Him for His past blessings, and imploring their continuance upon our cause and our people." In 1863, "the cause," was slavery, and the defense of Southern homes was armed resistance to the North. It is stunningly insensitive at best to mix up Lee and the Southern cause with the Holy Rosary, especially at a time when the "alt-right" and white nationalism are basking in the glow of renewed attention and proximity to power.
Busch, the host of the gathering, is a prominent player in Catholic circles. His $15 million gift last year to The Catholic University of America in Washington was the largest donation in the history of the university. The business school, which has also received substantial donations from the Charles Koch Foundation, is named after him.
Along with Philadelphia Archbishop Charles Chaput, who has been a frequent public critic of pro-choice Catholic politicians, Busch co-founded the Napa Institute in Napa Valley to prepare for what the archbishop has described as "the next America," a time of growing secularization that in their view will marginalize and demonize traditional religious believers. The Napa Institute hosts an annual conference at Busch's Meritage Resort and Spa in Napa that brings together Catholic business leaders, bishops and conservative public officials.
"What this administration represents is freedom," Busch told the group gathered for a morning session in a Trump hotel conference room with chandeliers and gold-trimmed mirrors. "The cabinet appointments and Supreme Court appointments have been stellar. It may be that the personality of the president is not to our liking, but it may be the only personality that can change the government and the status quo."
Archbishop Jose Gomez of Los Angeles, the largest Catholic diocese in the United States, represented a rare voice at the meeting to speak out strongly on an issue that challenges the Trump administration. President Trump touts the need for a "great, great wall" on the border, and immigration enforcement agents have moved aggressively to deport a wide swath of undocumented immigrants — including those brought to the United States as children and given protective status under the Obama administration. "What public policy purpose does it serve to take away daughters from their mothers and sons from their fathers?" the archbishop asked in a speech. "This is what we're doing. We're breaking up families."
During the gathering, rarely if ever mentioned was how President Trump's positions on the safety net for vulnerable families, health care, torture, bellicose rhetoric on nuclear weapons and treatment of Muslim refugees offend many Christian principles. "It's hypocrisy to call yourself a Christian and chase away a refugee," Pope Francis has said. In the fitting Trump International Hotel space, leaders appeared willing to look the other way on a range of justice issues central to Catholic teaching to emphasize the political window of opportunity on others, especially abortion, marriage and religious liberty.
Carter Snead, director of the Center for Ethics and Culture at the University of Notre Dame, praised Health and Human Services Secretary Tom Price as a "pro-life" physician who could take steps to allow states to defund Planned Parenthood. Snead described key presidential adviser Stephen K. Bannon and Attorney General Jeff Sessions as "pro-life." Trump, he said, also sent an "important cultural symbol to the pro-life movement" by sending Vice President Pence and adviser Kellyanne Conway to the annual March for Life in January. "The pro-life movement is back at the White House," Snead said to applause. Traditional Catholic teaching, however, recognizes that a "consistent ethic of life" also requires a commitment to human dignity when it comes to myriad threats, including an economy of exclusion and inequality and an inhumane immigration system that breaks up families.
---
More: NCR correspondent Dan Morris-Young attended the Napa Institute's annual gathering at the elegant Meritage Resort and Spa in Napa, California. Read his account here: Napa Institute gathers US church's well-heeled and high-ranking devout.
---
After watching some of the speeches, I believe religious conservatives are also going to have to find a more productive and indeed Christian way to talk about the dignity of gay, lesbian and transgender people. Rev. Eugene Rivers III, a prominent black Protestant minister from Massachusetts, lamented in one conference session that conservatives are losing in the court of public opinion because opposition to same-sex marriage is often viewed as akin to racism. Several times he referred to the LGBT community as "the gays," and argued that more black leaders need to speak up. "This is going to be a dogfight," Rivers said. "We can't go into a dogfight with a poodle. This has to be smash-mouth football." But balancing two goods — respect for religious liberty and dignity for gays and lesbians — should not be viewed as competing claims.
At the event's closing dinner, billed in the program as "in honor of the new administration," guests — including former GOP presidential candidate Carly Fiorina and Rep. Jeff Fortenberry (R-Neb.) — listened to an ominous description of religious persecution in the United States. Alan Sears, founder of the Alliance for Defending Freedom, which has litigated religious liberty cases around the country, warned that secular and liberal forces are intent to "destroy the vestiges of Christian heritage." Referencing the martyr Sir Thomas More, executed by King Henry VIII for refusing to renounce his Catholic faith and accept the king's divorce, Sears framed the challenge to people of faith today in similarly stark terms. "Our neighborhoods, schools, universities, cities and many state governments continue to be filled with injustice and darkness that is at war with the truth of the Gospel," he said.
Conservative Catholics who feel emboldened in the Trump era will continue to strategize and look for political openings. But along the way they risk being relegated to cheerleaders for the administration if they downplay or ignore how poverty, the environment and the command to welcome migrants are central to traditional church teachings. Perhaps looking to Pope Francis, rather than Donald Trump, would be a good place to start.
[John Gehring is Catholic program director at Faith in Public Life, and author of The Francis Effect: A Radical Pope's Challenge to the American Catholic Church.]
Learn more about The Washington Post's Acts of Faith.