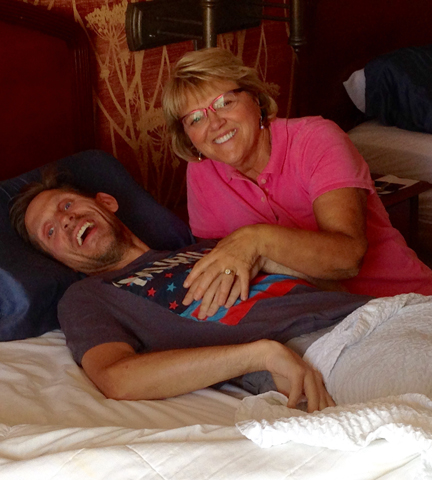 Retired Maj. Darren Baldwin and his mother, Fran Wesseling, a member of Good Shepherd Parish, Cincinnati, Ohio. (Photo courtesy Wesseling family)
As Memorial Day approaches, Fran Wesseling speaks with authority on the devastation of war as well as her commitment to "our military men and women willing to make the sacrifices they do to defend our nation and assist the world against wars being fueled by terrorists who have little to no value for human life and justify acts of terror against civilians around the world."
"My son and his wife wake up to the impact of war on a daily basis," the mother of retired Maj. Darren Baldwin told NCR. "As our lives go on, theirs often do not, at least not in the capacities they once could."
A graduate of West Point, Baldwin was a U.S. Army Special Forces Green Beret unit leader in the early days of the Iraq conflict. During a nine-day period in 2005 he was exposed to two road-side bombings which caused traumatic brain injury.
It went undiagnosed for three years.
In a five-year-old video accessible online, Baldwin is seen working intensely with physical therapists. He expresses hope that the hard work will lead to recovery.
However, the neurological damage proved irreversible. Today the highly-decorated soldier "can no longer do anything for himself, and he can only communicate with his eyes and smile," said Wesseling, a member of Good Shepherd Parish in Cincinnati, Ohio.
"Yes, we have cried rivers of tears. We have prayed. We have asked for miracles," she said.
"Sadly we have accepted that there is no cure for Darren's type of neurological deterioration," she said. "So, we take each day as a blessing. He has been close to death numerous times, but he's pulled through. I really believe the Lord has sustained his life to be an example to us all."
Wesseling pushes back against stereotypes of Special Forces. "People often do not know what the Green Berets are or do, or they think they are all John Waynes and GI Joes" who invade countries and start wars, Wesseling said. "People often know more about ISIS than our own Special Forces."
Special Forces members "are very intelligent and highly trained," she emphasized, "and take family, country and God very seriously."
Training includes learning to speak other languages, becoming familiar with other cultures, and developing leadership skills to support indigenous populations, she said.
Asked about demonization of the military, Wesseling said, "I ask persons like that to walk in the shoes of those in combat, seeing firsthand the kind of oppression going on in the world and see if they think this is an immoral response."
She added, "Although my son has lost his young life from the impact of war, when he could still speak he said that if he had to go to war to fight the terrorist actions, he would do it again in a heartbeat."
"These are professional soldiers who have pledged to help the downtrodden and free the oppressed on a daily basis," she said. "As a mother of a Green Beret, I feel this is a far cry from what some would consider unjust military action."
Wesseling and her husband Jim have become what are called "ambassadors" for the Green Beret Foundation.
In that capacity, she said, they "spread the message" of the Special Forces' role as well as generate funding for the foundation. The couple see their advocacy on behalf of the foundation and its Steel Mags offshoot as a continuation of Baldwin's patriotic service.
"This is a legacy I want to leave for my son and his wife, Bianca, who is extremely dedicated to him. She has been an inspiration to him and to all of us. Their faith has kept them going," Wesseling said.
Established in 2009, the Green Beret Foundation is a private charity and recognized by the U.S. Army Special Operations Command. It reports that 90 percent of contributions are invested in its work which includes financial relief for families of Special Forces Green Beret members, help with long-term medical needs, and assistance in transitioning into civilian life.
Last year Good Shepherd's outreach ministry for military veterans, called Good Shepherd Supports Our Service Members, made a donation to the Green Beret Foundation's Steel Mags caregiver program.
The parish organization "supports our service men and women within the parish and outside the parish in a variety of ways including care packages, prayer blankets, cards, letters and donations," said Dave Scharfenberger, Good Shepherd's coordinator of outreach ministries.
In addition to her Green Beret Foundation efforts, Wesseling is board president of Project Rise Above, a nonprofit that she and a handful of others established last year to augment work of the Warren County Veterans Court.
Established by the state, the veterans court helps bring specialized services and support to veterans who have run afoul of the law, Wesseling explained. "We try to supplement the needs of these veterans -- by developing a means to raise funds for additional support items the court system cannot provide."
Educated as a nurse, Wesseling retired in 2014 as executive director of Foundation For the Challenged, a nonprofit that provides community housing as well as other services to people with developmental disabilities, in Dublin, Ohio.
"It is ironic," she said, "that we took care of people with extreme disabilities similar to what my son has now."
Wesseling said she "grew up in a strong, Catholic family, and caring for others was a staple of our lifestyle."
According to the U.S. Department of Defense, between 2001 and 2014 some 230,000 soldiers and veterans were identified as suffering from so-called mild traumatic brain injury. Other sources have estimated the actual number to be higher.
[Dan Morris-Young is NCR's West Coast correspondent. His email is dmyoung@ncronline.org.]
---
Editor's note: "The Field Hospital" blog series covers life in U.S. and Canadian Catholic parishes. The title comes from Pope Francis' words: "I see the church as a field hospital after battle. It is useless to ask a seriously injured person if he has high cholesterol and about the level of his blood sugars! You have to heal his wounds. Then we can talk about everything else. …"
If you have a story suggestion, send it to Dan Morris-Young (dmyoung@ncronline.org) or Peter Feuerherd (pfeuerherd@ncronline.org).