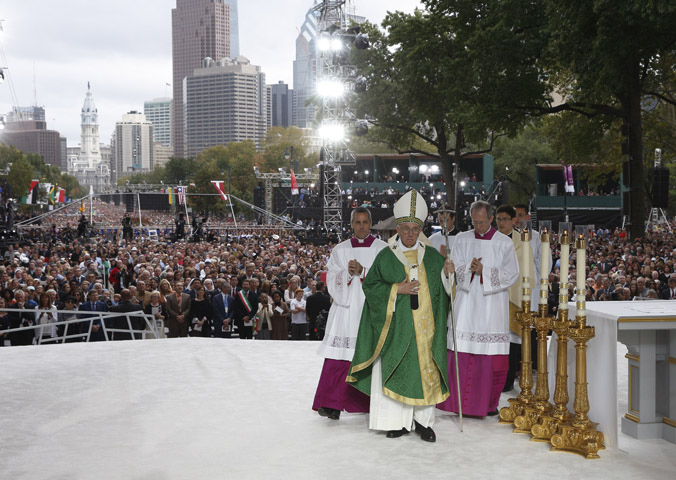 Pope Francis arrives to celebrate the closing Mass of the World Meeting of Families on Benjamin Franklin Parkway in Philadelphia Sept. 27. (CNS photo/Paul Haring)
Philadelphia — September 29, 2015
It took him 78 years, but Pope Francis finally came to the United States. And over the course of six very busy days he got his first up-close view of America's civil and religious life.
And he seemed to like what he saw.
But more importantly, he won the affection and admiration of Americans of all walks of life -- at least in and around the Northeast corridor where his stay was limited. And this, no doubt, was a boost of confidence and great pride for Catholics in the country.
As expected in the American media circus, coverage of the papal visit to Washington, New York and Philadelphia was often excessively over-the-top and not infrequently superficial. It was surprising that, in our era when global communications usually takes place "in real time," so many reporters acted as if they had never heard of Francis before his arrival.
Like the old saying, it was as if they had just discovered sliced bread. And they could not get enough of it.
If the media's reaction was indicative, the entire United States fell in love with "the pontiff," as so many referred to him to the point of irritation.
Perhaps this was all to be expected. Just as it was no surprise that the day after Francis returned to Rome most of the "infotainment" industry had already moved on to the next big story.
He came, he saw, and he conquered.
And for the vast majority of Americans, even Catholics, he was here today and gone tomorrow.
Francis is just the latest of four popes, dating back 50 years, who have come to the United States. Can we really expect a profound and lasting impact of his visit?
Political scientists and sociologists are better suited to opine about any possible effects his speeches to the U.S. Congress and the United Nations might have on social and political issues here and around the world. He certainly said an awful lot about globing warming, the environment, immigration, religious freedom, war and peace.
Still, no one who has been following Francis these past 30 months will have been surprised by the tone and content of his talks or the poignancy of his actions and gestures. That many more people in the U.S. have now witnessed what it is about this pope that has inspired, re-energized and challenged so many Catholics is all to the good.
But will his visit have a lasting impact on the church?
This is always difficult to predict. But one can express a hope or two -- for the church here in the U.S. and for the Church at large.
The main reason Pope Francis came to this country was to participate in the Vatican-sponsored World Meeting of Families, which was hosted by the Archdiocese of Philadelphia. Anyone who has been tuned in to the news the past year and a half or so has at least heard that the world's bishops have been engaged in sometimes fierce debate over how the church should respond to thorny issues pertaining to marriage, family life and human sexuality.
Almost all the bishops, including the Bishop of Rome, believe that the traditional family is under threat by any number of issues. They include the legalization of same-sex marriage, widespread divorce, contemporary society's negative impact on permanent commitments and so forth. However, these bishops do not all agree on how to respond to such "threats."
Different from some of the loudest and most prominent voices in the U.S. hierarchy --like Philadelphia's Archbishop Charles Chaput and other "culture warriors" -- Francis believes dialogue and encounter, rather than verbal attacks or laments, are the way to respond. And this goes also for issues in U.S. society that the bishops feel are a threat to their religious freedom.
So maybe the first hope should be that a little bit of the spirit of Francis may have begun to rub off on America's culture warrior bishops and other Catholics. A more open-minded, collaborative and welcoming tone would be quite welcome and a great hit -- as the American public's reception to the pope demonstrated.
The papal visit also served as a prelude, in a sense, to next week's meeting of the Synod of Bishops. For the second time in 12 months, bishops from all over the world will gather with dozens of lay observers and other experts to discuss those issues pertaining to the church, families and the passing on of Catholic faith.
Again, the hope is that, by his words and actions during the visit here (and in Cuba immediately beforehand), Francis will have been able to crack open the hardened hearts of those bishops and other Catholics who oppose any development of the Church's teachings on marriage or its pastoral care of families. He had plenty of things to say in Philadelphia during the last two days of his U.S. visit, especially to the international group of cardinals and bishops participating in the family meeting. In a nutshell, he said, "Stop longing for the past and lamenting today's difficulties." It is a message he's been preaching for quite some time.
The synod officially reconvenes with Mass next Sunday and will be in session for only three weeks. It is all but impossible to think that in such a short time the bishops will be able to make very many, if any, concrete decisions pertaining to even an abbreviated list of the marriage and family issues they have been trying to address.
And this leads some of us to express yet another hope: that Francis will take the first steps to truly institutionalize the process of dialogue he spoke about during his meeting last week in Washington with all the U.S. bishops. When bishop-delegates of the synod fail to reach a consensus at the conclusion of their deliberations next month -- which is all but a forgone conclusion -- it will be the perfect opportunity for the pope to further change the nature of this permanent body. He could begin convening the synod of bishops at much more frequent and regular intervals, and begin to make it a constituent part of universal Church governance.
As for any other manifestations of the Francis Effect as result of the papal visit to the U.S., that is up to the Holy Spirit -- which recently has had a pretty good track record of showing up when least expected.
[Robert Mickens is editor-in-chief of Global Pulse. Since 1986, he has lived in Rome, where he studied theology at the Pontifical Gregorian University before working 11 years at Vatican Radio and then another decade as correspondent for The Tablet of London.]
Editor's note: We can send you an email alert every time Robert Mickens' column, A Roman Observer, is posted. Go to this page and follow directions: Email alert sign-up.