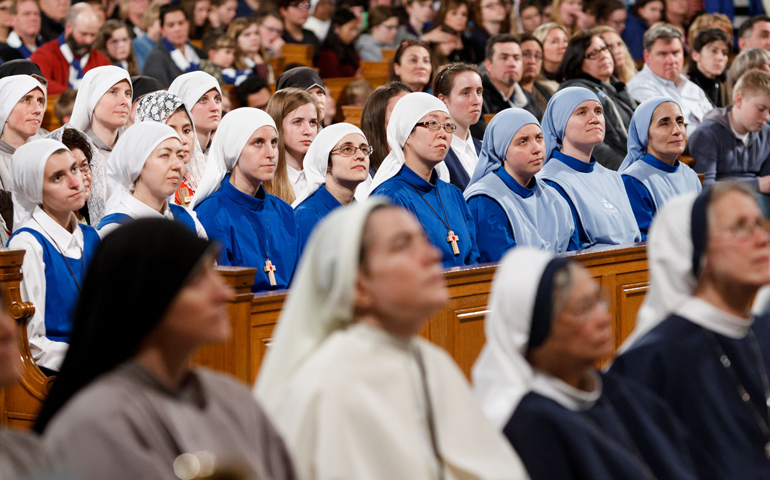 Women religious take part in the opening Mass of the National Prayer Vigil for Life at the Basilica of the National Shrine of the Immaculate Conception in Washington Jan. 26. (CNS/Gregory L. Tracy, The Pilot)
As a Protestant with regular exposure to Catholicism, I'm always intrigued by reactions I hear from other Protestants (and people of non-Christian faith traditions) to Catholic women religious, a term many Protestants have never heard.
They mostly know them by the word nuns. And often what they know about them is minimal, wrong, misguided or all of the above.
For example, Philadelphia Magazine recently ran this story about the nuns of Philly. It was written by a woman who admitted high up in the story that "I had virtually no experience with nuns before I wrote this story — only a strong curiosity."
But in doing research for the piece, she learned this: "The number of women religious across America has been in steady decline since 1965, when there were approximately 180,000 sisters in the country. The total now is about 49,000, roughly 90 percent of whom are more than 60 years old. In Philadelphia — where one in four people identify as Catholic — there are only about 2,400 nuns, a 30-plus percent decrease in just the past 16 years."
No wonder it's harder and harder for Protestants to run into nuns and get any sense of what they're about.
I grew up in a small town in northern Illinois — Woodstock, in which there was an active Catholic church and school. But, as I wrote in my 2014 book, Woodstock: A Story of Middle Americans, "Woodstock in the 1950s was a landslide for Protestantism. Oh, there was a substantial Catholic population, a handful of Christian Science adherents, some Unitarians comingled in a Congregationalist church and one Jewish family, the members of which went to Chicago when they wanted to attend Shabbat services. But mostly the Methodists, Presbyterians, Lutherans and a few others were dominant."
So dominant, in fact, that the pastor of our Presbyterian church felt he would be in no trouble if, in the 1960 presidential race, he counseled his flock that the pope would run the country if John F. Kennedy were elected our first Catholic president. And so the preacher said exactly that.
More than half a century later, my guess is that there still are many Americans who've never met a nun but who, when they think about them, imagine grim women in black habits.
Somehow the Catholic Church hasn't done a terrific job explaining to the rest of the world who today's women religious are and what they're up to, though clearly NCR's marvelous Global Sisters Report is helping its own readers get a deeper understanding of women religious today around the world.
But nuns today, particularly in the U.S., often have felt obliged to assign to themselves the role of making themselves and their work better known. One example, of course, was the well-publicized "Nuns on the Bus" movement a few years ago, created to speak out as the Vatican, under then-Pope Benedict XVI, sought to rein in what he and others considered out-of-bounds social activism by nuns.
The nuns I've had the privilege of knowing in recent years have been social workers, community activists, teachers and counselors. One of them was, for years, the heart and soul of the major AIDS/HIV service organization in Kansas City. Some nuns have privately (and sometimes publicly) bemoaned the church's policy of not ordaining women as priests while others have told me they've felt no calling to the priesthood.
In my denomination, the Presbyterian Church (USA), more than half the seminary students today are women, and most of them will be ordained as pastors, though not all will serve in parish ministry. Given that such an option is closed to Catholic women, the church clearly is going to have to find a way of stopping the declining numbers of nuns, perhaps by opening up more career opportunities within the church.
After all, a church without an authoritative, informed, influential feminine presence simply can't speak clearly to all God's children.
[Bill Tammeus, a Presbyterian elder and former award-winning Faith columnist for The Kansas City Star, writes the daily "Faith Matters" blog for The Star's website and a column for The Presbyterian Outlook. His latest book is The Value of Doubt: Why Unanswered Questions, Not Unquestioned Answers, Build Faith. E-mail him at wtammeus@gmail.com]