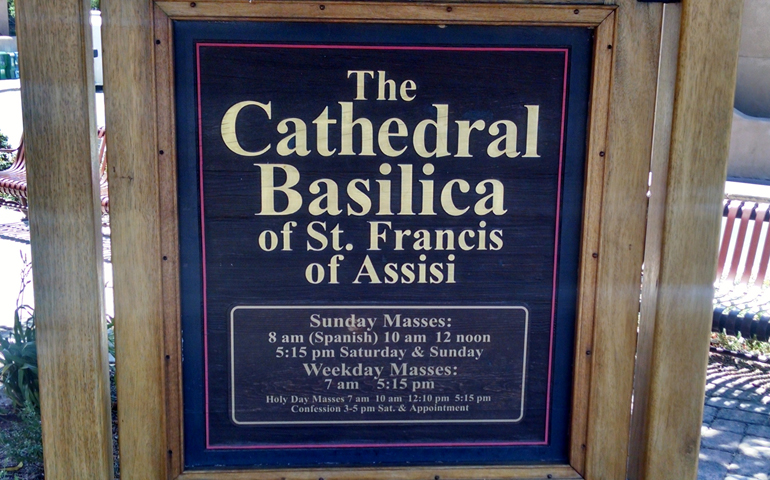 Cathedral Basilica of St. Francis of Assisi in Santa Fe (Bill Tammeus)
Santa Fe, N.M. — August 3, 2016
By the time members of the class I was teaching at Ghost Ranch, an hour north of here, arrived at the Cathedral Basilica of St. Francis of Assisi to meet with the rector, Fr. Adam Ortega y Ortiz here, we already had spent a full 12 hours over two days talking about Catholic-Protestant matters.
But I wanted them to have a chance to talk with a Catholic priest to get his sense of what difference it has made that a Jesuit who named himself Francis now is pope.
Ortega was gracious enough to give us time one recent morning, so we arrived with questions that came from people with a mix of intriguing backgrounds, including: Only one of the eight of us is a Catholic now -- a convert and her daughter is a nun; two class members had been born Catholic but both now are Presbyterians, one a pastor; one Presbyterian woman is married to a Catholic, and one woman is a Lutheran.
"We take our lead from the chief pastor," Ortega told us, "which is the holy father. What I think is so powerful about this holy father is (that) Pope Francis was a pastor, and that's what's shaping his pontificate."
As he spoke, he pointed to paintings on the wall of four former popes, John XXIII, Paul VI, John Paul II and Benedict XVI, noting that they came to the office mostly with academic theological experience and, except for John XXIII, not much of the kind of pastoral experience Francis has brought.
Francis, he said, "had worked among the people and was attentive to the needs of the people and he's made sure he didn't lose that" as he rose to the top of the church's hierarchy.
Over the course of the week, our class discussed many Catholic-Protestant issues raised in the book I co-authored last year with my pastor, Jesus, Pope Francis and a Protestant Walk into a Bar: Lessons for the Christian Church.
But it's one thing to kick all this around in a Presbyterian space that welcomes people of all faiths and none and quite another thing to bring our questions to a priest who serves as the rector of a cathedral that is the spiritual home of the archbishop of the Santa Fe archdiocese.
What I had told the class was that useful ecumenical and interfaith dialogue must begin with respect and be based on appreciative -- not, at first, challenging -- questions. This approach does not mean that differences get ignored. But it does mean that our first task is to be good listeners so we don't walk in and, as a first question, demand to know why Protestants are denied the opportunity to receive the Eucharist in Catholic churches.
Indeed, we got around to those and other questions with Ortega, as well as such matters as the possibility of women deacons and priests. But he wasn't there to change our minds nor were we there to change his. Rather, we were there to know and to be known. And that's where authentic dialogue and respectful relationships must begin.
In that kind of an atmosphere, those engaging in conversation can express themselves freely without fear that someone will immediately take umbrage at the ideas expressed. It leads to the kind of comfortable informality that allowed Ortega, for instance, to tell us that Francis "is not a cookie-cutter pope." Francis is, he said, moving confidently "in gospel directions. He's very close to the gospel."
Because of the emphasis Francis has put on ministering to the poor and needy, Ortega said, worship at the cathedral has changed a bit, going from "opulence" to "dignity."
Our conversation didn't change the future of Catholic-Protestant relations. But it let everyone see that such conversations among and between Christians are possible and need not be threatening. And that's a model the whole world needs now.
[Bill Tammeus, a Presbyterian elder and former award-winning Faith columnist for The Kansas City Star, writes the daily "Faith Matters" blog for The Star's Web site and a column for The Presbyterian Outlook. His latest book is Jesus, Pope Francis and a Protestant Walk into a Bar: Lessons for the Christian Church. E-mail him at wtammeus@gmail.com.]
Editor's note: We can send you an email alert every time Bill Tammeus' column, "A small c catholic," is posted to NCRonline.org. Go to this page and follow directions: Email alert sign-up.