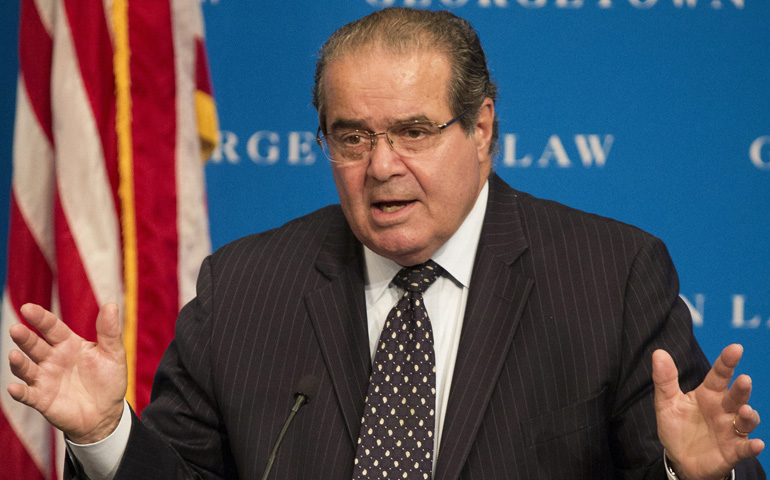 U.S. Supreme Court Justice Antonin Scalia is seen in a 2013 file photo at Georgetown University Law Center. Scalia died Feb. 13. (CNS/Nancy Phelan Wiechec)
As the incendiary, choleric debate raged about which president should nominate a replacement for the late U.S. Supreme Court Justice Antonin Scalia, a less fiery -- though in many ways more interesting -- conversation surfaced about Scalia's Catholic faith.
He was called a man of deep faith, an authentic Catholic voice -- indeed, one of six Catholics on the court at the time of his death.
At the same time, here and there people began to raise questions about how faithful Scalia really was in tethering himself to Catholic instruction, especially Catholic social teaching.
For instance, Religion News Service published a commentary by Jason L. Miller, director of campaigns and development for the Franciscan Action Network, asserting that Scalia strayed from Catholic teaching on such issues as racism, the use of torture and the death penalty.
Miller's article wasn't angry polemic nuking the idea that Scalia was a true Catholic, but it and other post-Scalia analyses raised the intriguing issue of how to judge (if at all) whether someone is a faithful (fill in the name of a religion or denomination).
It would be rare to find a follower of any faith tradition who always and everywhere was in perfect harmony with its teachings and practices. (Ask Pope Francis about Donald Trump.) In fact, if such a person exists, my guess is he or she would be so unremarkable (except in that way) as to put people to sleep.
I've been an active Presbyterian for most of my life, but I have disagreed at times not just with positions taken by the denomination (such as divesting from companies for allegedly profiting from the Israeli-Palestinian conflict) but also on matters of policy based on theological stances (such as our denomination's refusal until 2011 to ordain otherwise-qualified gays and lesbians to be pastors or officers).
I chose to wrestle with these matters within the Presbyterian house rather than slamming the door and leaving. But I've been as out of synch on some matters with my denomination as Antonin Scalia has been with his.
And that makes me neither uncomfortable nor a heretic.
I have Christian friends who say that sometimes they find themselves having to remain silent when certain parts of the Apostles' or Nicene creeds are recited by their congregation in worship. I have that same experience because I think the Orthodox Christians are right in their rejection of the so-called filioque clause about the Holy Spirit, who, it is said in the Nicene Creed, "proceeds from the Father and the Son."
I don't say those creed words because I believe "proceeds" is far from the right word there to indicate the relationship of perichoresis among the three persons within the Trinity.
There are, in Presbyterianism, different standards for what one is required to say in public about one's faith. Becoming a member of a Presbyterian Church (USA) congregation requires simply a profession of faith in Jesus Christ, though rarely do representatives of any single congregation require new members to unpack the meaning of that in ways that would impress a seminary professor.
Clergy and officers, on the other hand, are required to say yes to more than a dozen questions about what they believe and how they are being called to lead. But even there one finds some serious areas of gray among the black and white. For instance, elders and deacons being ordained pledge to "sincerely receive and adopt the essential tenets of the Reformed faith as expressed in the confessions of our church."
But nowhere is there any official list of what those "essential tenets" are. And some of what once were considered essential tenets in our official statements of faith have long ago been run through history's shredder.
So was Scalia a true Catholic? Am I a true Presbyterian? Be slow and cautious with your answer. And ask yourself why you need an answer at all.
[Bill Tammeus, a Presbyterian elder and former award-winning Faith columnist for The Kansas City Star, writes the daily "Faith Matters" blog for The Star's Web site and a column for The Presbyterian Outlook. His latest book is Jesus, Pope Francis and a Protestant Walk into a Bar: Lessons for the Christian Church. E-mail him at wtammeus@gmail.com.]
Editor's note: We can send you an email alert every time Bill Tammeus' column, "A small c catholic," is posted to NCRonline.org. Go to this page and follow directions: Email alert sign-up.