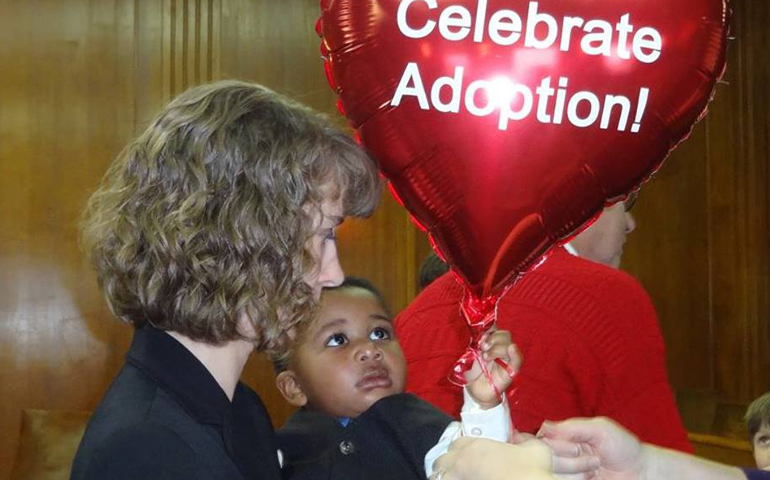 Heidi Russell with son D.J. on adoption day in 2014 in a courtroom near Milwaukee (Janie Russell)
"Children born to another woman call me 'Mom.' The magnitude of that tragedy and the depth of that privilege are not lost on me."
I read this quote by Jody Landers on a lot of Facebook pages of other foster and adoptive moms, and I have posted it on my own. Being a parent is always a privilege, but when you become a parent through foster care and adoption, the emotional mix has a different level of complexity.
My children have two mothers, both of whom love them. One thing that I have learned from the foster care world is that even parents facing insurmountable challenges in learning how to parent a child love their children. The first time I saw my son's other mother was in a courtroom in Milwaukee. I had to hold my breath to keep from crying when she walked in, because I looked at her face and saw my son. I was overwhelmed with love in that moment, and my heart was ready to burst with gratitude to her for giving my son the gift of life.
Up to that moment, she had been a name on a piece of paper, and it is all too easy and human, and yes, sinful, to demonize a name on paper. Standing face-to-face with my son's mother and realizing that both of us loved the same child, I became connected to her for life in a way I could not have imagined. In that moment of connection, my own well-being and happiness became tied up with hers. I could only want what was best for her, even as the thought of that leading to my never seeing my son again terrified me.
There are no prayers at such a time, beyond the prayer for the presence of God as love, because there was no ending where everyone would be happy. Hearts would be broken. I could not even pray, "Thy will be done," because there was no ending that seemed like it could possibly be God's will.
In a foster parent class, one of our teachers broached the topic of "getting attached" to a child placed with you through foster care. She said, "If you think you can be a foster parent and not get attached, then you should not be a foster parent. These kids deserve to have parents who are attached."
When people find out that you are a foster parent, one of the most common things you hear is: "Oh, I couldn't do that. I would get too attached," or "I would be too afraid of losing the child." Hence one of the other oft-posted foster parent quotes is: "I am not afraid to grieve. I am afraid of what would happen to these children if no one took the risk to love them."
For me, it would be a lie to say that I wasn't or am not afraid to grieve, but the love casts out the fear. At a point in time when I thought my son's case was moving toward reunification, I was terrified, but I remember thinking that I would not take back one second of the time I had with him to avoid the heartbreak. Such is the gift of love. Love casts out fear. While I couldn't imagine living without him, even more, I couldn't imagine never having had the privilege to love him. The grief and loss of this journey, however, is multifaceted.
The day I sat in a courtroom and listened to my son's other mother cry as her lawyer told the judge that she wanted to voluntarily terminate her parental rights was the day I learned what self-sacrificial love means. Tears ran down my own face, and afterwards, I sobbed in my car — for her loss, for my son's loss, for the brokenness of the world that brought us all to this point.
My son's first mother taught me what it means to lay down your life for those you love. My understanding of the love poured out in the crucifixion, a love that gives life to others at one's own expense, deepened in watching her pour out her love for her son in a way that denied her own life and being. I pray that resurrection comes from her selfless gift, but the world is not a Hallmark movie. Reality is much more … well, real. The challenges that led her to the point where she stood in that courtroom that day did not disappear from her life. The brokenness of our world and the cycles of poverty, racism, incarceration, addiction, mental illness, abuse, etc. that bring so many people in our society to their knees have not been overcome.
And so, while we are a resurrection people, we are challenged not to gloss over what led to the crucifixion of love in our midst, that injustice and oppression still crucifies love in our midst today. That love revealed in crucifixion must challenge me to push past my own comfort and privilege to confront the systemic injustice that has led both to the greatest joy of my life in the presence of my son and the deepest tragedy of my son's life in the loss of his mother.
Another woman's child calls me mom. The magnitude of that tragedy and depth of that privilege must not be lost on me.
[Heidi Russell is associate professor at the Institute of Pastoral Studies, Loyola University, Chicago. She is the author of the forthcoming book The Source of All Love: Catholicity and the Trinity.]
A version of this story appeared in the Jan 27-Feb 9, 2017 print issue.