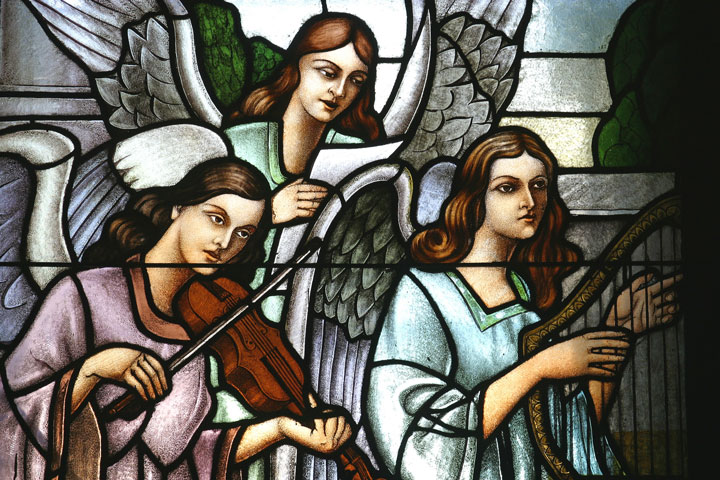 (Dreamstime/Zatletic)
My best friend died.
Flash Gordon and I saw or talked to each other just about every week for 50 years. Frustrated over his sudden, unexpected death from an aneurism that burst in his head, yes, I wanted to put God on the witness stand to defend my friend's death, or at least explain it. Flash was spiritually and emotionally connected to his wife of 40 years, and to his son and daughter. His children were certainly lucky to have the memories of their father as a good man who always attended their basketball games and dance recitals -- even more, who prayed each day for them.
Instead, I sought for some sign from God to be more trusting of his decision.
I found it in the music at my friend's Mass of Christian Burial.
The soloist sang, "Amazing grace, how sweet the sound." The music became indwelling, so powerful that it moved me viscerally. It was Christ-strengthening. The music went right to my nerve centers -- my heart and soul -- with such convictable and uncompromising language that I was sure that Christ's decision made my friend's life ever sustainable.
Spiritual music has always flexed its muscle in my soul; it still does in ways that other forms of communication can't. It has always called me, compellingly, to share in the voices, the power and the prayerfulness of the music. For me, the music and lyrics in hymns are powerful slants of spiritual sunshine.
And that's what happened at my friend's funeral Mass. I reconciled with Christ about my friend's death.
I knew Flash had reconciled with the hand that God had dealt him long ago.
If anyone could have been vulnerable to renouncing God, it was my friend. He had suffered enough hard punches in life to knock out any semblance of faith. He grew up in a home for boys -- his mother was too sickly to take care of him and his father had scrammed when he was 4 years old.
The boys' home wasn't the cleanest or quietest place. The food didn't put a warm and fuzzy feeling in his belly. There were no Norman Rockwells on the walls of his tiny, cell-like bedroom. And there was no money for anything, not even a burger and fries at the corner store.
In high school, at historic Roman Catholic High in Philadelphia, there were no varsity sports to play on, no yearbook staff to join, no prom to attend.
"God will change my life," he would always tell me. "I know it."
As I was staring at the casket holding my friend at the front of the altar, the soloist again began to sing: "Be not afraid, I go before you always, come follow me." Indeed, the music possessed the essential part of the meaning of his life: a deep inner conviction of faith, with words that expressed that conviction.
In the pew, I realized this: The hymn was not being sung solely for my friend, but also for the people in the pews listening to it. Music outside the voice of the music-maker takes on a life of its own and awakens -- or reawakens -- in the listener thoughts and feelings that were already there, just waiting to be aroused. Those of us in the pews suffering in spirit over the loss of Flash were transformed to those of us healing in spirit.
Spirits may have been bruised, but not broken.
Suddenly, I remembered the last time Flash and I were together, shortly before he died. We were having dinner together, as we often did. The conversation, as always, started out by talking about sports and politics, but then, inevitably, turned to family.
"How's Helen and the kids?" I asked him.
And always, for what seemed like a million times, he would reply, "Good, Kel. You know, God's generosity has given me more than I ever wanted in life, particularly my wife, my children, and you. I couldn't be any happier. If God took me now, it would be okay. Remember, long ago I told you God would make my life better."
I had never forgotten.
My friend, Gordon "Flash" McConville's Catholic faith was so real, so sustaining, so total: He believed completely that to die is to gain, that death is transformation, not separation.
After Communion, the soloist sang, "Here I am, Lord. Is it I, Lord?" At that moment, my soul was breathing through my intellect. I didn't feel separated from my best friend. The music provided me a deeper sense of promise, of connection, of seeing him again.
My heart and soul were at peace.
[B.G. Kelley is a nationally published writer whose byline has appeared in The New York Times, Sports Illustrated, Boston magazine, US Air Magazine, among others. All of the Soul Seeing columns can be found at NCRonline.org/blogs/soul-seeing.]
A version of this story appeared in the Sept 9-22, 2016 print issue under the headline: Music provides a deeper sense of promise.