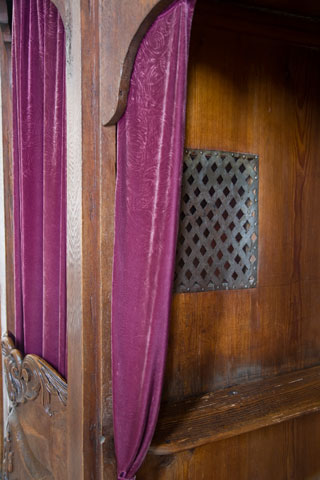 (Newscom/Westend61/Werner Dieterich)
"I will heal their backsliding; I will love them freely." -- Hosea 14:4-7
On the eve of my 12th birthday, up on the roof of my uncle's garage, Roman Cracow taught me the facts of life.
A cold wind moved in from the lake, blowing westward away from home. A gentle voice called from a faraway porch, "Michael, your supper's ready."
"That's my mom," I said. "I gotta go."
Another voice bellowed from a nearby basement, "Roman, come and get it!"
"That's my old man," Roman said. "I gotta come and get it. Listen now, you don't tell nobody about them eight-pagers. You understand?"
I nodded.
"Okay. You're cool. Go ahead."
I climbed carefully over the edge of the roof and shimmied down the rain gutter, thinking I should have slid through it instead. Roman hung to the edge of the rail and jumped. He didn't even hurt his feet. Then he grinned, gave me a wink, and waved goodbye.
I wandered down the alley in a daze. I bumped into a garbage can, tripped over a mattress, and mumbled to myself in front of a coalman. Later, when my mother looked me in the eyes, I knew that she knew that I knew. But I didn't think she knew that I knew that she knew. So I kept my mouth shut.
I had discovered the mystery of my own body, a discovery that became as frightening as it was exciting. It happened by accident at the end of a "Flash Gordon" chapter on WGN's "Saturday Morning Playhouse." The Hawkman, saliva dripping down his chin, wings flapping, cornered a flimsily clad Dale Arden. Dale breathed and heaved heavily. The Hawkman stretched out a hairy hand. Unconsciously, my hand moved too. Dale clutched her throat. Hawkman leered. Dale screamed. The planet Mongo detonated.
I couldn't wait to shed my guilt. That afternoon I raced my Schwinn down Addison Street to St. Andrew's Church. Confessions began at 4 p.m. I sought out a 90-year-old priest from Sicily. I entered his box. The shutter slid open. I confessed my shame, and prayed he wouldn't probe. Thank God, he was pastoral. He asked me if took cold baths. I said no. He said take. He asked me if I slept with the window open. I said in the summer. He said winter, spring and fall. He asked me if I ran around the block. I said only when somebody was chasing me. He said run.
Absolved, I crept out of the box, said 10 Hail Mary's, and pedaled home. That night I took a cold bath. Then I ran around the block. I slept with the window open. The next morning I woke up with a terrible cold. I had to stay in bed all day, daydreamed about Sandra Dee, and did the same bad thing again. The next Saturday I raced my Schwinn down Addison St. for afternoon confessions at St. Andrew's.
In eighth grade, we had a day of retreat. The priest who gave it carried a huge cross in his sash like a sawed-off shotgun. He spoke about the dangers of the solitary sin. He didn't tell us that playing with ourselves could make us go crazy. Cracow told me that. But he did invite us to put our hands over a small fire. He scared the hell into us.
So, the next morning I raced my Schwinn down Addison Street for confessions before early morning Mass. Then another sin and more guilt. Leading to more fear. Leading to more sin. Ad nauseam. Oh, the horror!
It wasn't until I was 50 and was frank with a couple of contemporaries that I learned I had been a normal Catholic boy.
I also learned that the only remedy to what most of us experience as sin is not guilt but forgiveness, not fear but gentle love, like that of a mother calling from a back porch, "Come home, your supper's ready."
Life is hard, for Roman Cracow too, and we all seek relief from the pain of being human, distractions from a low-grade fever of despair.
We don't want to hurt anyone because we've been hurt, so our sins, if that's what they are, are mostly solitary: daydreaming that we're somebody we're not, touching ourselves to make sure we're alive, bragging so others will like us, being ungrateful when we have everything we need, envying others who have a little bit more, consuming mass quantities of wine or Cheese Puffs, porn or TV, or all four at once.
Many of us feel tremendous guilt over our pathetic habits, especially those below the belt. We fear that God will punish us and the only thing we know to do is escape some more. We even stop praying or spiritual reading because we think, "What's the point? We're bad."
Guilt makes fear, and fear makes sin, and sin makes guilt, and guilt makes us afraid and so we sin again to escape more guilt and fear. It is the human condition, the original sin of thinking that God will abandon us and not let us back Home because we once ate a piece of rotten fruit.
God says instead, "Come home! Who told you that you were naked? I have a banquet prepared for you. In truth, you never left me."
As long as we put value on guilt and fear, we will be like the snake that eats its own tail. Healing from sin begins when we forgive ourselves and have compassion for others even as we backslide. God always forgives because love never blames. So never stop saying your prayers or reading spiritual books. Your mother has a higher opinion of you than you do.
[Michael Leach is editor at large of Orbis Books.]
A version of this story appeared in the May 22-June 4, 2015 print issue under the headline: Sin makes guilt and guilt makes fear, and fear and guilt make more sin.