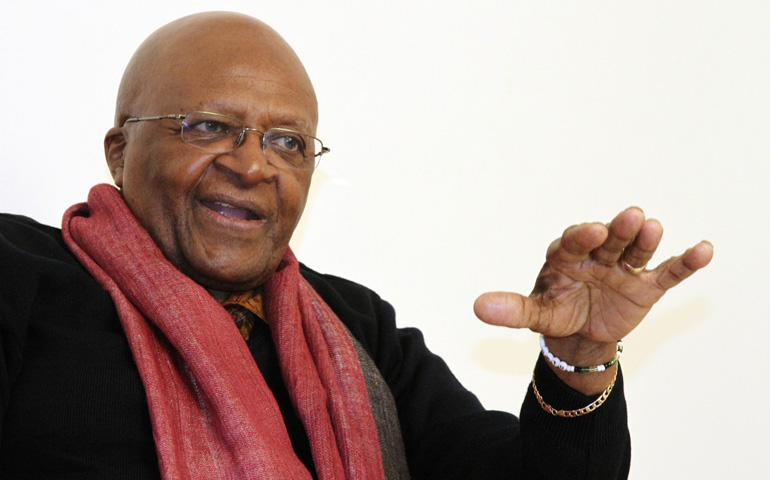 Archbishop Desmond Tutu (CNS/Reuters/B Mathur)
One of the great spiritual visionaries of our time was recently on the college campus where I work. Like everyone else on my campus, I plotted greedily and deviously to get three minutes alone with him, at least to chat grinningly, and maybe even to miraculously get down to brass tacks about how in heaven's name he and his friend Nelson Mandela managed to contain a savage civil war in which a million people might have been so easily massacred by citizens suddenly freed from a peculiar form of civil slavery, after many years of being herded and beaten and cheated and raped and murdered by the grim slave masters.
But, like everyone else on my campus, I did not get those three minutes, because his campus handlers were officious, humorless apparatchiks who had Archbishop Emeritus Desmond Tutu scheduled to the nanosecond. Not once did the archbishop get the chance to sidestep their meticulously laid plans.
He did get down to brass tacks near the end of a headlong and cheerful speech much interrupted by laughter. The former archbishop of Cape Town, South Africa, is a humorous soul, amused by his own foibles and failures -- a sign of personal and spiritual depth. It seems to me that in easy laughter at yourself and your own foolery, humility is the final frontier, the open door to real wisdom, if we can shave our egos down enough to fit through the entrance.
He had finished his talk it seemed, and the crowd was applauding vociferously. The somber handlers were moving purposefully toward the archbishop to escort him offstage when suddenly he began talking again, in his high-pitched amused tone, and the handlers stopped their approach. The crowd quieted to catch these clearly off-the-cuff remarks and the archbishop said some things I do not think I will ever forget.
I have been a professional journalist for 30 years, and I am practiced at scribbling notes, carrying several pens, and scrawling keeper lines that I know will sing later when I set them into the context in which they were spoken. But even I sat there transfixed, writing not a single note, for it was instantly clear to me and everyone else in the arena that this man was speaking from the bottom of his heart, from the home of his soul. To miss a word would have been a sort of sin and a shame -- not because he was famous, or even because he was wise, but because he was speaking so nakedly from the innermost chamber of his being.
For the first time in my journalistic career, I feel abashed to paraphrase, but I must. Tutu said something like this, when he spoke suddenly to the crowd at the University of Portland, Ore., in 2009 after his formal address:
We say all these things that we believe, but do we believe them really? Because they do not make any sense, of course. We say that we believe in love, but so much in and around us is hate. We say we believe in humility and generosity, but so much in and around us is ego and greed. We say that we believe in Christ, but we do not give everything away and follow him through the narrow gate, do we? I am the worst of sinners in this regard.

We say that we live in his light, but so much is darkness. I am not delivering a sermon. I am just saying that we are so much in the dark. Many times, I despair also. Every day, there are times of darkness when everything I say and think seems small and mean and only a swirl of wind in the dust. But somehow hope returns, and we stand up and walk again.

Perhaps that is grace. Our learned people write learned things about the nature of grace, but I think perhaps it washes over us all the time, and we take it for granted. Hope does not make sense. But we continue to hope against all evidence. Could it be that to hope when hope is crazy is the purest grace? To believe against all sense and reason and logic, that is grace! The world will say you are silly! Be proud of that! Now I must go! I am always slightly late! God bless you! Pray for me, because I am a sinner!
And away he went, smiling, escorted by the prim handlers. I was not the only man or woman or boy or girl who sat there moved and shivering inside long after he had left the stage. In a sense, I may sit in that cavernous arena the rest of my life, pondering what he said.
[Brian Doyle is the author most recently of A Book of Uncommon Prayer.]
A version of this story appeared in the March 13-26, 2015 print issue under the headline: 'The world will say you are silly! Be proud of that!'.