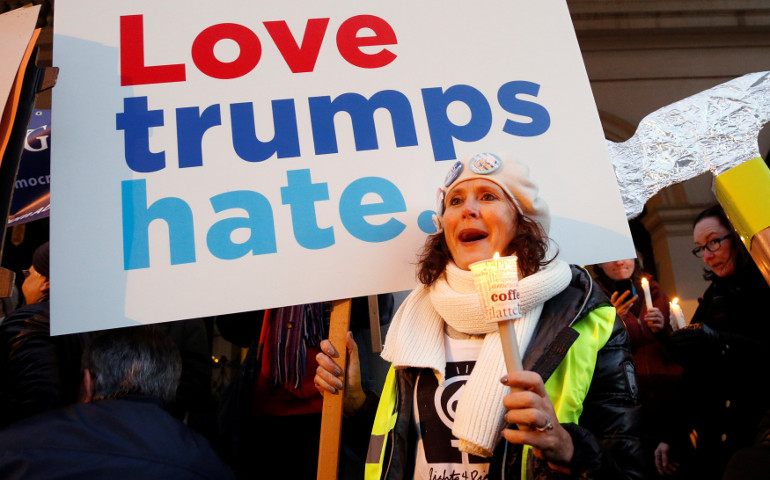 A woman holds a sign and a candle as she takes part in the women's rights demonstration "Lights for Rights" to protest Donald Trump's inauguration as the 45th president of the United States at the U.S. Capitol in Washington. (CNS/Reuters/Francois Lenoir)
We're left with an election — and a question. Perhaps the greatest question of them all at this point: Is unity really possible in the United States at a time of apparently unremitting partisanship?
After a season of lies and fake news, of bogus polls and low-brow labels, of attacks on everything American — the honesty of its election process, the integrity of its institutions, the quality of its candidates — the country stands stranded in the wet cement of division. The question is as simple a one as it is a great one: Now what? As we try to pretend that we have just gone through a business-as-usual election, where shall we go for national unity?
Maybe the problem is that we have been Republicans and Democrats longer than such categories have been helpful to the cohesion of the nation. The differences between the two are guides to different ways of seeing the world, yes. Beyond that, however, in terms of being able to cure those divisions, it is more than possible that they are exactly the problem.
Case in point: the presidential election of 2016.
It was a tragic event for many, a kind of social coup for others. On one hand, Hillary Clinton — "the most prepared candidate in history," they called her — whose 30 years in politics at state, national and international levels are legendary was a total immersion candidate. Totally prepared, totally political.
Donald Trump, on the other hand, was a total newcomer to the political arena. A many times bankrupt businessman, an oft-times self-defined sexual predator, and an always business-ready billionaire, his life goal had been making money and giving very little of it away. To anything. And certainly not in behalf of the segment of society that needed it most.
The results of the rough and tumble, insult-laden, truth-challenged election split the nation in two. This is where the trouble became most apparent.
Crowds took to the streets with signs that read "He's not my president" or "Three million more votes" to remind the world that this was not a popular election but was at best a political figment of the country's imagination called "The Electoral College."
Designed to demonstrate stress-free political decision-making, a special body of electors — representative of the entire country, experienced, and free of either state or federal pressure — cast the ultimate vote. Only four times out of 56 presidential elections before this one has the vote of the electoral college determined the winner of the presidency. Obviously, then, the popular vote has been "correct" most of the time. Until this time.
This time Clinton won three million more popular votes than Trump — an overwhelmingly larger margin between winner and loser than in any presidential election before this one — but lost the electoral college and so the presidency.
Now we had a real problem. Now the difference between the two systems left the country both deeply disappointed and disgruntled. After all, when was a win a real win?
After the election, in true American style, the calls for a "peaceful change of power" rose to a new and thunderous level. Those who did not support Trump were accused of being "sore losers" — a label attached to pre-adolescent sports teams that cry or pout after losing a grade-school game.
Chided to forget the contentious election itself and "get behind the president" only stirred the ashes of a fire that continued to smolder long after the last vote was counted.
First, the anger boiled over. Then, the guilt began to simmer. After all, supporting the candidate you did not vote for is the acme of American patriotism, the gilding of its democratic DNA. But this time, in the case of such opposing platforms and different candidates and lost popular votes, how was that even possible to suggest?
Where would we go now to recover our Americanism together? How can we possibly rally around a candidate who insulted half the people in the county — women, blacks, immigrants, the media, citizens of Mexican descent? Whomever or whatever gets in his way? Including the president before him, still admired, respected and blameless in office.
How do we tell our children, "Look, there's President Trump. If you work hard you can grow up and be just like him." For many it is a bridge too far, an invitation to the next generation to grow up spewing hate speech, mocking other professionals, and trumpeting American superbity. Not to mention reeking self-love, fostering American chauvinism, and governing with total and utter disdain for the truth.
In Ireland, in a similar misuse of the truth, the Taoiseach, or prime minister, Enda Kenny, had to apologize in public for insisting that he had gotten one of the ministers to agree to an action when actually he had not. Watching the situation unravel, it was impossible as an American not to grieve. The forfeiture of such commitment to political honesty in the United States, missing for months now, perhaps lost forever, is a grievous loss. After all, what happens to the moral character, the future, of a country that never tells itself the truth?
So, the situation begs the question: On what can we possibly rebuild our unity at a time like this? Is there no hope left for solidarity, given these cavernous divides between us, even if we can't all get behind the president as a person right now?
Does the Constitution itself mean enough to us any more to become our beacon back to what Americanism was and wants yet to be?
The question is, do we still believe and support together the principles of free speech? And if so, what kind of free speech do we really want it to be? Is there no way to conduct political rallies any longer under the same concerns for civility and respect for the other that was once the character of American political discourse?
Do we still believe and support together the picture of an America that opens her arms to the tired and the poor, the "huddled masses yearning to breathe free?" And if so, what will it take to welcome them now — and to protect them once they are here?
Do we still believe in the integrity of the presidency itself or are we willing to go on forever saying "he doesn't mean what he says" and letting loose talk and random interpretation substitute for facts? And if so, will we ever know again what we are really voting for?
From where I stand, our political salvation in times like this, may well require that we come together across our separate political filters in groups more concentrated on a recommitment to American values than on our various political agendas or even our political candidates.
Rather than shout the party line, maybe our Congressional representatives should be moderating a series of town meetings on the subject of American consensus. Then maybe they, too, could hear once more what we all want to believe in. Then maybe they, too, would devote themselves to bringing those ideas back to Washington again. Even to the White House itself.
Otherwise, never mind "getting behind the president." It's already too late for that. It's the preservation of the soul of the country that needs our support. Right now, it's "getting behind the Constitution" that counts — for both sides of the divide.
[Joan Chittister is a Benedictine sister of Erie, Pa.]
Editor's note: We can send you an email alert every time Joan Chittister's column, From Where I Stand, is posted to NCRonline.org. Go to this page and follow directions: Email alert sign-up.