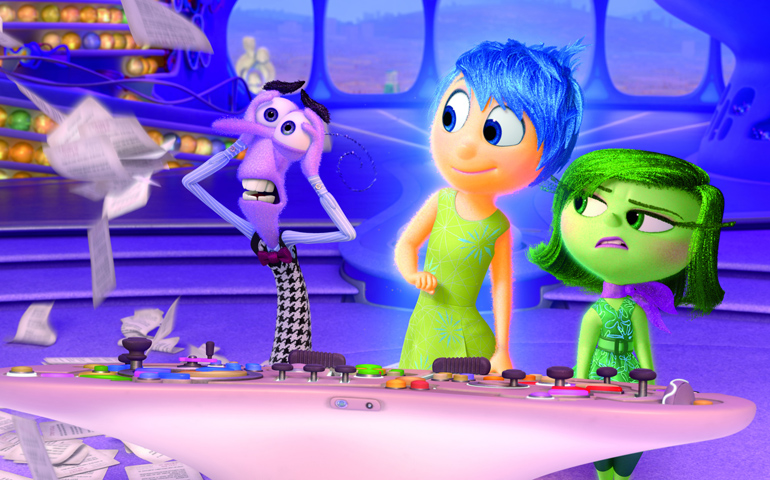 Fear, Joy and Disgust in "Inside Out" (CNS/Courtesy Disney-Pixar)
This week has brought the season's first extended stretch of uncomfortable heat and humidity here to the Mid-Atlantic. Not coincidentally, I've spent a few evenings this week watching movies. Nothing beats sitting still in air conditioning when going outside feels like you're walking through an enormous damp washcloth.
But summer vegging does not have to be a mindless, soulless exercise. Here are five readily accessible movies (one in theaters, four on Netflix) that can make worthwhile contributions to the spiritual life.
"Inside Out" (2015)
Pixar's return to form after a few subpar efforts, "Inside Out" largely takes place inside the brain of an 11-year-old girl named Riley whose family has recently moved from Minnesota to San Francisco. Riley's five primary emotions -- joy, sadness, anger, disgust and fear -- are represented by colorful creatures who spar with each other for influence on her life. I especially loved two things about the movie.
First, "Inside Out" is mind-blowingly creative. The film's depiction of the interior life using color, shape, character and symbol is 90 straight minutes of unparalleled ingenuity. Riley's memories of her former hometown, for instance, are depicted as hazy marbles with images inside that change hue from a joyful gold to a dejected blue as she realizes how much she misses the way things used to be. When I encounter such creative stuff, I feel inspired to do things like write more energetically, play the guitar more often, and try cooking new recipes. My imagination is sharper since watching "Inside Out."
Second, the movie is so astute in the way it examines the interplay of emotions and how each has an essential role to play. The movie is built to make the audience side with Joy (voiced by Amy Poehler) alone at first, but, as theologian Carolyn Pirtle writes, "Joy [the character] comes to realize that experiencing true joy is not simply about feeling happy all the time, and that sadness is often joy's most intimate traveling companion." Lifting up the value of sadness makes "Inside Out" one of the most emotionally mature films I've ever seen.
"Ida" (2013)
Last year's Oscar winner for best foreign film, "Ida" is about a teenage orphan about to make religious vows in 1960s Poland who learns a startling fact: She's Jewish, and her parents were killed during World War II. She sets out on a road trip to learn more about her family with an aunt she didn't know she had, who happens to be an atheist and communist bureaucrat. It's on the heavy side for summer viewing, but the film is a fascinating meditation on identity, silence and contemplation, beauty, and vocation.
"Man on Wire" (2008)
Here's a documentary about a different sort of vocation. Philippe Petit, a French high-wire artist, strung a tightrope between the Twin Towers on an August morning in 1974 and performed for 45 minutes. Cleverly interweaving interviews, historical footage and cinematic recreations, the movie is the portrait of an out-of-his-mind artist doing exactly what he was created to do.
"Life should be lived on the edge of life," he says. "You have to exercise rebellion: to refuse to tape yourself to rules, to refuse your own success, to refuse to repeat yourself, to see every day, every year, every idea as a true challenge -- and then you are going to live your life on a tightrope."
I'd never walk on a tightrope even a foot off the ground, but Petit's passion for his craft makes me reflect on my own vocations as husband, father-to-be, and lay minister. Am I living them with enough verve? Would I take a big risk for what and who I love?
"Nightcrawler" (2014)
A "neo-noir" thriller starring Jake Gyllenhaal, "Nightcrawler" is an indictment of our collective devotion to "if it bleeds, it leads" media. Gyllenhaal plays Lou Bloom, a small-time crook who realizes he can make money by filming grisly car crashes and crime scenes and selling his footage to TV stations. Lou and the TV news staff are all morally bankrupt, but they wouldn't have jobs without a public hungry for the stuff. The movie forced me to think about my own media habits and the role I play as a consumer in the exploitation of others' suffering.
"The Station Agent" (2003)
Fin (Peter Dinklage), a man with achondroplastic dwarfism, moves to an abandoned train station to get away from the world. Joe (Bobby Cannavale), who runs a food truck right outside the station, is radically friendly and upbeat. He forces his way into the life of Fin, who ever-so-slowly opens himself up to Joe and other people in town. Each character is badly broken and alone in different ways, and it's only through relationship with each other that they begin to experience even a bit of healing. There's no sappiness here, but an honest portrayal of how friendship means standing with another in the midst of their pain.
With just over eight weeks until Labor Day, there's still plenty of time to discover some great movies this summer. And who knows: You might even catch yourself growing spiritually as you beat the heat.
[Mike Jordan Laskey is the director of Life & Justice Ministries for the diocese of Camden, N.J. He blogs for the Camden diocese at camdenlifejustice.wordpress.com.]
Editor's note: We can send you an email alert every time a Young Voices column is posted to NCRonline.org. Go to this page and follow directions: Email alert sign-up.