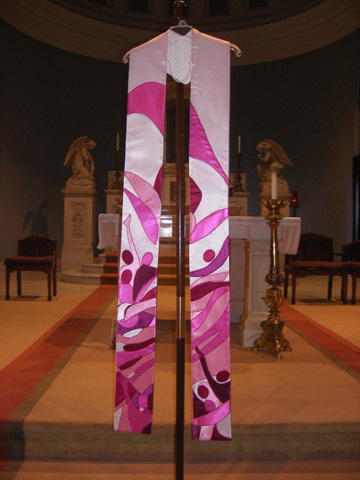 The stole created by girls and women as part of St. Mary's College "Voices of Young Catholic Women" project. It will be offered in a general audience with Pope Francis on Nov. 26. (Margie Matthews)
"A stole for the pope?" The fabric store employee nearly drops her scissors. Skeptically, she peers at the heaping cloths on a nearby table. Bold pinks. Deep red and purple.
"Well, why not?" I wonder. It can't take much work to stick two strips of fabric together. And pink? A fabulous color.
Two weeks later, in the 20th painstaking hour of embroidery, the woman's question returned to haunt me. A stole for the pope? Seriously? I wondered why the gift mattered so much. Now, with a hand-stitched papal vestment en route to Rome, I've discovered an answer -- and a question -- for our pope.
Dear Pope Francis,
Please be on the lookout! As part of St. Mary's College "Voices of Young Catholic Women" project, a stole will be given to you on Nov. 26. Created by a group of girls and women at our school, this gift will be presented in a general audience with Bishop Kevin Rhoades of Fort Wayne-South Bend, Ind., and Carol Ann Mooney, president of St. Mary's College. Will you accept our gift, Pope Francis? Snap a picture wearing our stole?
Sure, it's a simple gesture. Not to mention that you probably have a great number of stoles already. But you seem to recognize the profound meaning of simple gestures. And a picture with our stole would definitely rank high on the list. Believe me -- you would hear our students' enthusiasm resounding all the way from Ohio to Rome.
Take it as a positive sign. Evidence, perhaps, of my students' growing sense of connectedness to their faith and to our church. For we all know this connection is waning among Catholic teens. Over and over, I exhort them: "The church cannot understand you unless you speak up! Only you can share your story. Only you can offer your gifts, questions and hopes for our church!"
Pope Francis, your support of the "Voices of Young Catholic Women" project is now offering my students a powerful avenue by which to speak and be heard. In addition to your stole, we also join other young women in presenting you with letters. Our writing describes those elements we love most in the Catholic tradition; we also highlight unique challenges facing teens today. Reciprocating our gifts with your picture would, I believe, empower my students to experience themselves as valued members of our faith community.
And yet, it's not just about my students. Such gifts do not emerge in isolation, nor can they be singularly possessed. Women don't work this way. While this project highlights the gifts of millennial women, our offerings only become possible through the shared wisdom and collaboration of women across generations. At its core, "Voices of Young Catholic Women" invites our church to grow in welcoming the giftedness of women and girls at all ages.
With each step of our stole-making process, the interconnectedness of women resonated with striking clarity. As a young millennial woman, I need the hearts and hands of older women guiding me. Artists, teachers, friends and prophets: They teach me to cut patterns. Shape fabric. Bind our hopes and visions into a meaningful whole.
"Hold the pieces gently."
"Keep a steady pace; if you go too fast, there'll be more work to do."
Needles move up, around and down again. Slowly, we draw out threads from the past. Tap an ancient longing for our gifts to be received with open arms. From these women, I learn what it means to reach back -- and also forward. To draw in the young, teaching another how to shape fabric and bind stories. Alongside our students, we join as women stitching a church -- and a future -- together.
Pope Francis, it is one thing to invite forward our gifts and quite another to receive them. For in such an act, we never quite know what we're going to get -- the form or shape or how this offering may serve our mutual transformation.
In you, I sense an openness to such transformation. A gracious humility and that listening heart so vital in our reception of another.
May we trust in the Spirit as the source of our gifts. May we as church say "yes!" to the adventure of receiving them all.
We have blessed your stole and sent it off with our prayers, Pope Francis. When you receive it, please look closely: vibrant colors, earnest stitching, bold vision.
Across the fabric, a woman's arm reaches up. An open palm. To what or whom does she reach? Try as I might, I cannot say for sure. Her gesture is one of offering, yet also an expression by which we receive. Perhaps the two are not so different. Perhaps in offering our gifts, women are also reaching out, seeking that "Yes!" -- a church with open arms.
Author's note: St. Mary's College "Voices of Young Catholic Women" project is still accepting letters, poetry and other works of creative art to be presented to Pope Francis. Contribute or learn more at saintmarys.edu/spirituality/voices-of-young-catholic-women. Submissions will be accepted until Nov. 14.
[Jennifer Mertens recently completed her Master of Divinity from the Catholic Theological Union. She teaches religion at a Catholic high school in Cincinnati.]
Editor's note: We can send you an email alert every time a Young Voices column is posted to NCRonline.org. Go to this page and follow directions: Email alert sign-up.
A version of this story appeared in the Dec 5-18, 2014 print issue under the headline: A stole for the pope: Women offer their gifts.