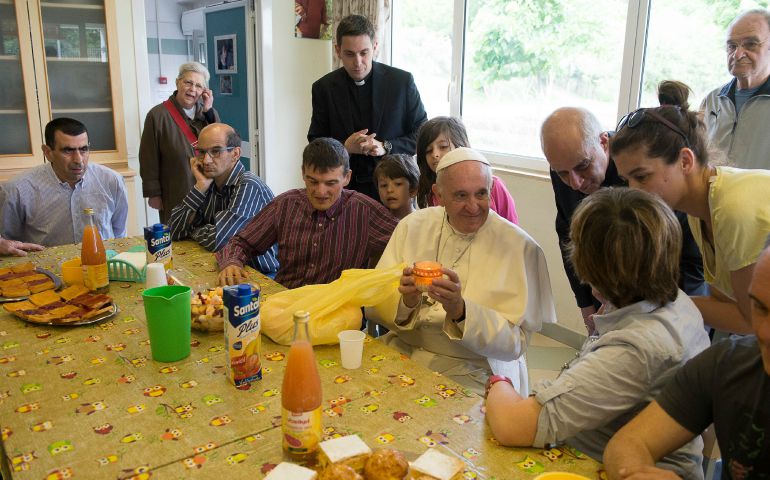 Pope Francis holds a candle as he visits the "Chicco" community, part of the L'Arche movement, in Ciampino, Italy, May 2016. (CNS photo/L'Osservatore Romano)
"Blessed are those who see me as a whole person, unique and complete, and not as "half" or one of God's mistakes."
- The Beatitudes of L'Arche
The unknown and uncertainty challenge us. We can go to one extreme of paralysis or we can go to the other of action. When I am put in a situation I cannot really control, I've got a choice: to accept it, be present and respond out of love or to resist, hold on to what I know and remain bewildered or even arrogant and prideful.
This week I spent time at L'Arche Tahoma Hope, a faith-based community of people who live together with and without intellectual disabilities. I wanted to learn how to sustain hospitality as a virtue and deep reality. I wanted to learn more about how God created us and how our world values life and human dignity. I wanted to be more than just what my work produces. I wanted to be more God's child.
The community in Tacoma is one of 18 U.S. L'Arche communities and the only one with a working farm and garden. When Jean Vanier shared a home with Raphael Simi and Philippe Seux, two men with intellectual disabilities who had previously lived in a psychiatric institution, in August 1964, I wonder if he realized just how his idea and practice would run deep through the veins of many communities around the world. Today, there are 151 communities located in 37 countries.
I think back to when one of my sisters was pregnant in her late 30s. The chance for complications rises in pregnancies in women over the age of 35. Genetic abnormalities increase as the mother ages, and the possibility of Down Syndrome increases. The doctor's visits increased in order to "pay attention" to anything that might be outside the norm for a child developing in utero at 2 months, 3 months, 6 months, 8.
Throughout her pregnancy, my sister would pray for what kind of child she would have — a boy or a girl, healthy, happy, to be loved. From test to test, month after month, my sister was given a choice to face the reality of a possible diagnosis and the scary unknown of what that might bring. Slowly her prayer got to the truth of the matter: it would not make a difference if the child was a boy or girl, just healthy. It would not make a difference if the child was healthy, just loved. When she finally trusted her prayer for a loved child, that's when she glimpsed into God's gaze and an opportunity for freedom revealed itself.
Her child is loved period.
I thought of this moment as I lived in one of the L'Arche homes alongside Core members (L'Arche community members living with developmental disabilities) and their assistants (L'Arche community members who may or may not have a developmental disability but offer assistance to others). Most of my days were spent on the farm weeding, planting garlic, squash, and sunflowers, hauling manure, and mulching.
At first, I was scared to interact with the Core members. I was still learning how to communicate with a couple Core members who were non-verbal when, to my surprise, we had a blast potting soil to the latest greatest hits on the radio.
On the farm, we collected eggs from the chickens, prepared for the farmer's market, and put up a 60-by-30-foot shade to protect plants on one side of the greenhouse. I learned to do tasks together, and as a result, grew in interdependence, figuring out how to utilize all of our gifts to accomplish our goal.
I met current and former volunteers from a myriad of programs: the Jesuit Volunteer Corps (national and Northwest), Lutheran Volunteer Corps and AmeriCorps. I also met volunteers and staff inspired by the spiritual writings of Henri Nouwen and L'Arche founder, Jean Vanier. One of the most transformative conversations I had I enjoyed with Megan Bent, a disability advocate in the Pacific Northwest. She reminded me that disability is a social construct like gender. While our culture continues to consume and promote social norms that celebrate the binary of gender, we people without disabilities spend much time at a distance from people with disabilities, not allowing their realities shape our reality together. In terms of gender, Americans love insisting on certainty: from "reveal parties" to clothing colors that could only be matched with a certain type of human, or toys for types of temperament. Boys wear blue, and girls wear pink.
According to Megan, an artist who earned her BFA and a graduate certificate in disability and diversity studies from the University of Hawaii in 2012, human beings are human first, abilities second. We are all autonomous persons. We create categories for groups of people as a way for our brains to organize information. But when we stay stuck in those categories, they become limiting socially. As human beings, we lose the nuances of our identities and personalities when we're merely grouped. Until I meet, interact with, and grow to love a person with disabilities or a person of a different gender or different racial identity from mine, I run the risk of maintaining a flat, generalized "understanding" of them that often leads me to operate solely on stereotypes.
The perception of disability marginalizes and separates us from one another. People with disabilities are not at the center of our life as an American culture. Special needs often are not the first to be addressed. In an effort to correct this, the Americans with Disabilities Act was passed in 1990. This is the civil rights law that prohibits discrimination against individuals with disabilities in all areas of public life, including jobs, schools, transportation, and all public and private places that are open to the general public.
I re-imagine my life if I needed additional assistance. Would I be supported in my daily activity? How do I currently advocate for my needs so that I can participate fully in my community? Do others take the time to care for me?
Then I think of my own responsibility. Again, I have a choice: Do I choose to be curious about the human being in my midst, be present and open myself up to be changed by our interaction? Or do I choose not to engage, not be open, stay in my one-dimensional thoughts and ideas of that person and their value?
I want to grow as a loving person because love always has the last word.
When I am aware of limiting social constructs, I can move more gently and free in the world. My values are reinforced in the dual image of a suffering and wounded Jesus who still insists that, like Thomas, I put my fingers into his wounds to grow in understanding, compassion, and love.
Getting up close and personal with others invites me to love, right there. Being open to other people's moods, tantrums, jokes and laughter allows me to be present and see them as they are. I can choose to accept and go deeper or resist and close myself to loving them.
The community of L'Arche Tahoma Hope reminds me that once we experience love, we are given permission to be ourselves. And when we are ourselves, our burdens are light, our communities celebrate, and all are fed in life-giving ways.
Jesuit Fr. Greg Boyle speaks of the Eight Beatitudes not as a spirituality, but as a geography. "It tells us where to stand," Boyle writes in Tattoos on the Heart. "Greater precision in translation would say, 'You're in the right place if …you are single-hearted or work for peace.' "
I started with a beatitude from the L'Arche community.
Yes, Greg. The beatitudes do tell me where to stand: I'm in the right place when I am able to see others as whole persons, unique and complete, and not as "half" or one of God's mistakes.
Why would we want to live in a world where we are not valued?
[Jocelyn A. Sideco is a retreat leader, spiritual director and innovative minister who specializes in mission-centered ministry. She directs the Community Service and Social Justice office at St. Ignatius College Preparatory in San Francisco. Visit her online ecumenical ministry, In Good Company, at ingoodcompany.net.co or email her at jocelyn@ingoodcompany.net.co.]
Editor's note: We can send you an email alert every time a Young Voices column is posted to NCRonline.org. Go to this page and follow directions: Email alert sign-up.