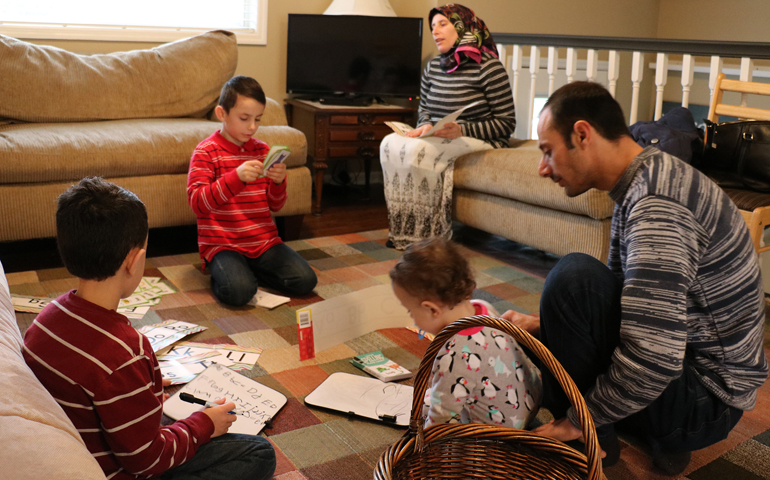 Syrian refugees Ahmed Al Kango and his wife, Sahar, help their children learn English Feb. 7 in their home in Elkhorn, Neb. Pictured from left, the children are Mohamad, Ghaith and Abdulrazzaq. (CNS/Joe Ruff, Catholic Voice)
I can't remember a year when our country has needed Lent more.
Consider just a few of the season's themes:
We are called to repent — to admit we might not be right all the time, have made big mistakes, and are in desperate need of God's forgiveness.
Death is real and comes for all of us; worldly strength fades. (But death is not the end of the story.)
Spend more time in prayer. This is time that is not visibly productive and contributes nothing to a market economy.
Speaking of not contributing to a market economy, don't wisely invest all the money you have, don't put it in a savings account, don't buy stuff you want. Give it to those who need it, and give until it hurts.
Fast from something, even something good that you love. Delay gratification.
The number-one threat to those in political power is to love everyone without ceasing, even your enemies. If you do this, the powerful might try to kill you.
I wonder how the country might change if we Christians doubled down on our Lenten observance this year — not just as individuals focusing on our own spiritual growth in preparation for Easter, but as whole faith communities inspired by the radical, self-giving love poured out on the cross.
For instance, what if our congregations wrapped the traditional Lenten practices of prayer, fasting, and almsgiving around a vulnerable population targeted by the powers that be? In particular, what if we devoted the season to caring for immigrants and refugees, who find themselves in the crosshairs here? Maybe we could practice some righteous subversion in honor of the one who was crucified for challenging the status quo.
Here are four examples of faith communities leading with boldness and creativity:
Holy Trinity Parish in Washington, D.C., sponsored a refugee family of eight Syrians, who finally made it to the USA after 30 hours of traveling after uncertainty surrounding the president's travel ban. The parish pastor, Jesuit Fr. Kevin Gillespie, told NCR that 70 parishioners contributed funding to the project and about 200 total people have been involved in the welcome effort.
At Old St. Joseph's Church in Philadelphia, they're pulling together a Lenten "Justice Tree," which will complement the parish's Advent Giving Tree. Instead of holding tags listing items to donate to families in need, however, the tree's tags will have different ways parishioners can act for justice during Lent, including things like contacting a legislator, praying about a certain justice issue, or connecting with a local organization that supports migrants and refugees.
The First Unitarian Society of Denver is serving as a sanctuary home to Jeanette Vizguerra, an undocumented immigrant and mother of four children, three of whom were born in the United States. With her deportation and separation from her family imminent, she sought shelter and protection from federal authorities at the church. "It is our position as a people of faith that this is sacred, and faithful work," said the church's minister, Rev. Mike Morran, during a news conference. "We know Jeanette. We know her to be an honorable human being."
Several parishes in the Camden diocese in New Jersey (the diocese where I serve) have sponsored "know your rights" trainings and other informational sessions for immigrant families themselves. Often led by a diocese-supported legal aid nonprofit called the Camden Center for Law and Social Justice, these sessions help immigrants learn what to do if Immigration and Customs Enforcement officials arrive at their door. (It's known that these officials will occasionally use ruses to enter immigrants' homes without a warrant.) St. Joseph Sr. Veronica Roche has accompanied the immigrant community in the city of Camden for years. "We are people of faith and with God, all things are possible. We believe in the power of prayer," she said at a recent session. "God gives us talents and strength to keep fighting for a comprehensive reform."
These sorts of commitments are natural connections to the Lenten season, which reaches its climax at the great Paschal triduum. On Holy Thursday night, the washing of the feet Gospel passage from John 13 will be proclaimed, one of Scripture's clearest calls to put the well-being of others first. May we do our best to live up to Jesus' words after the washing: "I have given you a model to follow, so that as I have done for you, you should also do."
[Mike Jordan Laskey is the director of Life & Justice Ministries for the diocese of Camden, N.J. He blogs for the Camden diocese at camdenlifejustice.wordpress.com.]
Editor's note: We can send you an email alert every time a Young Voices column is posted to NCRonline.org. Go to this page and follow directions: Email alert sign-up.