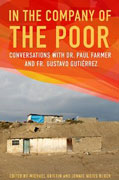 IN THE COMPANY OF THE POOR: CONVERSATIONS WITH DR. PAUL FARMER AND FR. GUSTAVO GUTIÉRREZ
Edited by Michael Griffin and Jennie Weiss Block
Published by Orbis Books, $24

As Pope Francis seeks to build a "poor church for the poor," the recent publications of In the Company of the Poor and What's So Blessed About Being Poor? can help Catholics and all people of goodwill to better engage in this great work. In the Company of the Poor is a collection of writings (and an interview transcript) by Dr. Paul Farmer, medical anthropologist and founder of the global health phenomenon Partners in Health, and Dominican Fr. Gustavo Gutiérrez, a Notre Dame professor widely considered the father of liberation theology.

Gutiérrez's work and the principles of liberation theology, especially its emphasis on the preferential option for the poor, have long influenced Farmer's social justice model of medicine. Gutiérrez sees Farmer's holistic approach to suffering, healing and the poor as a tool for "social, economic, political, and cultural liberation." Farmer's writings are both deeply personal and highly academic. But he also integrated the influences of Salvadoran Archbishop Oscar Romero and Gutiérrez in his own early career as he faced the challenges of addressing the health problems of Haitians in their cultural context and, later, courageously dismissing cost-effectiveness in treating multi-drug resistant tuberculosis.

In a particularly poignant section, Farmer recalls gathering in Peru for a conference ambitiously titled "The New World Order and the Health of the Poor." He and his colleagues learned directly from the experiences of the poor, a key hermeneutical approach for liberation theology, and they came up with a model of accompaniment, or pragmatic solidarity. Farmer's works are cerebral but captivating and pay tribute to the "disciplined humility" and hopeful praxis of Gutiérrez's intellectual and pastoral accomplishments.

The contributions of Gutiérrez to this volume are theologically rich and rooted in a liberationist vision of discipleship that links poor and non-poor. "If, then, in our activity we try to separate them from their own world, we are not really in solidarity with them," he writes. "If we love others, we love them in their social context. This requirement makes commitment more demanding but also more authentic."

Gutiérrez commends Farmer's use of liberation theology for the advancement of just systems of health, writing, "Correcting the injustice of poverty must involve both accompaniment of the locally poor and advocacy of the globally powerful." Relying heavily on Scripture and the documents from the Latin American Episcopal Conference meetings in Medellín, Colombia, and Puebla, Mexico, Gutiérrez helps those interested in working toward liberation to "re-imagine accompaniment," in light of God's universal love and particular preference for the poor. To read this work is to be in the company of two extraordinarily gifted men and to have hope that change is possible.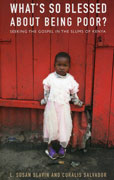 WHAT'S SO BLESSED ABOUT BEING POOR?: SEEKING THE GOSPEL IN THE SLUMS OF KENYA
By L. Susan Slavin and Coralis Salvador
Published by Orbis Books, $23

While In the Company of the Poor includes diligent theological reflection and social analysis, What's So Blessed About Being Poor? contains portraits of the extreme poor and disease-afflicted of Kenya. L. Susan Slavin sets out with Maryknoll missioner Coralis Salvador to discern the faith lives of the poor. Though the title's question is not taken up in a systematic research fashion, it gives great insights into the life of a missionary and the struggles of those, especially children, who live in areas rife with violence and disease. Slavin narrates and includes quotations from extensive interviews with Salvador and those who benefit from the various ministries with which she engages, including a school for the deaf, an AIDS orphans project, a rescue center, an epilepsy clinic and a well-water initiative.

There are themes that resonate well with the Farmer/Gutiérrez text, such as "structural injustices and institutional sin," the centrality of the Hebrew Scriptures and the reign of God, conversion, and "Jesus' partiality for the poor." Slavin's commitment to telling the stories of the poor in their own words is admirable, but her analysis is weak. It does not, in the words of Farmer, "interrogate claims of causality about suffering," nor does it seek to get at the multifaceted root causes of suffering, a necessary step for social justice.

That said, the words of Salvador often give a glimpse of great charitable commitment to the mission. "Being in mission gave me daily opportunities to experience the kingdom of God, to be living in the presence, for the people that you serve, and unknowingly, for your own spiritual development," she writes. "I believe that whenever we show care and give hope and love to another as God's partner in the here and now, we bring about the kingdom."

Slavin skillfully demonstrates the complex work of missionaries as they navigate new cultures, recounting Salvador's confrontations with tribal chiefs, her concern over female genital mutilation and women's roles in the family, and her attempts to counter myths surrounding HIV/AIDS. Where Farmer and Gutiérrez are weak in the area of gender justice, Slavin and Salvador draw this dimension to the forefront of their exploration of global poverty, spirituality and justice. An easy read, this work also echoes the commitments of Farmer and Gutiérrez on the centrality of relationship of Christians to God and Christ, and of poor and non-poor with one another.

[Arlene Montevecchio is a doctoral student of theology at Duquesne University. She writes from Erie, Pa.]
Advertisement