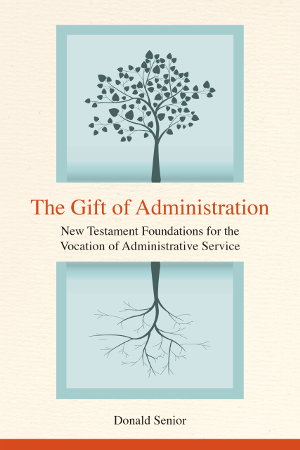 THE GIFT OF ADMINISTRATION: NEW TESTAMENT FOUNDATIONS FOR THE VOCATION OF ADMINISTRATIVE SERVICE
By Donald Senior
Published by Liturgical Press, 200 pages, $21.49
In carrying out his role in leading his parish, a pastor assumes some important administrative responsibilities. Church law, Canon 519, tells us that a pastor's role includes teaching, sanctifying and governing. According to Canon 532, the governance function requires pastors to ensure that the goods of the parish are properly administered, while Canon 1284 compels them to carry out their governance duties with the "diligence of a good householder."
This includes taking responsibility for parish expenses, observing civil law and paying an honest wage to church employees (Canon 1286), and submitting administrative reports to the diocesan ordinary (Canon 1287). These are responsibilities that tend not to be relished by most pastors.
Among the first to systematically study pastors' attitudes toward their governance function was Dan Conway in The Reluctant Steward (1992) and The Reluctant Steward Revisited (2002). In these reports, Conway found what many laity had long observed: Pastors receive very little personal satisfaction from performing their governance duties.
In his first report, Conway found that while 90 percent of pastors were satisfied or very satisfied with their role as pastors, only a third found any satisfaction in management activities. In his second report, Conway found that more than half of the Catholic pastors he surveyed believed that their financial responsibilities got in the way of effective ministry.
A number of reasons have been cited for pastors' general distaste for the governance function. One is the lack of training that they receive in seminary. With all of the other requirements they are expected to address, seminaries typically give short shrift to the governance function. They are in the business of training priests, not pastors. This may have been appropriate in the last millennium, when a man could expect to spend significant time as a parochial vicar in a parish, effectively serving a 10- to 15-year apprenticeship before receiving his first assignment as a pastor. But with our current relative priest shortage, men are frequently assigned their first pastorate two or three years after ordination. As such, they may be well-trained to carry out their teaching and sanctifying functions, but they are woefully unprepared to undertake their governance ones.
The other reason that has been frequently cited is that governance is not their strongest skill or where their interests lie. "I wasn't ordained for this" is a frequent complaint of pastors when confronted with a prickly parish governance issue.
The noted spiritual writer Henri Nouwen once rebuffed this attitude in his pamphlet "The Spirituality of Fundraising." He pointed out that, when performed with the right attitude, fundraising can be just as spiritual an activity as writing a homily or visiting the sick. When pastors are engaging in fundraising, they are not asking for money for themselves but for it to be put at the disposal of the kingdom. Furthermore, it is a way of building relationships, getting people to buy into the mission and vision of the parish.
While Nouwen's work is helpful in assisting pastors in forming a healthy attitude towards fundraising, it is narrowly confined to one governance function and appeals to the pastor's inner spirituality. Now comes Passionist Fr. Donald Senior's excellent book The Gift of Administration: New Testament Foundations for the Vocation of Administrative Service. Senior not only extends Nouwen's work to include all administrative functions but also convincingly supports his line of reasoning by frequent references to New Testament passages.
Based on his many years as a seminary administrator, Senior echoes Nouwen when he writes, "Administration — like preaching, teaching, and healing — is an expression of the Gospel."
To those who often decry the need for governance structures in today's church, Senior points out that the early church also needed to establish governance structures. Elders, bishops and deacons were appointed. A system was set up to funnel contributions from Antioch to the Christians in Judea, who were suffering from famine (Acts 11:29-30). Apostolic leaders gathered in Jerusalem to discuss the mission to the Gentiles and periodically met for other formal meetings (Acts 15, 20:17-28). In other words, from its very beginning, the church, as a human organization, needed administrative structures in order to carry out its mission.
In his introductory section, Senior makes the case that parish governance is not only a necessity but also entirely consistent with a pastor's roles of teaching and sanctifying. He then examines some specific functional areas of governance, all the while keeping true to his pledge that this is not a "how-to" book but a "why" book. That is, why administration should belong in a discussion of the church's mission.
His functional management chapters on leadership, planning, building community in the workplace, and finances each provide biblical support for the importance of these activities and for the argument that they can be carried out in a manner that is consistent with a pastor's personal spirituality — and can also serve to enhance it.
Senior's greatest contribution is found in the chapter that relies very little on a New Testament foundation. In "Habits of the Heart," he discusses the fundamental qualities that make for a good administrator. He lists both positive habits that a good administrator should be nurturing and negative attitudes that are to be avoided.
For his list of positive habits, Senior cites Ann Garrido's list of "spiritual habits for Catholic leaders" necessary for effective administration. I won't list them all, but they include the obvious such as trust, integrity and humility and also some not-so-obvious administrative habits like agape, reflection, forgiveness and "facing death" (i.e., dealing with disappointment and failure).
Senior's list of negative attitudes comes from Pope Francis, who, in a 2014 address to the Roman Curia, cited 15 "maladies" and "temptations" that weaken an administrator's service to the Lord. They include feeling that oneself is indispensable; "Marthaism" (excessive busyness); divinizing directors (courting favor with their superiors); carrying a mournful face; and operating in closed circles.
Senior has performed a great service to those of us who teach church management and who need to convince their students — especially the clergy — that while the church is not a business, it still must be administered, and that administration can in fact be carried out in a spiritual manner while enhancing the administrator's personal spirituality. For those priests who argue, "I wasn't ordained for this," Senior offers a sharp and convincing rebuttal.
While this excellent book's primary audience is pastors, any church administrator would find it valuable. In fact, any administrator in a secular setting would benefit from it, too. Its message on the vocation of administrative service is universal.
[Charles E. Zech is director of Villanova University's Center for Church Management and Business Ethics. All book reviews can be found at NCRonline.org/books.]
Advertisement