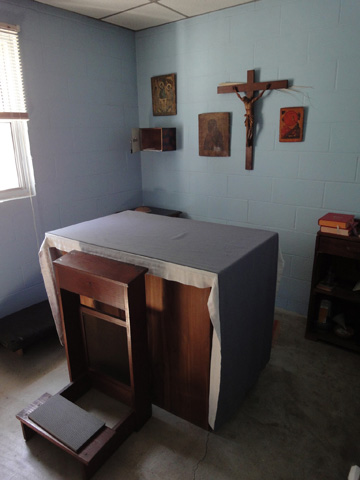 The chapel in Thomas Merton's hermitage on the grounds of the Abbey of Our Lady of Gethsemani in Kentucky (Jim Forest)
DIVINE DISCONTENT: THE PROPHETIC VOICE OF THOMAS MERTON
By John Moses
Published by Bloomsbury, $32.95
THE GROUND OF LOVE AND TRUTH: REFLECTIONS ON THOMAS MERTON'S RELATIONSHIP WITH THE WOMEN KNOWN AS "M"
By Suzanne Zuercher, OSB
Published by Acta, $14.95
John Moses, an Anglican priest, and Suzanne Zuercher, a Benedictine nun, present works that stand out among the many volumes investigating the Cistercian monk born nearly 100 years ago in France. That Merton would catch the attention of both the British dean emeritus of St. Paul's Cathedral and of an American psychologist is tribute to both his genius and his difficulties. That Merton still holds our attention speaks to these as well.
Moses' Divine Discontent: The Prophetic Voice of Thomas Merton is a fascinating study that weaves the details of Merton's life as monk, writer, contemplative, social critic, and ecumenist. It culminates in an evaluation of Merton's discontent even as he had (and still has) a prophetic voice that sounds across the world he left so tragically in December 1968.
What is well-documented in Moses' study is that Merton, who was born 100 years ago Jan. 31, cannot be categorized completely simply because he wrote so much. Moses carefully chooses from among the thousands of pages extant to present as complete a portrait as is possible of a man who seems to have written everything there was to know about himself, even as he hid his psyche behind the typewriter. What emerges at the end of the book is a carefully constructed legacy that even Merton could approve.
Zuercher's The Ground of Love and Truth focuses on one fact of Merton's life: his relationship (Moses calls it an affair) with "M," a student nurse who cared for him following his back surgery in 1966, two years before his death in Thailand. Merton burned the letters of the woman, identified in 1993 by John Howard Griffin as Margie Smith, before leaving for the trip.
In large part, Zuercher's work raises more questions than it answers. Zuercher had already written Merton: An Enneagram Profile when she decided to take up the investigation of Merton and "M." She uses here her own expertise in the enneagram personality typing system and her knowledge as a clinical psychologist and spiritual director to bring forth even more about the ways of the hearts of two very different people caught in a genuinely impossible situation.
Merton was a famous writer-monk, a hermit-contemplative; Margie was a young engaged woman whose fiancé was in Vietnam. Each craved the intimacy their life trajectories promised -- she the caring lover and husband; he the brilliance of contemplative union. For each, the simple facts of being human got in the way.
Zuercher takes a daring and creative leap into Merton's heart and mind by beginning each chapter of her slim book with what she imagines Merton might have said, in his own style. She adds by her own intuition the things he did not write and probably did not say to anyone, even perhaps in prayer. Then, from what Merton did not destroy, kept in his journal entries, she presents paragraphs of his own words about the relationship.
Finally, she writes what can only be called a psycho-spiritual evaluation of the man caught in this most human of traps. He is a monk. He is a famous monk. He has public vows that are more than public. His whole life and perhaps his psyche depend on rectifying, solving, choosing.
Zuercher evaluates the relationship positively, finding concrete evidence of honorable intentions in Merton's writing, "I want only your happiness, and if that happiness means marrying and loving another, it is just what I want for you."
What is that? What is Merton answering? He has led a young girl on and is now trapped between his desires and his public persona.
Zuercher may have found that the relationship between the two gave more depth to Merton's personality, but one could leave the work convinced he was a narcissist who renounced "M" not because of his dedication to God and his Cistercian community, but rather because of his dedication to his own idea of himself.
Interestingly, the word "narcissist" does not come up in Moses' book until near the end where he writes of Merton's collision with psychoanalyst Dr. Gregory Zilboorg in 1956, 10 years before Merton met Margie. Moses quotes from Merton's recollection of Zilboorg's analysis: "You are afraid to be an ordinary monk in the community. ... You like to be famous, you want to be a big shot, you keep pushing your way out -- to publicity -- Megalomania and narcissism are your big trends. ... Your hermit trend is pathological."
Merton, Moses adds, does not appear to have dissented from the assessment.
As Moses points out, it is unfortunate that Zilboorg's assessment was not grounded in compassion for the man throughout his life caught between public profession as a religious and a private passion for writing. That the former fed the latter created a tension within and without Merton, which also fed the interior life of the private-public religious and the public-private writer.
Moses says that Merton's desire for the contemplative life came from the desert tradition that led him to the Kentucky hills and the Abbey of Our Lady of Gethsemani. There he lived -- often uneasily -- Cistercian community life for nearly 20 years, until being allowed to live full time in a hermitage on the abbey's grounds for a few years prior to his death.
At the heart of Moses' exploration is the heart of Merton's quest. He was a monastic. He wanted to be a contemplative. He would be forever known as a writer. He was constantly held between twin jaws of contemplation and writing, often writing about his prayer and about his inability to pray.
Moses demonstrates that through it all Merton knew what prayer was and meant, and what the life of contemplation was all about. While Moses does not address Merton and "M" as deeply as Zuercher, he helps the reader intuit that the choosing was difficult and the choice was final.
Merton wrote thousands of pages; his exegetes have written thousands more. The paradox of explaining simplicity is that it takes so many words. At the end of all the quotes and evaluations, in these two books and in the many others that look into Merton's interior and exterior lives, the reader is left wondering: What is the measure of the man? What was he about? What was he looking for? What, in fact, did he do with his life?
Moses perhaps provides the answer with lines from Merton's poem "St. John the Baptist": "Waiting in darkness for the secret stranger / Who, like an inward fire, / Would try me in the crucibles of His unconquerable Law." Only the darkness, the fire, and the crucible rend the soul of its sins and self, and allow a prophetic voice to emerge. These books help us listen to it.
[Phyllis Zagano is senior research associate-in-residence at Hofstra University, Hempstead, N.Y. Her most recent books include Mysticism and the Spiritual Quest: A Crosscultural Anthology and Sacred Silence: Daily Meditations for Lent. Read more of her writing in her columns, Just Catholic.]
A version of this story appeared in the Dec 5-18, 2014 print issue under the headline: Delving into Merton's exterior and interior lives.