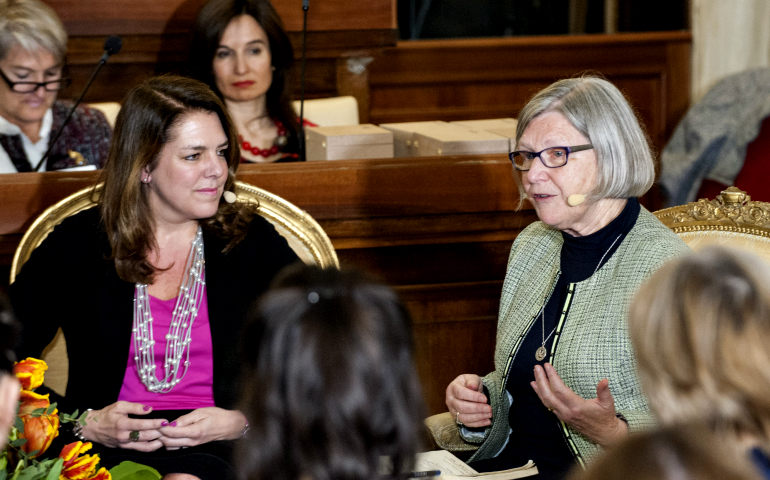 Social Service Sr. Simone Campbell, right, speaks during the Voices of Faith gathering March 8 at the Vatican. (CNS/Catholic Press/Massimiliano Migliorato)
CATHOLIC WOMEN CONFRONT THEIR CHURCH: STORIES OF HURT AND HOPE
By Celia Viggo Wexler
Published by Rowman & Littlefield, 216 pages, $34
The central question explored in Celia Viggo Wexler's engaging and thought-provoking book is one that no doubt many millions of women have struggled with: Is it possible for a woman to be both a feminist and a Catholic?
For Wexler, an award-winning journalist and Huffington Post blogger, this is not an academic question. She had reached a juncture in which she had to "find a way to stay Catholic that made sense to me and respected my intellect and feminism, or I would have to leave the church."
She is not a theologian or historian, she writes, nor does she intend the book to be a definitive work about the views of Catholic women. She seeks instead to inspire conversations among women who, like her, are "torn between the faith they love and the institutional church that often sets their teeth on edge."
Wexler profiles nine Catholic women and their personal stories, faith journeys and often complicated relationships with the church. In choosing women to write about, Wexler says she didn't have an agenda, she simply wanted to know if others shared her struggle.
Some of the women are well-known:
Social Service Sr. Simone Campbell, executive director of the Catholic social justice lobby NETWORK;
Barbara Blaine, founder of the Survivors Network of those Abused by Priests (SNAP);
Frances Kissling, who opposed the church's teaching on contraception and abortion and was president of Catholics for a Free Choice (now Catholics for Choice) for 25 years;
Marianne Duddy-Burke, executive director of DignityUSA, which represents gay, lesbian, bisexual and transgender Catholics;
Diana Hayes, the first African-American woman to earn a pontifical doctorate in sacred theology from the Catholic University of Louvain, Belgium, who is now an emeritus professor of theology at Georgetown University.
Wexler begins the book with her own story, an honest assessment of a childhood faith, shaped by family as well as by Catholic elementary school, high school and college. She writes of Sisters of Mercy who tried to correct her left-handedness in elementary school and instilled a fear of sin so deep she was "terrified that I might accidentally read something in the newspaper or hear something on television that could corrupt me."
But in high school, the church was changing and the sisters also introduced her to a broader worldview that continued into college and her career as a journalist. While embracing church rituals, she questioned some teachings. As an adult, she found it increasingly difficult to reconcile the church's positions on sexuality, contraception, abortion and same-sex marriage. The American church "even today, condemns abortion more loudly than it ever did priestly sexual abuse."
Through stories as diverse as the women she interviews, Wexler weaves compelling narratives that examine key questions about faith and the institutional church and its views about women, sexuality and other issues. The profiles are both heartbreaking and inspiring. I found myself wanting to finish each one at a sitting, to "visit" awhile with the women, some of whom I knew of through headlines and news stories, but whom I got to know at a much deeper level through Wexler's accounts. I came away with profound respect and admiration for them, not only for their many accomplishments, but for the tenacity of their faith.
There is a reason, Wexler says, that she titled the book Catholic Women Confront Their Church rather than their "faith." For these women and so many others, it's not a matter of confronting their faith, but rather confronting an institution that is led exclusively by men. She finds solace in a quote from Campbell: "Faith is so much more than the church, so that's a big comfort — that Jesus is bigger than the institution."
Wexler began this project in late 2012, just months before Pope Benedict XVI stepped down and Pope Francis was chosen to lead. Yet even as Francis has shaken up the church, adopting a more tolerant, pastoral tone on sexual ethics and women's issues, Wexler writes, "As I complete this book, there are few indications that the church's approach to women has fundamentally changed."
In conclusion, she notes the dangers facing a church that is unwilling to allow women a greater role and voice. There are dwindling numbers of Catholic women remaining in the church, particularly younger women. Wexler explains that she undertook this book not only for herself, but for her adult daughter. Five of the six adult daughters of the women profiled are no longer practicing Catholics. She dedicates the book to her own non-practicing daughter and to all daughters, expressing this hope: "Don't give up on Catholicism just yet. Make it work for you. Fight for it."
In her acknowledgements, Wexler thanks each of the women for their time — her dream, she says, would be for all of them to meet a dinner party. Through reading Wexler's book, you'll feel like you had a place at that dinner party, getting to know nine women — 10, including Wexler herself — and come away with a deeper conviction that there is a place for visionary feminist women in the church. Wexler's book deserves to be read widely, especially among parish-based women's groups and young women who struggle with their Catholic faith.
[Gail DeGeorge is editor of Global Sisters Report. All book reviews can be found at NCRonline.org/books.]
A version of this story appeared in the April 7-20, 2017 print issue under the headline: Wexler explores women's struggles to be both feminist and Catholic.