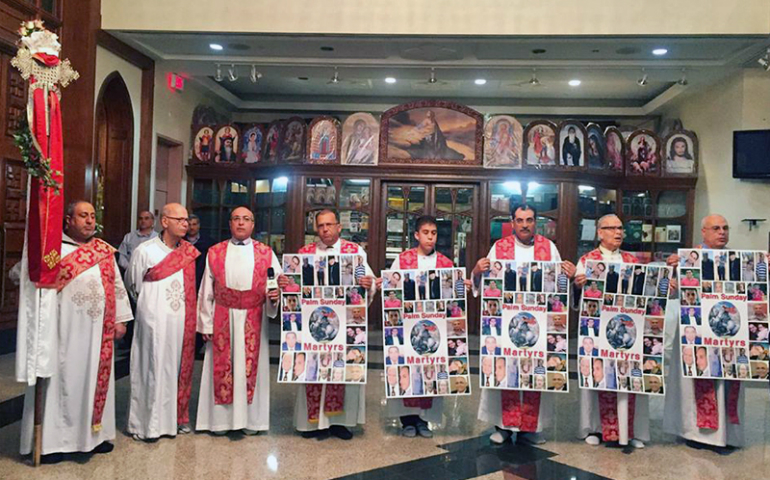 Coptic clergy hold signs to remember victims of the Palm Sunday attack in Egypt during a service at the Church of Virgin Mary and St. Athanasius on April 18, 2017, in Mississauga, Ontario, near Toronto. (Hira Hyder)
A 13-year-old girl with long, flowing black hair and dark eyes stands poised at the head of a massive church hall, flanked by a bishop and several priests. More than a hundred community members sit before her.
Her voice shakes with conviction.
"When my parents told me about the bombings I was in shock that it was done on a day when we as Coptic Christians celebrate our faith," she told the congregation at the Church of Virgin Mary and St. Athanasius in the Toronto suburb of Mississauga last week. "I have many close friends and a few best friends who are Muslim. But our religion does not define us as good or bad. It is how we are as human beings that shows that."
It was a tough lesson for the Canadian teenager, whose family asked that her name be withheld for fear of repercussions in Egypt. They have relatives and friends who live close to the Coptic churches in Egypt where two suicide bombers blew themselves up on April 9. More than 40 people were killed and 106 injured.
Her sentiments were echoed by 11-year-old Mark Chairallah, who like the girl was nominated by his Coptic Sunday school to address the congregation. "I have come here today because I want to let you all know that the people who say they are 'Muslims' that have done the bombings cannot have a religion," he said.
"I do not know much about other religions but I am sure that every religion of God has love, care and kindness and can never say to anyone to go and kill certain people."
The attacks in the cities of Alexandria and Tanta were just the latest in a string of terror incidents at Coptic churches in Egypt over the last five years. Once again, it left them reeling with sorrow and grasping for an explanation of what is happening to their church in a country that has been its home for almost two millennia.
"The Coptic community feels the pain of Christ," said Sherry El-Rashidy, a church representative who hosted the memorial service.
"We are like lambs on this earth. Our weapons are harmless yet powerful — they are our prayers and churches."
The 'golden years'
Copts are the largest minority population in the Middle East and make up 10 percent to 15 percent of Egypt's population. Founded in the first century by St. Mark the Apostle, it is believed to be one of the oldest Christian denominations in the world.
"We are the descendants of Pharoah and have lived for 2,000 years in Egypt," said Hani Tawfilis, a church board member. "We love Egypt as our country."
Today a sizable Coptic diaspora exists in the West, including about 200,000 Coptic Christians in the United States and 50,000 in Canada (of which over 80 percent reside in Ontario). While data on Copt migration are scarce, it is clear that the number increases each year — both because of terrorism and economic instability.
Tawfilis, who emigrated 27 years ago, recalled what some Egyptians call the "golden years" in the 1960s and 1970s. "When we were brought up, no one asked what your religion was. People would never ask. They knew — but they didn't care."
"If you watch any of the old movies from that time," he added, "you won't find anyone wearing a veil in those videos. No one is completely covered in black, and no men have big beards. It doesn't mean they didn't go to mosques or weren't religious."
Tawfilis said that after 1979, when the Soviet-Afghan war began and the Islamic Revolution swept Iran, a more austere style of Islam of the type practiced in Saudi Arabia began seeping into Egypt and contributed to the radicalization of militants.
"I feel sorry for those guys," Tawfilis said, referring to the terrorists. "Someone gave them the wrong information. Someone told them that when you kill yourself and kill those people who are innocent you will reach heaven quicker than me."
Resilience is key
The attacks happened minutes after Coptic Pope Tawadros II and government officials left the church in Alexandria. It was also a week before Easter Sunday, and ahead of a visit later this week by Pope Francis to Egypt, where he will meet the Coptic leader.
From a geopolitical perspective, the timing of the church bombings signals a clear message: The Islamic State group is waging war on Christianity in Egypt and the Middle East.
"The fact that the head of the Coptic church was on site indicated that it wasn't a random attack. It was meant to go to the top of the church," said Scott Kline, a professor of religion at the University of Waterloo, Ontario.
But attacks like this also have deep repercussions in American domestic politics, he said, because many conservative Christians who support President Trump are also alarmed that Christians are under attack in the Middle East.
"This puts a tension in the Trump coalition because you have a lot of alt-right-first nationalists like Steve Bannon and a lot of religious right (activists) who want more action on the part of the American government to protect Christians around the world," Kline said. "You can't have it both ways."
"The government needs to ask themselves: Do we take a national bent — put America first and follow the alt-right part of the base? Or do we expand ourselves and become a bit of a moral police?"
For others, the solution to stemming attacks on Copts lies ultimately in the hands of President Abdel-Fattah el-Sissi and his government. In speeches, el-Sissi regularly describes Egypt as unified and has promised to reduce Muslim-Christian tension. "But there remains little Christian representation in government, and sectarian violence is all but commonplace," said Sarah Yerkes, an international relations fellow at the Council on Foreign Relations in Washington.
"Many Christians supported Sissi's rise to power, but there's no group that's safe," she added, in reference to civil society activists and political opposition groups such as the Muslim Brotherhood, hundreds of whose supporters were massacred in a 2013 raid on a protest encampment. "Anyone deemed to be a threat to Sissi is under this state of oppression."
Meanwhile, Copts in the diaspora have confidence in the survival of a faith that has known suffering since St. Mark established the church in Alexandria in the first century.
"The Christian group has always lived in the blood of their martyrs," Tawfilis said, connecting the early persecution of Coptic Christians to the latest attacks. "We don't know when the next one will be, but we know there will be one."