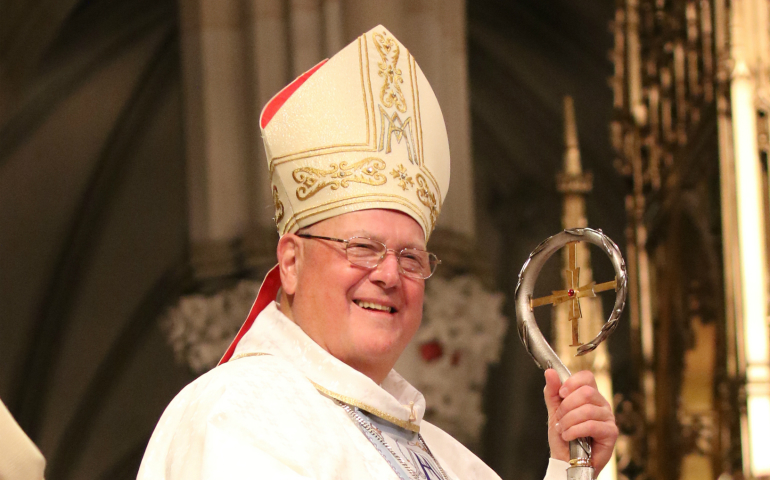 New York Cardinal Timothy Dolan smiles after celebrating a Mass for young adults Dec. 7, 2016, at St. Patrick's Cathedral in New York City. (CNS/Gregory A. Shemitz)
New York Cardinal Timothy Dolan has informed his clergy he is considering moving his archdiocese's headquarters out of the building it now occupies in midtown Manhattan in a bid to save money and to correct what he says is an "unfair and inaccurate perception of the archdiocese as some bloated, money-grabbing corporation."
The cardinal revealed the possible move in a highly charged letter to his priests and deacons in late November in which he also takes the clergy to task for complaining about how the archdiocese collects money from its parishes and exhorts them to challenge parishioners to donate more frequently and abundantly.
Throughout the four-page letter, obtained by NCR, Dolan takes a biting tone, lamenting that his priests reportedly either complain about the archdiocese interfering in their parishes' affairs or that his administration is not doing enough to support their particular favored areas of ministry.
Pushing his priests to encourage their parishioners to give more money to the archdiocese, the cardinal asks at one point: "Why are we afraid to urge our people to sacrificial generosity?"
"The Evangelicals sure demand stewardship!" he exhorts. "The Mormons sure do! Our Jewish Synagogues do! Planned Parenthood sure pushes its donors! The secular causes sure do!"
At another point in the document, titled Pastores Dabo Vobis ("I will give them shepherds,") the cardinal identifies that one "overarching problem" he is facing is "a mistrust of, and antagonism towards, the archdiocese."
To combat that mistrust and the supposed public misperception of the archdiocese's financial health, Dolan says he is evaluating moving the archdiocesan chancery out of its current location at 1011 1st Avenue.
"We are seriously looking into smaller quarters," he writes. "1011 needs repair, and it's a good time to save the money and help with a new image by moving into smaller, simpler quarters."
Several New York archdiocesan priests contacted by NCR deferred from commenting on the letter or the possible chancery move, citing a desire to respect the archdiocese's decision-making process.
Joseph Zwilling, the director of the office of communications for the archdiocese, said in a phone call Wednesday that the idea of moving the chancery has been under discussion for a number of years, dating back to before Dolan became archbishop in 2009.
Zwilling said the building, which was built in the 1970s, needs a fair amount of repair.
"We are now considering the possibility and nothing has been decided at this point," he said. "This is something that obviously we would discuss with the finance council of the archdiocese, and we would seek their input as to the best way to proceed, whether it would make sense to sell the property or to lease it."
Zwilling also said that when Dolan writes in his letter of a sense of mistrust of the archdiocese he is referring to a "natural inclination on the part of people to blame the archdiocese."
"The archdiocese does want to expand its ministries and its outreach," he said. "But then anytime we talk about the need to fundraise or the need to economize, people are always looking at the diocese and saying, 'All you care about is money.' "
"It's a difficult hurdle to overcome, getting people to realize if we're going to be able to continue to serve the people as they need to be served ... we do need to find ways to support that work," said Zwilling.
One expert in Catholic fundraising and stewardship efforts said he was not surprised that Dolan was considering leasing or selling the archdiocesan chancery building — which would likely list at a sky-high price in New York's real estate market — but said the tone of the cardinal's letter had surprised him.
"The tone caught me off-guard a little bit," said Charles Zech, the faculty director of the Center for Church Management and Business Ethics at Villanova University. "I thought it was pretty sarcastic."
"I think he's really trying to make a point here," said Zech, who has also written several books on parish and diocesan financial structures and trends. "Maybe he's ... tried to educate the priests in the past and it didn't work, so he thought maybe a different tone might be better attracting their attention."
Dolan grabs attention in the letter with bolded and underlined statements, and with open questions directed to his priests. "How does this 'bloated, money-grabbing archdiocese' GET its money?" he asks at one point, before outlining a half-dozen of the archdiocese's revenue streams.
"When I listen to you and your people, I usually hear you praise the archdiocese for its many initiatives, but also asking us to do even more for what we already got going, and to add more causes and needs the archdiocese should subsidize," the cardinal tells his priests. "Then I hear you claim, 'You ask us for money too much!' "
Dolan particularly grumbles about a group of pastors in the archdiocese who he says operate parishes that have adequate income and complain when the archdiocese asks for money.
"This minority will argue the money is theirs!" he writes. "They need it! It belongs to the parish! It's unjust to give it away to the archdiocese! Our people can't stand the archdiocese! Leave us alone!"
The cardinal pits that supposed group against "the majority of pastors who rejoice in this archdiocesan custom of the 50% extraordinary tax on parishes with large income beyond the Sunday offertory, because then this bounty can be shared."
Imagining the response of parishes without adequate income, Dolan writes: " 'Why,' they ask, 'should these parishes, mostly Manhattan ones, keep all this money to fix-up rectories, decorate churches, pay choirs and staffs, when I can't even repair the boiler for lack of funds!' "
Another expert in Catholic fundraising said he thought that the cardinal might have been trying to respond to a shift in mentality among priests in recent decades to prefer more financial autonomy from their bishops.
"It seems to me that part of this letter is speaking to that issue, and perhaps not in the best form but speaking to it nonetheless," said Richard Burke, senior executive consultant for Catholic School Management, which provides dioceses and bishops with advice on issues surrounding Catholic schools.
Besides mistrust of the archdiocese, Dolan identifies two other overarching problems in the letter.
The cardinal presents the first problem as a question: "I keep asking, are we Catholics, or Congregationalists?"
"A Congregationalist will identify the Church with his own parish, or her own charitable, personal cause," he writes. "All money is local, and stays right here. 'Dolan, go get your own money! This is our own!' "
"A Catholic realizes the Church is always beyond us, universal, without boundaries," he continues. "Yes, we have an understandable, laudable personal allegiance to our parish, but as Catholics, we also love our archdiocese and the worldwide Church."
Dolan says the second problem is being afraid to "challenge our people to stewardship."
"These are folks who give to all kinds of causes, political candidates, their colleges, boy and girl scouts, parks, fighting cancer, dog shelters, and I'm glad they do all that," writes the cardinal.
"But why then are we timid about challenging them to fulfill their biblical duty to support, to the point of sacrifice, the Church — parish, archdiocese, and wider Church?" he asks.
Zech said that if he were writing the letter he might have addressed it also to the laity of the New York archdiocese, so they could better understand the need to donate to the church.
"One of the big problems that the Catholic church faces is we have really low givers," he said, citing statistics that a typical Catholic household contributes only about 1.1 percent of its income to the church.
The Villanova professor also said that the New York archdiocese takes a lower amount of the money people give to its parishes than other dioceses typically do. In the letter, Dolan identifies his archdiocese's tax rate on parish donations as eight percent.
Calling that number "really low," Zech said "that really struck me as something that should be emphasized to the priests."
Burke said he might have advised Dolan that instead of writing the letter to his priests he could have met with them in regional groupings to advise them of the situation facing the archdiocese.
"I think that would have gone much further to giving him a favorable response and letting his priests know that he was with them," said Burke.
"There are many that are going to see this letter as a chastisement," he said. "Some are simply going to throw it away. Others will use it as a basis for further negative discussion about their bishop."
The title of Dolan's letter, Pastores Dabo Vobis, is also the title of a 1992 apostolic exhortation by Pope John Paul II following the 1990 Synod of Bishops, which focused on priestly formation in the modern era.
Dolan ends the letter by telling his priests: "We're in it together, brothers."
"I'm not complaining ... I'm challenging!" he writes. "I'm not griping ... I'm grateful."
[Joshua J. McElwee is NCR Vatican correspondent. His email address is jmcelwee@ncronline.org. Follow him on Twitter: @joshjmac.]
Below is Dolan's letter, Pastores Dabo Vobis
Pastores Dabo Vobis letter, Cardinal Timothy Dolan 11-23-16 by National Catholic Reporter on Scribd
A version of this story appeared in the Jan 27-Feb 9, 2017 print issue under the headline: Cardinal Dolan contemplates selling chancery in biting letter to priests.