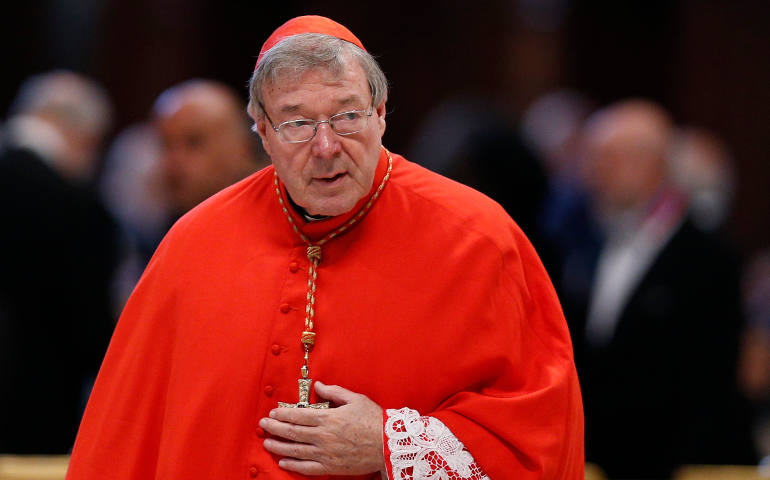 Australian Cardinal George Pell, prefect of the Vatican Secretariat for the Economy, arrives for the closing Mass of the Synod of Bishops on the family in St. Peter's Basilica at the Vatican in this Oct. 25, 2015, file photo. (CNS photo/Paul Haring)
Vatican City — July 28, 2016
The Vatican's finance minister, Cardinal George Pell, has strenuously rejected the latest claims that he sexually abused children many years ago as a priest.
Pell -- an Australian who is third in the Vatican hierarchy, after Pope Francis and Secretary of State Pietro Parolin -- is the most senior figure in the Catholic church to be accused of sexually abusing minors.
"The allegations are untrue. I deny them absolutely," the 75-year-old Pell told journalists in Rome on Thursday.
This week, a TV report by the Australian Broadcasting Corp. said police in the state of Victoria were investigating claims that Pell had touched boys inappropriately and, in a separate incident, appeared naked in front of three boys at a surfing club locker room in the late 1980s.
"Untested allegations should be put through the proper procedures," Pell said. "I'm quite prepared to cooperate. ... I won't cooperate with trial by the media. I think it's unjust and inappropriate."
After an internal church investigation, Pell, the former archbishop of Sydney, was cleared of an allegation that he had abused a 12-year-old boy at a camp in the 1960s.
The Vatican declined to comment on the latest claims by the Australian national broadcaster.
---
More: "Cardinal Pell calls for inquiry into press leaks accusing him of abuse" (Feb. 19, 2016)
---
The abuse survivors group SNAP urged anyone "with suspicions or knowledge" of any alleged wrongdoing by Pell to speak to secular authorities, not church figures.
"After a lengthy investigation, police have deemed eight accusers' accounts are credible enough that they're giving the evidence to prosecutors," said David Clohessy, SNAP president, in a statement. "That speaks volumes."
Anthony Fisher, the archbishop of Sydney, told reporters the claims did not correspond with the Pell he knew.
"He has a record of leadership in the fight against child sexual abuse, and was the first bishop in the world to implement a process under which such claims would be investigated by an independent commissioner," Fisher said.
Pell has wielded significant power since he was appointed prefect of the secretariat for the economy by Francis in 2014.
Pell has long been accused of shielding predatory priests in Australia. Earlier this year he gave lengthy evidence by video link to an Australian inquiry into clerical sexual abuse from Rome after doctors said he was not well enough to testify in Sydney.
At the end of his hearing, Vatican spokesman Jesuit Fr. Federico Lombardi praised Pell for his "dignified and coherent" testimony.